Your identity is so powerful because it defines and distinguishes you. It anchors and guides you. These amazing identity in Christ Bible verses will inspire, empower and encourage you to embrace your Biblical identity.
What does Identity in Christ mean?
Identity means who you are as a person. Not so much what you do, but who you are. It's how you are distinguished and recognized. Your character, beliefs, and qualities define you as a person.
Specifically, my identity in Christ means believing and living according to what God says about me not what society or those around me say about me.
It means I'm firmly rooted in and living according to how the Bible defines me not how I define myself. Biblical identity means the Bible has the final say regarding who I am as a person.
It's very important as a believer for you to know, understand and live according to who you are in Christ.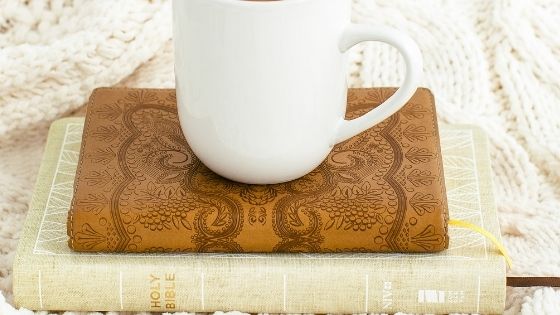 5 Quotes about Identity in Christ
I love quotes. They are inspirational, educational, and encouraging. The 5 identity in Christ quotes below will help you understand why knowing who you are in Christ is so important.
1. Knowing who you are in Christ empowers you
"The more we focus on who we are in Christ, the less it matters who we were in the past, or even what happened to us."

Joyce Meyer
If you are held back because you've let what you did or what happened to you before Christ, define you-then you will live a defeated life. Jesus Christ said on the Cross "It is finished".
All those past mistakes, sins, and regrets are finished and now you need to be empowered by living according to who Christ says you are. You're not defined by your past but by your present and future in God.
2. Knowing your identity in Christ gives you confidence
"If your identity is found in Christ, then it matters less and less what people think of you."

Leonard I. Sweet
I love this quote about identity in Christ.
Remember the same crowds that spread the news about Jesus' ministry and miracles is the same crowd that shouted: "Crucify Him". Peoples' thoughts and opinions change but God's word remains the same.
When you know who you are in Christ, you start to understand that the opinions of other people is not as important as God's facts about you. Your confidence will be based on who God says you are, your Biblical identity.
3. Knowing who you are in Christ Jesus sets you free
"Religion: 'My identity is built on being a good person.'

Gospel: 'My identity is not built on my record or my performance but on Christ's.' "

Timothy Keller
What an amazing and freeing experience to know that Jesus Christ has set you free from doing works to prove yourself to God. You don't have to be this perfect person. You just need to be a kingdom-minded woman, believer, and Christ-follower.
Once you know who you are, you no longer have to work for God's approval because you know you already have it in Christ. And that brings true freedom.
"Your identity is firmly anchored in Christ's accomplishment, not yours; his strength, not yours; his performance, not yours; his victory, not yours."

Tullian Tchividjian
Our true identity in Christ is based on everything Jesus Christ did for us. Not anything that we did, are doing, or could do in the future.
4. Knowing your identity in Christ changes your behavior
"You must know, rest in, think through, and act upon your new identity – you are in Christ."

Sinclair B. Ferguson
Knowing your identity in Christ changes the way you talk, think and behave. Embracing your identity in Christ sets you apart and makes you different from those around you. You have peace, confidence, and power that others don't have.
10 Amazing Identity in Christ Bible Verses
The 10 Identity in Christ Bible verses below will help us grasp who we are in Christ according to the Bible.
The world will attempt to define you if you don't know who you are. But knowing the amazing truth about your identity in Christ will empower you to act on it.
At times, you won't feel like you are who God says you are but keep believing in God's truth and watch as your heart, mind, and behavior transform to align to His word.
Knowing who you are in Christ opens your eyes and heart to your purpose, potential, and power.
1. I am saved
"who has saved us and called us with a holy calling, not according to our works, but according to His own purpose and grace which was given to us in Christ Jesus before time began"

2 Timothy 1:9
Our new Biblical identity is- saved. We've been saved from hell and sin and called by the Most High God. We're not called because we obey God and are good Christians but because of God's grace.
Because we're saved, we always have hope in God. We know this world is temporary and we will live one day forever with God when we experience eternal life.
2. I am a new creation
"Therefore, if anyone is in Christ, he is a new creation; old things have passed away; behold, all things have become new." (NKJV)

2 Corinthians 5:17
This is one of my favorite Bible verses. In Christ, we are made new. The old person is gone and the new person who is being renewed daily is here.
As a person, you are a spirit, with a soul, living in a body. So, when you receive Jesus Christ, you may still be the same person physically but your spirit is now new and your soul (emotions, thoughts) continues to be transformed to become like Christ.
Everything we did before Christ has passed away. We can forgive ourselves because we didn't know better. The blood of Jesus Christ washes away all our sins and we're refreshed. We've become new and that is our identity in Christ.
3. Jesus Christ lives in me
 "I have been crucified with Christ; it is no longer I who live, but Christ lives in me; and the life which I now live in the flesh I live by faith in the Son of God, who loved me and gave Himself for me."

Galatians 2:20
There's a shift that has to happen when we become saved. We die to ourselves and live for God. Jesus gave his life for us and now He lives in us. When we listen to Him, He will direct our paths and show us how to live a life that pleases God.
This identity in Christ verse reminds us that Jesus Christ is always with us, He loves us and we ought to live for Him. Society doesn't dictate how we live anymore because we live by faith in God.
4. I am loved
" For I am persuaded that neither death nor life, nor angels nor principalities nor powers, nor things present nor things to come, nor height nor depth, nor any other created thing, shall be able to separate us from the love of God which is in Christ Jesus our Lord."

Romans 8:38-39
What an empowering and amazing bible verse about identity. It's normal as humans that we desire to be loved, wanted, and accepted for who we are- faults and all. And God does just that. He loves us unconditionally. 
Nothing and no one can separate us from the love of God that we find in Christ Jesus.
5. I am a child of God
"But as many as received Him, to them He gave the right to become children of God, to those who believe in His name"

John 1:12
When we have a sense of belonging, we feel secure, powerful, and confident. In God, we will always belong.
When we are saved, we are given a new Biblical identity – children of God. No matter what our relationship is with our physical parents- we can rest secure knowing we belong to our Heavenly Father.
6. I am blessed
"Blessed be the God and Father of our Lord Jesus Christ, who has blessed us with every spiritual blessing in the heavenly places in Christ,"

Ephesians 1:3
This Bible verse about our identity in Christ reminds us that we're blessed. God has given us everything we need spiritually for this life. His grace is sufficient for us because it strengthens us and guides us.
7. I am forgiven
"In Him, we have redemption through His blood, the forgiveness of sins, according to the riches of His grace"

Ephesians 1:7
Because of God's amazing grace, we are forgiven. All our past sins have been washed away by the precious blood of Jesus. That means we can forgive ourselves for our past and even present sins. Your new Biblical identity is- forgiven.
8. I am free
"For the law of the Spirit of life in Christ Jesus has made me free from the law of sin and death."

Romans 8:2
Paul wrote most of the New Testament in jail yet he was free. That shows us that Jesus gives us true freedom. We can be bound on earth and in difficult circumstances yet free mentally and spiritually because of our faith in God.
We are set free from sin and the schemes of the devil. We've been given eternal life in Jesus Christ and set free from death. That truth helps us overcome the fear of death.
9. I am chosen
"But you are a chosen generation, a royal priesthood, a holy nation, His own special people, that you may proclaim the praises of Him who called you out of darkness into His marvelous light"

1 Peter 2:9
You are chosen and set apart by God. He wanted you. You are royalty because Your Father is the King of kings, you are Holy because of the blood of Jesus and you are special to God.
God has called you out of the darkness of not knowing Him into the light of the Gospel. Because of that, You can give glory and praise to His name. Because He has given you a new identity in Christ.
10. I am God's masterpiece
"For we are God's masterpiece. He has created us anew in Christ Jesus, so we can do the good things he planned for us long ago." (NLT)

Ephesians 2:10
A masterpiece is a gem, wonder, sensation, hit, knockout and work of outstanding skill and art. That's you and me, my friend! How beautiful are the words God uses to describe us?
You are unique, there's no one else like you in the world. God has created us with a purpose and plan and all we need to do is walk in it.
These amazing who am I in Christ scriptures will free you and give you the confidence you need to stand firm in your faith and belief in God. From today onwards, walk in your new Biblical identity. Don't be defined by the standards of this world but only by the truth of God's word.
My Identity in Christ Bundle
If you're looking for a Biblical resource to remind you and your family of the truth of who you are in Christ, then you're in the right place. I made this valuable bundle pack with beautiful Scripture coloring pages and Scripture Cards for you and your kids. This bundle will save you money while helping you stand firm in your identity in Christ. Grab yours today!