We live in a broken and messy world that is full of sinful people. One of the sins that are committed is racism. It breaks my heart to see the world struggle to accept racial differences. So how can we as Christians help to stop racism and promote racial reconciliation?
Let's explore what the Bible says!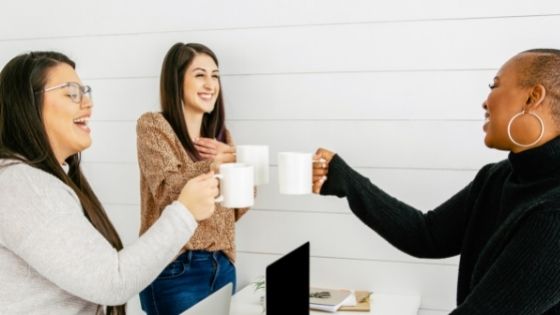 Bible verses about racism
What does the Bible say about racism? The Bible verses about racism below will give us a picture of God's view on this important issue.
"There is neither Jew nor Greek, there is neither slave nor free, there is neither male nor female; for you are all one in Christ Jesus." (NKJV)

Galatians 3:28
"For there is no distinction between Jew and Greek, for the same Lord over all is rich to all who call upon Him."

Romans 10:12
Before God we're all the same. And He is our Creator, our God. Jesus Christ came to unite all the races and through His death and resurrection, He was fighting divisions and racism and promoting peace and reconciliation with God and amongst us as people.
"For there is no partiality with God."

Romans 2:11
"Then Peter opened his mouth and said: "In truth I perceive that God shows no partiality."

Acts 10:34
"Go therefore and make disciples of all the nations, baptizing them in the name of the Father and of the Son and of the Holy Spirit,"

Matthew 28:19
These Bible verses about racism show that God has no favorites. He loves all His children and wants them all to come to repentance and be saved through the blood of Jesus Christ. That's why as Christians we need to fight racism and the pain it brings to our society.
"Do not judge according to appearance, but judge with righteous judgment."

John 7:24
"have you not shown partiality among yourselves, and become judges with evil thoughts?"

James 2:4
12 Ways Christians can help stop racism
As children of God racism is not something we can ignore because we are ambassadors of Christ.
It's unacceptable that one race should even think they are superior to another. We have one God who created different races to show His glory and power.
As believers of Jesus Christ, what role can we play to stand against racism in our communities? The word of God helps us with some practical responses in the fight against racism.
1. Ask the Lord to search your heart
"Search me, O God, and know my heart;
Try me, and know my anxieties;
And see if there is any wicked way in me,
And lead me in the way everlasting."

Psalm 139:23-24
The first way we can fight racism as Christians is to examine our hearts.
How does your heart see people of a different race from you? Have you ever made assumptions about a person's character or behavior based on their race?
Pray about it and ask God to reveal any prejudice you may have. Ask God to forgive you and help you see people as He sees them. He is the Creator of all mankind.
2. Stop racism in the home first
After doing a personal evaluation of our heart conditions towards racial differences, we then need to analyze our homes and how we're dealing with this subject.
My daughter has both white and brown dolls. We've done this consciously to teach her that there are different races in this world and she should accept them all as they are. After all, we're all made in the image of God.
Education of racial differences and acceptance starts in the home with us as parents passing it on to our children.
The world including the news, political leaders, and even friends expose our children to so many viewpoints. We need to help them process all that they hear and see and teach them the right way which is always God's way.
3. Pray for Racial Reconciliation
We are privileged to have access to God through prayer. So, we need to pray for unity, racial reconciliation, and for peace to prevail.
There's a great promise in God's word. One day in heaven racial reconciliation will happen but we need to pray as well to start experiencing it right here, right now.
"After these things I looked, and behold, a great multitude which no one could number, of all nations, tribes, peoples, and tongues, standing before the throne and before the Lamb, clothed with white robes, with palm branches in their hands, and crying out with a loud voice, saying, "Salvation belongs to our God who sits on the throne, and to the Lamb!""

Revelation 7:9-10
4. Practice the ministry of reconciliation
God is in the business of reconciliation.  He has reconciled us to Himself through His Son Jesus Christ and we have also been given the ministry of reconciliation to unite others with Him.
Accept this ministry as an ambassador of Christ and take steps to unite rather than divide across racial lines.
"Now all things are of God, who has reconciled us to Himself through Jesus Christ, and has given us the ministry of reconciliation,"

2 Corinthians 5:18
5. Stop racism by focusing on justice
In Matthew 23 Jesus was rebuking the teachers of the law at the time, that is the Pharisees and Scribes about their conduct and hypocrisy.
"Woe to you, scribes and Pharisees, hypocrites! For you pay tithe of mint and anise and cummin, and have neglected the weightier matters of the law: justice and mercy and faith. These you ought to have done, without leaving the others undone."

Matthew 23:23
The teachers were focusing on tithing and finances but not concerning themselves with the matters of the people. They didn't have the people at heart.
Focusing on justice, mercy and faith is a biblical response to racism. These are the weightier matters Jesus spoke about. And as His children, we should have the same concerns. Seeking justice is not a sin but a way to help stop racism.
"Racism and injustice and violence sweep our world, bringing a tragic harvest of heartache and death."

Rev. Billy Graham
6. Fight racism through empathy
The Bible encourages us to rejoice with those who rejoice and weep with those who weep. When others are hurting, we ought to show empathy and compassion as believers.
We are the hands and feet of Jesus Christ. And if Jesus wept when he felt pain, we can do the same.
"Rejoice with those who rejoice, and weep with those who weep."

Romans 12:15
7. Love justice like God
Did you know that God loves justice? Yes, He does. He hates when people are treated unfairly. As His children, we love what He loves and hate what He hates.
"He loves righteousness and justice;
The earth is full of the goodness of the Lord."

Psalm 33:5
In one breath God wants us to be righteous and practice justice. It's important to God that people are treated justly.
8. Be a Good Samaritan
The parable of the Good Samaritan in Luke 10:25-37 is a powerful one. A lawyer was testing Jesus by asking "who is our neighbor?" since the Bible says we need to love our neighbors as ourselves. That's when Jesus told him the Parable of the Good Samaritan.
A man was robbed and wounded and lying half-dead by the side of the road. A priest and Levite passed him. Can you imagine that? Men of the cloth, leaders of faith passed by a hurt man.
I have a picture of them rushing off to the temple to pray or preach yet not practicing what they preach. It was the Good Samaritan who wasn't even a Christian who helped the half-dead man.
We can't leave people who are hurting while we go on with our busy lives. Practicing our faith means offering a helping hand. That's what is important.
Both Christians and non-believers have a role to play to stop racism.
Doing good work and having faith are required of us because faith without works is dead.  Being kind to our neighbors is a great biblical response to racism.
9. Live in Peace with others
"Pursue peace with all people, and holiness, without which no one will see the Lord"

Hebrews 12:14
In a world full of strife, chaos, and hatred, we are called to pursue peace. We serve the Prince of Peace Himself Jesus Christ. When we experience the peace of God, we can then share it with others.
Spread the message of peace across different races in your family, community, church, and on social media. That's how you help fight racism as a believer.
10. Stop racism with love
Here is the thing about Jesus: He loved those who were marginalized, despised, shamed, and looked down upon by society.
Jesus ate in the home of a tax collector, he touched individuals with diseases that made them outcasts like leprosy and flow of blood and healed them.
He spoke to a Samaritan woman and He didn't condemn a prostitute among many other things He did.
We imitate Jesus by loving those whom the world expects us to hate. This applies to all races. We're taught hate and revenge. But with Jesus, we can practice love. 
The Bible says we can't say we love God who we can't see yet hate a person that we see. Love covers a multitude of sins, including the sin of racism. When we learn to love others the way God has loved us we take a stand against racism and defeat it.
11. Believe in the Cross
Ephesians 2:12-16 speaks about the power of the Cross and the death of Jesus Christ as a weapon to unite. Those who were circumcised and uncircumcised, Gentiles and Jews- all have become one.
"For He Himself is our peace, who has made both one, and has broken down the middle wall of separation,"

Ephesians 2:14
As Jesus' disciples, we believe in and stand with the power of the Cross to continue to unite those who are separated across racial lines.
12. Acknowledge the Ultimate Healer
Racism breaks bodies, hearts, and souls. But here's the thing that I know for sure: Humans have no power to heal other humans. It's. Just. Not. Possible.
We need to ask God to heal people whose hearts are broken because of racism. For God to mend and heal them. He is Ultimately the one with all the power.
If you've been hurt through racism, ask God to give you the power and freedom of forgiveness so you can heal.
Prayer for reconciliation
Lord, we thank you for making us in your image and making us different. Teach us to accept each other as we are and to love others like Jesus.
Help me to know how best I can respond to racial differences in my family, church, and community. Use me as your ambassador to stop racism around me.
We stand today and pray against racial divisions. Our Father, help us to reconcile with each other, the same way we've been reconciled to you. Help us to believe in the power of the Cross to re-unite different races.
Heal all those who've been hurt by racism and may they experience your peace and love again. May we always show empathy to those who're hurting and be advocates of justice.
In Jesus' name, I pray. Amen.
What other ways can we respond to racism as believers? Share in the comment below.