When you're a mom, especially of young kids, sleeping peacefully seems to be a distant, forgotten, and unattainable dream. Working moms also struggle with sleep because they're juggling a home and work life. But God encourages us as moms to rest in these 18 wonderful sleep Bible verses.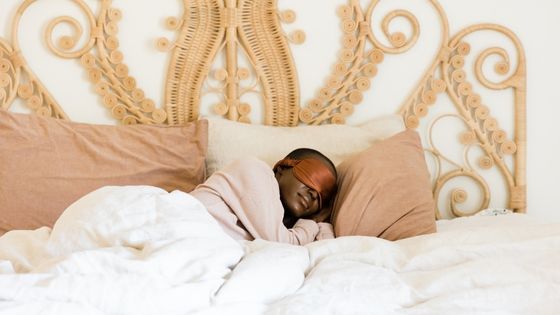 Sleep Bible verses for moms to remember
Sleep is such an important part of resting as moms. After all the work we do which includes looking after our families and communities, we need to make time for a peaceful night and get a good night's rest. These bedtime scriptures will inspire you to hold onto God's word and promises about sleep.
"Come to Me, all you who labor and are heavy laden, and I will give you rest."

Matthew 11:28
"casting all your care upon Him, for He cares for you."

1 Peter 5:7
Sleep is a big part of resting. Jesus invites all weary moms to come to Him and He promises us to rest in Him. So, the invitation is open, and He is waiting to welcome us into His rest.
Jesus cares about us and any problems we may be going through. He wants us to cast our troubles on Him so we can stop worrying about them and trying to deal with them ourselves.
"You shall not be afraid of the terror by night,
Nor of the arrow that flies by day,"

Psalm 91:5
"When you lie down, you will not be afraid;
Yes, you will lie down and your sleep will be sweet."

Proverbs 3:24
What a beautiful, sweet sleep scripture! One of the reasons why we don't sleep well is because of fears in our heads about what will happen, what might happen, and even what has happened. These are all beyond our control.
What is in our control is our reactions and attitudes. And the truth is only God is in control. When you overcome fear through God's word and power, you will be able to enjoy sweet sleep. Reading the Bible before bed and praying will also help you relax and be calm before bed.
"I cried to the Lord with my voice,
And He heard me from His holy hill. Selah

I lay down and slept;
I awoke, for the Lord sustained me."

Psalm 3:4-5
"I will both lie down in peace, and sleep;
For You alone, O Lord, make me dwell in safety."

Psalm 4:8
It's great to read these sleep bible verses before bedtime. They help you to memorize God's promises and pray according to the Bible before you rest.
Babies sleep better when they know they are safe and secure with their moms. Seems that is true of us as their moms as well. When we know we are safe and protected by our loving Heavenly Father, we will be able to lie down and sleep peacefully.
"And suddenly a great tempest arose on the sea, so that the boat was covered with the waves. But He was asleep. Then His disciples came to Him and awoke Him, saying, "Lord, save us! We are perishing!"

But He said to them, "Why are you fearful, O you of little faith?" Then He arose and rebuked the winds and the sea, and there was a great calm."

Matthew 8:24-26
Jesus slept during a storm. And the disciples were confused and asked Him why He would sleep when they were in trouble. But Jesus knew that He had the power to calm the storm.
So, when we trust in God and His power to solve our life's challenges, we will be able to sleep better.
"He will not allow your foot to be moved;
He who keeps you will not slumber.
Behold, He who keeps Israel
Shall neither slumber nor sleep."

Psalm 121:3-4
"For He shall give His angels charge over you,
To keep you in all your ways."

Psalm 91:11
This sleeping scripture shows that knowing that God doesn't sleep helps you in turn to rest peacefully. You have confidence that He will protect you and shield you from any harm. Moreover, His angels are always watching over us.
"And let the peace of God rule in your hearts, to which also you were called in one body; and be thankful."

Colossians 3:15
"You will keep him in perfect peace,
Whose mind is stayed on You,
Because he trusts in You."

Isaiah 26:3-4
When our hearts have trusted in God and His ability to calm the storms, we will experience His peace and it will rule our hearts and minds. It helps to keep your mind on God's promises at all times especially at night when so many random thoughts come into your brain. This will help you to rest well.
"It is vain for you to rise up early,
To sit up late,
To eat the bread of sorrows;
For so He gives His beloved sleep."

Psalm 127:2
I appreciate this bedtime scripture. God gives us peaceful sleep because He loves us no matter what. In response to that love, whatever we do should be done for His glory and praise otherwise it's in vain.
For thus says the Lord God, the Holy One of Israel:

"In returning and rest you shall be saved;
In quietness and confidence shall be your strength."

Isaiah 30:15
''And you would be secure, because there is hope;
Yes, you would dig around you, and take your rest in safety.
You would also lie down, and no one would make you afraid;
Yes, many would court your favor.'''

Job 11:18–19
"Return to your rest, O my soul,
For the Lord has dealt bountifully with you."

Psalm 116:7
"Be still, and know that I am God;
I will be exalted among the nations,
I will be exalted in the earth!"

Psalm 46:10
Bible verses about sleeping too much
While sleeping peacefully and resting are good habits to practice, it should be after we've worked. That could be a formal job to provide financially for our needs and that of the family or after working in the home to look after the family.
The Bible warns us against sleeping too much because that can lead to laziness and poverty.
"Do not love sleep, lest you come to poverty;
Open your eyes, and you will be satisfied with bread."

Proverbs 20:13
"How long will you slumber, O sluggard?
When will you rise from your sleep?

A little sleep, a little slumber,
A little folding of the hands to sleep—
So shall your poverty come on you like a prowler,
And your need like an armed man."

Proverbs 6:9-11
These bedtime Bible verses encourage us to sleep peacefully after working inside or outside our homes as mothers. Hold onto them and God's word to allow you to rest and wake up refreshed and ready for a new day. After all, each day is a gift God gives us.