What does the Bible say about loving and caring for others?
It's often been said that the Bible is a love story between God and His people and it's true. God has loved us truly and deeply and He calls us to do the same to the people around us. These 20 brilliant Bible verses about loving others will guide us to know and understand how God calls us to love.
Importance of loving one another
It's so important for us to love one another as believers because love is why Jesus came into this world. That's what led Him to the cross.
"For God so loved the world that He gave His only begotten Son, that whoever believes in Him should not perish but have everlasting life."

John 3:16
And when Jesus came, He gave us a new commandment:
Matthew 22:37-40
 "Jesus said to him, "'You shall love the Lord your God with all your heart, with all your soul, and with all your mind.' This is the first and great commandment. And the second is like it: 'You shall love your neighbor as yourself.'  On these two commandments hang all the Law and the Prophets."

Matthew 22:37-40
Learning how to love God and how to love people is important because it's an act of obeying God. Amazingly, all the 613 laws the Jews used to obey before Jesus came were summed up in these 2.
Loving one another is important because it sets us apart from non-believers as Christians.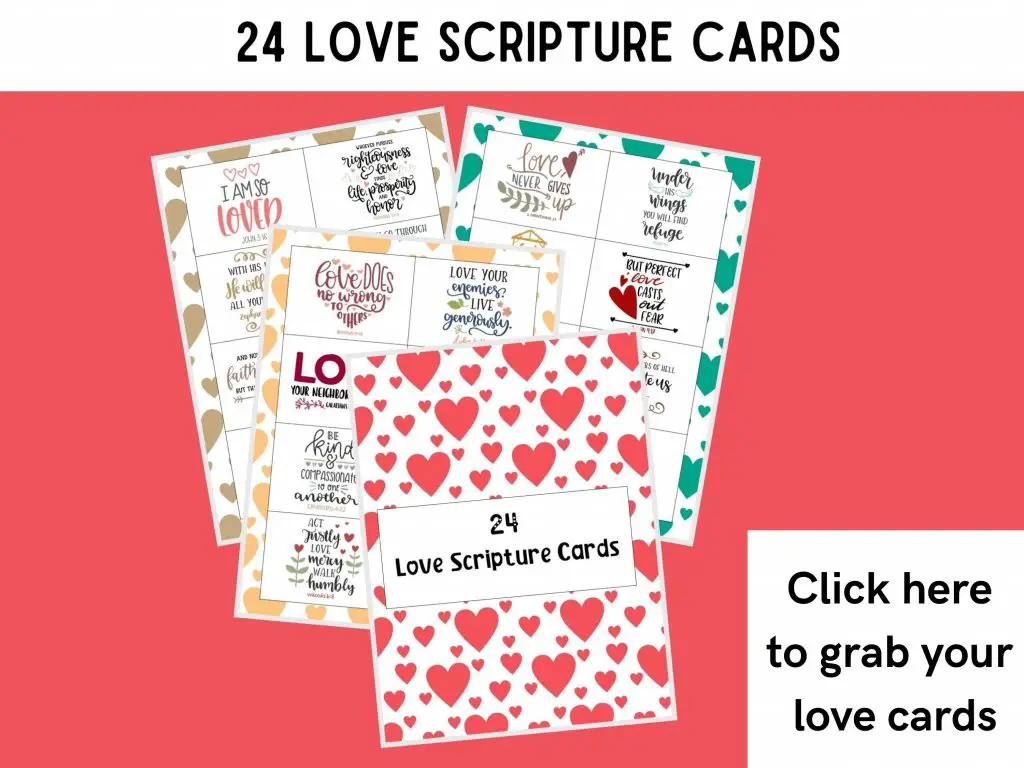 20 Brilliant Bible verses about loving others
The foundation and author of love is God Himself. He showed us love first. From that, we learn how to love others the same way God loved us. This is a process that takes the Holy Spirit working in us daily to help us put it into practice.
These verses about loving others will encourage us as we seek to obey God and love others the way He loved us.
"Love suffers long and is kind; love does not envy; love does not parade itself, is not puffed up; does not behave rudely, does not seek its own, is not provoked, thinks no evil; does not rejoice in iniquity, but rejoices in the truth; bears all things, believes all things, hopes all things, endures all things."

1 Corinthians 13:4-7
This scripture gives us some useful practical tips on how to love people. God wants us to be kind, to not have pride, to think good things about others, and not harm them in any way.
We're also called to believe in people and bear with them and their shortcomings, not to easily get upset, and to have hope that things will get better in our relationships.
It takes a connection with God and walking with the Holy Spirit and relying on Him daily to develop this kind of love for others because it's not easy. But Jesus Christ doesn't call us to live an easy life but rather a different one.
"Beloved, let us love one another, for love is of God; and everyone who loves is born of God and knows God. He who does not love does not know God, for God is love."

1 John 4:7-8
The world is looking to see love in action. Loving others is an expression of our faith. It's one of the core foundations of it. When we love others, the world will know that we're Christians.
God is the author of love and when we love like Him, we act like born-again believers. Loving people is also a great way of evangelizing to them and leading them to their salvation to God.
"You have heard that it was said, 'You shall love your neighbor and hate your enemy.' But I say to you, love your enemies, bless those who curse you, do good to those who hate you, and pray for those who spitefully use you and persecute you, that you may be sons of your Father in heaven; for He makes His sun rise on the evil and on the good, and sends rain on the just and on the unjust. For if you love those who love you, what reward have you? Do not even the tax collectors do the same?

Matthew 5:43-48
This Bible verse about loving others shows that love is different for Christians. We cannot act as the world does and express love the same way non-believers do.
As Christians, we are called and instructed by Jesus to love our enemies and to be kind to those who hate us. God doesn't revenge on anyone who hates Him. He does good to all because He is a good God.
It's in God's nature to be good and it's not dependent on our behavior. He calls us as His beloved children to do the same.
"Now the purpose of the commandment is love from a pure heart, from a good conscience, and from sincere faith,"

1 Timothy 1:5
The love from God is not manipulative, it doesn't just take and not return, and it's certainly not a transactional kind of love. His love is unconditional towards us.
In the same way, our love should be pure, sincere, and genuine. You love without expecting love in return.
We love others because we're also loved and it's the overflowing of that love that we can share with others. Our love is from experience.
"A new commandment I give to you, that you love one another; as I have loved you, that you also love one another."

John 13:34
As the New Testament church, Jesus gave us a new commandment to follow- LOVE. That's what Jesus wants from us- love God and love people. We love the way Jesus loved.
Jesus is our example of love. He led the way for us. We don't need to wonder how we can love others. We just need to observe how Jesus did it.
"And above all things have fervent love for one another, for "love will cover a multitude of sins."

1 Peter 4:8
I appreciate this Bible verse about loving others unconditionally. It's not easy but in the same way, God loves us no matter what, we can do the same.
Above all that we do as Christians- whether it's praying, going to church, or going to Bible study, Apostle Peter says we should love others more than any of those.
Loving others in and of itself is not salvation but that love forgives and covers the wrongdoing someone does. When we love according to the Bible we don't keep reminding them about the sin or mistake but we extend grace, forgive, ask God to heal us, and move on.
Covering someone's' sin means we don't gossip about them and make sure everyone knows what they did. But we talk to them in private and encourage them to confess their sins to God and pray for His forgiveness. Because ultimately, loving others means we shouldn't judge them.
"For the commandments, "You shall not commit adultery," "You shall not murder," "You shall not steal," "You shall not bear false witness," "You shall not covet," and if there is any other commandment, are all summed up in this saying, namely, "You shall love your neighbor as yourself."

Romans 13:9
Love shouldn't hurt.  Rather it should help and heal. When we love others we don't think of harming them or doing bad things to them. We love people the same way we love ourselves.
Every day you take care of yourself by exercising, eating healthy food, getting an education, praying, bathing, and even brushing your teeth among many things. All this shows that you healthily love yourself.
The same way you love yourself and take care of yourself is the same way you should do it for other people around you.
"By this, we know love, because He laid down His life for us. And we also ought to lay down our lives for the brethren."

1 John 3:16
It's when we lay our lives for others that we show that we're like Jesus in our love for them. We're willing to become unpopular and share the Gospel and save someone we love.
Laying down our lives for others is protecting them no matter the cost, it's sharing what we have with those who don't have no matter the cost.
Being selfless and putting the needs and lives of others before our own is laying down our lives just like Jesus did.
"He who loves his brother abides in the light, and there is no cause for stumbling in him"

1 John 2:10
Jesus Christ is the light of the world. We have been called out of darkness and sin to walk in the light. When we abide in Jesus Christ, we love our fellow brothers as well.
" If someone says, "I love God," and hates his brother, he is a liar; for he who does not love his brother whom he has seen, how can he love God whom he has not seen? And this commandment we have from Him: that he who loves God must love his brother also."

1 John 4:20-21
When we love God first, that compels us to love others. That's because God loves people. Loving God is loving people. We love people because they're made in the image of God.
"And may the Lord make you increase and abound in love to one another and to all, just as we do to you,"

1 Thessalonians 3:12
This Bible verse about loving others shows that we increase in love for one another. It's something that we learn and re-learn. Loving others is tough because it's not automatic and definitely not magic.
People hurt us, disappoint us and betray us over and over again. Loving others is messy but it's necessary. It's so encouraging to know that we will grow in it. That means we may fail today but we can pick ourselves up and ask God to help us love again tomorrow.
Remembering that will help you not to be too hard on yourself and expect the impossible. We will not know overnight how to love others according to the Bible.
"My little children, let us not love in word or in tongue, but in deed and in truth"

1 John 3:18
God calls us to love not just through our words but through our actions. It's the same way God acted on His love for us- by sending His Son to die for us on the cross and reconciling us back to Him. 
"Beloved, if God so loved us, we also ought to love one another."

1 John 4:11
"Let love be without hypocrisy. Abhor what is evil. Cling to what is good. Be kindly affectionate to one another with brotherly love, in honor giving preference to one another;"

Romans 12:9-10
"I, therefore, the prisoner of the Lord, beseech you to walk worthy of the calling with which you were called,with all lowliness and gentleness, with longsuffering, bearing with one another in love,"

Ephesians 4:1-2
"Owe no one anything except to love one another, for he who loves another has fulfilled the law."

Romans 13:8
"And walk in love, as Christ also has loved us and given Himself for us, an offering and a sacrifice to God for a sweet-smelling aroma."

Ephesians 5:2
"Love never fails. But whether there are prophecies, they will fail; whether there are tongues, they will cease; whether there is knowledge, it will vanish away."

1 Corinthians 13:4-8
 "But concerning brotherly love you have no need that I should write to you, for you yourselves are taught by God to love one another;"

1 Thessalonians 4:9
 "In this the children of God and the children of the devil are manifest: Whoever does not practice righteousness is not of God, nor is he who does not love his brother. For this is the message that you heard from the beginning, that we should love one another,"

1 John 3:10-11
Short Prayer for love
Lord Jesus thank you for loving me and showing that love on the cross. It humbles me to know that I'm undeserving of the love You give me daily. Thank you for putting people in my life that I can love and share what I've experienced.
Holy Spirit it's not easy to love when people have hurt and disappointed me. That's why I need your strength and power to do so. May others know that I'm Yours because of the love I show to others.
God, You are love. Teach me to love as You do.
In Jesus' name l pray. Amen.