As a mom of 2 girls, my desire is for them to grow up anchored in and guided by God's word. These 25 Bible verses for girls will inspire and encourage girls to know God and trust in Him. The Bible is the most important book to help our girls navigate life.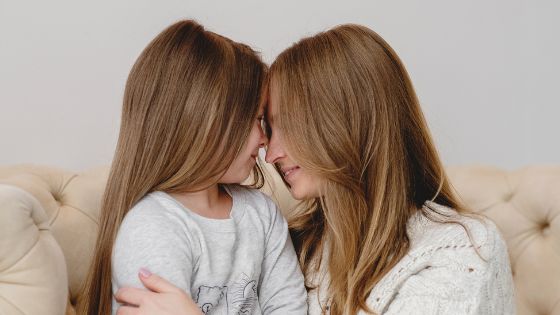 Bible verses for girls
All girls are a blessing from the Lord. You might have a daughter, niece, granddaughter, or family friend and are looking to help them grow in their faith in God. These Bible verses for girls are a great way to start.
Let's explore what our girls can hold onto from God's word to guide, strengthen and lead them.
"I can do all things through Christ who strengthens me."

Philippians 4:13 (NKJV)
This is a short and empowering scripture that's easy to memorize for girls. It gives the the confidence to know that with Jesus Christ, they can achieve anything. They'll get the strength they never knew they had and do things they never knew they could.
We live in a world where girls are told they can't do certain tasks, sports, or jobs but God says in His word we can do all things with His strength. It's all about relying on God and not depending on yourself.
"She is more precious than rubies,
And all the things you may desire cannot compare with her."

Proverbs 3:15
"I will praise You, for I am fearfully and wonderfully made;
Marvelous are Your works,
And that my soul knows very well."

Psalm 139:14
These are good Bible verses for our daughters. In a world where they can doubt their beauty and appearance, girls need to know that they are fearfully and wonderfully made in God's perfect image.
Everything God created is good. So looking down on yourself is looking down on what God created.
Girls are more precious than rubies which is an expensive stone. God loves and values them always.
"Ask, and it will be given to you; seek, and you will find; knock, and it will be opened to you.

Matthew 7:7
Our young girls need to know that God is always willing and ready to hear our prayers. This scripture for girls says you must seek, ask, knock and God will certainly answer.
I always tell my daughter that there's no silly prayer to God. So, she's taken that to heart and she prays for God to make me buy her toys even though she has plenty. But she also prays for healing when sick, and for challenges she has at school. I love hearing her prayers.
"Children, obey your parents in the Lord, for this is right.  "Honor your father and mother," which is the first commandment with promise: "that it may be well with you and you may live long on the earth."

Ephesians 6:1-3
What a great Bible verse for girls. Children are encouraged to obey their parents so they may live long on the earth. While we don't always agree with our parents, it's important to respect them and know that everything they do is from a place of love.
"Surely goodness and mercy shall follow me all the days of my life;

And I will dwell in the house of the Lord forever."

Psalm 23:6
God is so wonderful and such a loving Father that He will ensure that goodness and mercy will follow you forever.
"For I know the thoughts that I think toward you, says the Lord, thoughts of peace and not of evil, to give you a future and a hope."

Jeremiah 29:11
This is one of the most popular scriptures because it gives us hope and encourages us and our girls. God doesn't intend to harm us at all but He plans to give us a future, peace that surpasses understanding, and hope. What a mighty God we serve.
"For I am persuaded that neither death nor life, nor angels nor principalities nor powers, nor things present nor things to come,  nor height nor depth, nor any other created thing, shall be able to separate us from the love of God which is in Christ Jesus our Lord."

Romans 8:38-39
One of the most imperative lessons every girl must know is the power of God's love for her. Girls need to know that they are cherished and loved unconditionally. God is our first love.
Once girls embrace that love and understand the depth and impact it has, it will help them not to tolerate abuse, disrespect, or manipulation from boys and men who claim to love them.
This Bible verse for girls says nothing will ever separate us from God's love. Nothing means exactly that-no thing. What a powerful scripture to hold onto and remember always.
"And you shall love the Lord your God with all your heart, with all your soul, with all your mind, and with all your strength.' This is the first commandment."

Mark 12:30
When you grasp the amazing love God has for you, then it follows that you can love God with all your heart, soul, and strength. God is so kind and gracious that He doesn't force us to love Him. But once we accept and receive His love, we will naturally love Him back.
"God is in the midst of her, she shall not be moved;
God shall help her, just at the break of dawn."

Psalm 46:5
"Strength and honor are her clothing;
She shall rejoice in time to come."

Proverbs 31:25
"Before I formed you in the womb I knew you;
Before you were born I sanctified you;
I ordained you a prophet to the nations."

Jeremiah 1:5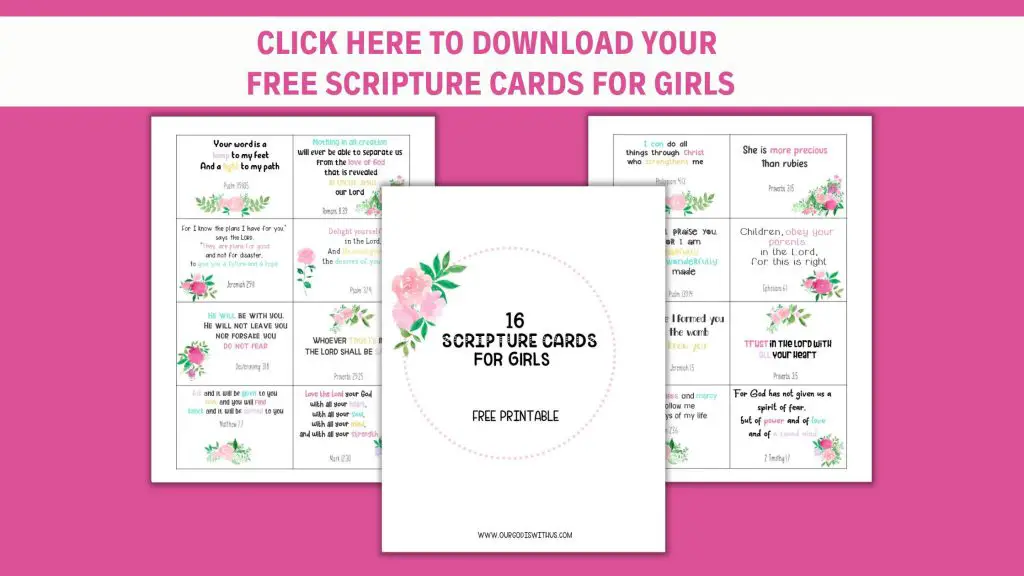 Bible verses for teens
Our teen girls face different circumstances and challenges. But be encouraged. God's word has these Bible verses for teen girls that we can use to teach them what's important and what pleases God.
"Do not let your adornment be merely outward—arranging the hair, wearing gold, or putting on fine apparel— rather let it be the hidden person of the heart, with the incorruptible beauty of a gentle and quiet spirit, which is very precious in the sight of God."

1 Peter 3:3-4
"But the Lord said to Samuel, "Do not look at his appearance or at his physical stature, because I have refused him. For the Lord does not see as man sees; for man looks at the outward appearance, but the Lord looks at the heart."

1 Samuel 16:7
As our girls become teens and feel the pressure of social media, these bible verses for teenage girls are a great reminder that it's more important to have inner beauty than outer beauty. While it's not a sin to dress up and look good, this shouldn't be the primary focus of our girls.
God wants our girls to be kind, gentle, loving, and reflect the fruit of the Holy Spirit.
 "No temptation has overtaken you except such as is common to man; but God is faithful, who will not allow you to be tempted beyond what you are able, but with the temptation will also make the way of escape, that you may be able to bear it."

1 Corinthians 10:13
During the teen stage, there are so many temptations that come your way. This can be peer pressure, alcohol, and substance abuse, and sexual relations among many other pressures to fit in.
But God says none of these temptations are new and unique to you. God has provided a way for you to escape these trials. He will help you to resist them, say "no" and mean it, and walk away from situations that don't please God.
"The fear of man brings a snare,
But whoever trusts in the Lord shall be safe."

Proverbs 29:25
"Trust in the Lord with all your heart,
And lean not on your own understanding;
In all your ways acknowledge Him,
And He shall direct your paths."

Proverbs 3:5-6
"But those who wait on the Lord
Shall renew their strength;
They shall mount up with wings like eagles,
They shall run and not be weary,
They shall walk and not faint."

Isaiah 40:31
Teens need someone to trust and confide in as they go through so many different challenges and emotions on top of a changing body. So we need to encourage them to trust in God and let Him direct them and guide their steps.
Trusting in God also means waiting on God and His timing. God promises that when we do, He will reward us with new strength, courage, and confidence in Him.
"Fear not, for I am with you;
Be not dismayed, for I am your God.
I will strengthen you,
Yes, I will help you,
I will uphold you with My righteous right hand."

Isaiah 41:10
"And the Lord, He is the One who goes before you. He will be with you, He will not leave you nor forsake you; do not fear nor be dismayed."

Deuteronomy 31:8
"For God has not given us a spirit of fear, but of power and of love and of a sound mind."

2 Timothy 1:7
These are such wonderful scriptures for teen girls to know and remember. God wants them to overcome fear through His word.
When our girls trust in God and lean on Him through prayer, they learn not to fear but be courageous. God is there to help us and uphold us and He gives us His power to overcome the trials and tribulations we face daily.  
"Let no corrupt word proceed out of your mouth, but what is good for necessary edification, that it may impart grace to the hearers."

Ephesians 4:29
"She opens her mouth with wisdom,
And on her tongue is the law of kindness."

Proverbs 31:26
Swearing and sarcasm can seem cool for teens but these Bible verses for girls teach otherwise. God says our words should be kind and gracious to those who hear them. What we say should leave a positive impact and not bring others down.
It may not always be easy but God will help them in this area if we'll ask Him.
"Your word is a lamp to my feet
And a light to my path."

Psalm 119:105
"Delight yourself also in the Lord,
And He shall give you the desires of your heart."

Psalm 37:4
These are great Bible verses for teens to know and memorize. Girls need to be taught the importance of God's word, reading and studying it so they can grow spiritually.
Devotions, Christian notebooks, and scripture cards are some of the ways we can help our teens know God's word.
Free Bible Verse cards for Girls
As a gift to you, I've put 16 of these inspiring scriptures for girls in beautiful cards that you can keep. Download the FREE Scripture cards for girls below today.