Our relationship with God requires us to put our trust in Him. Trust is the foundation of any strong relationship even with people. These 25 trusting God Bible verses will equip and encourage us on the importance of growing in trusting the Lord.
What it means to trust God
To trust the Lord is to have faith in Him and depend on Him. It's to believe in His principles, power, and promises. It takes time to have a bond with God and learn to trust Him.
The more time you spend with God, the more you learn to trust in Him. Knowing why we can trust God helps us see that we truly serve a trustworthy God.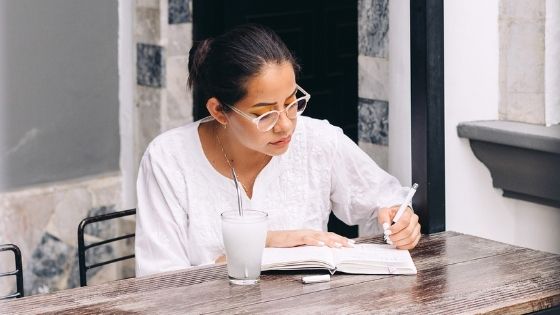 Who showed trust in God in the Bible?
We look to the Bible for examples of how to trust God. These are a few examples of the people who trusted God in the Bible.
1. Hannah put her hope in God
Hannah was a woman scorned and looked down upon by her sister-wife because of her barrenness. But she prayed to the Lord wholeheartedly and believed that He would make a way for her. Trusting in God gave her hope that one day she would be a mother.
God answered her prayer with a child and even more children afterward. She shows us why it's important to pray as a way of connecting to God and showing that we trust in Him.
2. Esther trusted God
An evil man called Haman wanted to destroy the Jews. And Esther, being a queen and Jew had to ask her husband, the king not to allow Haman to harm her people. She had to go to the king even at a time when she wasn't allowed to.
Queen Esther showed that she trusted in the Lord by fasting and praying for the freedom and deliverance of her people. She put her life on the line and showed that trusting God means you become courageous and bold even in the face of danger.
This is what she said:
"Go, gather all the Jews who are present in Shushan, and fast for me; neither eat nor drink for three days, night or day. My maids and I will fast likewise. And so I will go to the king, which is against the law; and if I perish, I perish!"

Esther 4:16 (NKJV)
Because Esther trusted God she addressed the king and in the end saved the Jews from a huge massacre.
3. Abraham had faith in God  
Abraham was told by God that he would become a father of nations yet he became old and still had no children with his wife Sarah. When the promised son Isaac finally came and he raised him, God told Abraham to sacrifice Isaac to Him.
Now l don't know about you, but this painful request from God would put any parent in a complicated position. But Abraham's faith in God made him obey. He almost sacrificed his son but God came to his rescue just before he went ahead with the plan. Instead, he found out God was testing him and he had passed with flying colors.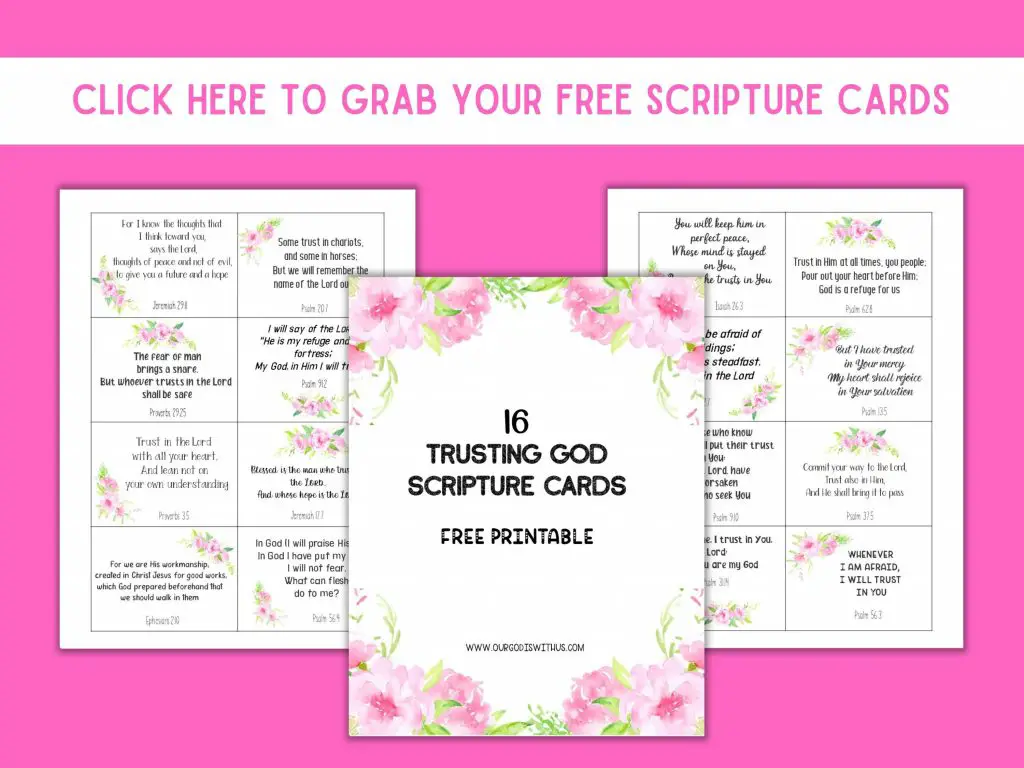 Trusting God Bible verses
Learning to trust God day by day will help you grow spiritually as a believer. God keeps His promises to those who rely upon Him and have faith in Him. These bible verses about trusting God will inspire you and remind you that there's power in trusting Him.
"Trust in the Lord with all your heart,
And lean not on your own understanding;
In all your ways acknowledge Him,
And He shall direct your paths."

Proverbs 3:5-6
This is one of the most popular scriptures about trusting God. You need to trust God with all your heart and leave no room for doubting Him, His intentions, and His power.
When you acknowledge how mighty God is and show your dependency on Him, He will direct your steps and give you much-needed wisdom, understanding, and knowledge to navigate life.
"Blessed is the man who trusts in the Lord,
And whose hope is the Lord.

For he shall be like a tree planted by the waters,
Which spreads out its roots by the river,
And will not fear when heat comes;
But its leaf will be green,
And will not be anxious in the year of drought,
Nor will cease from yielding fruit."

Jeremiah 17:7-8
When you trust in the Lord, you become fruitful in all seasons of life. He sustains you and strengthens you at all times. Even when others are struggling, you are at peace because you know God is on your side and He will never let you down.
"The fear of man brings a snare,
But whoever trusts in the Lord shall be safe."

Proverbs 29:25
Trusting people is a trap. It seems justifiable and logical because we can see people physically and touch them but people can let us down. So when you trust in God you're safe from disappointment and heartache.
"In God (I will praise His word),
In God I have put my trust;
I will not fear.
What can flesh do to me?"

Psalm 56:4
When we trust in God and not people, we will not fear man. So many times we concern ourselves too much with "what would people say or think of me?". Yet God wants us to be more concerned about obeying Him and getting His approval.
This trusting God bible verse promises us that when we have faith in the Lord and put our hope in His word, He will help us to overcome fear and lead a life of courage and peace.
"He who trusts in his own heart is a fool,
But whoever walks wisely will be delivered."

Proverbs 28:26
Trusting yourself and your own strength and ability is foolishness. We were created by God and He is the Almighty One. All power belongs in Him.  Trusting in the Lord shows our wisdom.
"He who dwells in the secret place of the Most High
Shall abide under the shadow of the Almighty.
I will say of the Lord, "He is my refuge and my fortress;
My God, in Him I will trust."

Psalm 91:1-2
I remember when the pandemic started, our Pastor encouraged us as a church to read Psalm 91 daily. It's such a powerful chapter about the protection God gives us as His children when we trust in Him.
"He also brought me up out of a horrible pit,
Out of the miry clay,
And set my feet upon a rock,
And established my steps.
He has put a new song in my mouth—
Praise to our God;
Many will see it and fear,
And will trust in the Lord.

Blessed is that man who makes the Lord his trust,
And does not respect the proud, nor such as turn aside to lies."

Psalm 40:2-3-4
This great verse about trusting God reminds us that He is our savior and our salvation. He takes us from a life of darkness into His marvelous light.
When those around us see us and our lives being transformed from the inside out by our God, they will put their fear in the Lord and learn to trust Him as well.
"Some trust in chariots, and some in horses;
But we will remember the name of the Lord our God."

 Psalm 20:7
"Cause me to hear Your lovingkindness in the morning,
For in You do I trust;
Cause me to know the way in which I should walk,
For I lift up my soul to You."

Psalm 143:8
"Behold, God is my salvation,
I will trust and not be afraid;
'For Yah, the Lord, is my strength and song;
He also has become my salvation.' "

Isaiah 12:2
"But I have trusted in Your mercy;
My heart shall rejoice in Your salvation."

Psalm 13:5
"Many sorrows shall be to the wicked;
But he who trusts in the Lord, mercy shall surround him."

Psalm 32:10
"Commit your way to the Lord,
Trust also in Him,
And He shall bring it to pass."

Psalm 37:5
"Trust in Him at all times, you people;
Pour out your heart before Him;
God is a refuge for us. Selah"

Psalm 62:8
"But as for me, I trust in You, O Lord;
I say, "You are my God."

Psalm 31:14
Trusting God in difficult times
God calls us to trust in Him throughout all of life's seasons whether good or bad. Hard times come as tests, temptations, or trials in life. It's in those times that you need to trust God with all your heart.  
Trusting God in difficult times Bible verses
In tough times, it's important to hold on to the word of God for strength and guidance. These Bible verses about trusting God in difficult times will encourage you to hold on to His promises to carry you through.
"Whenever I am afraid,
I will trust in You."

Psalm 56:3
"And those who know Your name will put their trust in You;
For You, Lord, have not forsaken those who seek You."

Psalm 9:10
When you go through hard times, such as grief and loss of a loved one or sickness, you can be scared about the future and what it will bring. It's in those times that trusting God and His everlasting presence will help you.
God has assured us that He will never leave us in difficult times if we put our faith in Him. The life of Joseph shows us that God is true to His word. Even in a foreign land, as a slave, and when He felt betrayed by the people He trusted, God never let down Joseph and kept Him till the very end.
"You will keep him in perfect peace,
Whose mind is stayed on You,
Because he trusts in You.

Trust in the Lord forever,
For in Yah, the Lord, is everlasting strength."

Isaiah 26:3-4
We experience the perfect peace of God when we abide in God during hard seasons. The peace from God is excellent and supernatural. When we trust in God always, He gives us His peace even in the middle of life's storms and we're strengthened.
"The Lord is my strength and my shield;
My heart trusted in Him, and I am helped;
Therefore my heart greatly rejoices,
And with my song I will praise Him."

Psalm 28:7
In this Bible verse about trusting God, we are given confidence that the Lord will help and deliver us in tough times because He loves us. In turn, we can depend on Him and rejoice in hope during trials and tribulations.
"He will not be afraid of evil tidings;
His heart is steadfast, trusting in the Lord."

Psalm 112:7
I watch the news sometimes and get concerned about the world we live in. While there's usually news of violence, wars, and pain, God wants us as His children to have unwavering faith in Him.
Bible verses about trusting God's plan
My daughter doesn't stress about where her school fees will come from because she trusts that we have a plan as her parents. In the same way, God wants us to trust His plan as our Heavenly Father. These are inspiring Bible verses about trusting God's plan always.  
 "For I know the thoughts that I think toward you, says the Lord, thoughts of peace and not of evil, to give you a future and a hope."

Jeremiah 29:11
Trusting God's plan is believing this important verse about trusting God. His thoughts towards us are that of peace, a future, and hope in Him.
"For we are His workmanship, created in Christ Jesus for good works, which God prepared beforehand that we should walk in them."

Ephesians 2:10
"being confident of this very thing, that He who has begun a good work in you will complete it until the day of Jesus Christ;"

Philippians 1:6
"Before I formed you in the womb I knew you;
Before you were born I sanctified you;
I ordained you a prophet to the nations."

Jeremiah 1:5
These scriptures about trusting God and His plan are a great way to remember that God is always on our side. He is for us and with us.
The Lord had a plan for you before you were formed in your mother's womb. He chose you and has a purpose for your life. Trust His plan because His intentions for you are good. After all, He loves you unconditionally.
Trust God's timing
As a child of God, He often asks us to wait for Him. David waited years from His anointing to become a king and his inauguration as king. Abraham waited years from the time God told him he would be a father of nations to finally holding Isaac in His hands.
When we wait on God, we learn to trust His plan and obey Him in the wait. We hold onto His ways and words and get inspired by those in the walk of faith who've also had to be patient.
Learning how to wait for the Lord's timing takes time and practice. But the Holy Spirit himself will strengthen and help us as we lean on Him always.
"But those who wait on the Lord
Shall renew their strength;
They shall mount up with wings like eagles,
They shall run and not be weary,
They shall walk and not faint."

Isaiah 40:31
This is such a powerful promise from God's word. When we wait and trust God's perfect timing, we shall continually be strengthened. Those who trust in God will never be weary or faint. God will preserve and protect them always and they will arise and be the light in this dark world.
These are such wonderful trusting God Bible verses to remember, memorize and hold onto so you can grow to know Him and put your faith in Him. He is a faithful God and He always honors the promises in His word.