Do you wish you knew more Bibles verses but don't know where to start? Do you struggle with the time to memorize scripture? These are 26 short memory verses you need to know as a Christian. The great thing is because they're short, they're easy Bible verses to memorize, so you can get started today.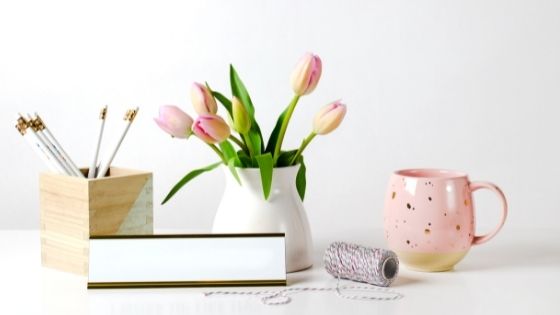 The importance of memorizing Scripture
We see the power of memorizing Scripture in our Lord, Savior, and example Jesus Christ. When the Pharisees were looking at ways to test and trap Jesus, he often used the Word of God to correct them and help them see the truth.
When Jesus was being tempted by the devil in Matthew 4:1-11, He was able to defeat him because of the power of memorizing Bible verses. With each temptation thrown at Jesus, he answered with the words "It is written.." So Jesus definitely knew the Word.
Why do we memorize Scriptures?
There are several key reasons why as believers, we must memorize God's Word:
We are Jesus' disciples and as His followers, we do what He did as well.
Memorizing Scripture grows our faith in God.
It helps us win spiritual battles.
We can resist and overcome temptation when we memorize Bible verses.
Memorizing Bible verses helps us not to sin against God and therefore do His will.
"Your word I have hidden in my heart,
That I might not sin against You."

Psalm 119:11 (NKJV)
How to memorize Bible verses
Memorizing Bible verses is a great Spiritual discipline to grow our faith in God.  The best way to memorize Scripture is by writing it down. Research shows that we're better able to remember what we write down. Writing down the verse, helps us understand its meaning and remember it better.
6 helpful tips to memorize Scripture quickly:
Start with short memory verses like the ones shared below. These will be quick and easy to memorize, help you get into the habit, ensure consistency and motivate you to keep going.
Write the Bible verse down and read it aloud- this helps to put it into memory.
Memorize one Bible verse at a time. If you're a busy mom, you can commit to 1 Bible memory verse a week. By the end of the year, you'll have memorized 50+ Scriptures.
Put the Scripture in a place when you can see it during the day. This could be your car dashboard, bathroom or bedroom mirror, above the kitchen sink or on the fridge.
Repeat the Bible verses over and over, time and time again so they stick in your mind.
Use Bible verse cards like the ones you can download in this post.
26 Short Memory verses you need to know
Starting with short and easy Bible verses is a fun and fast way to start memorizing Scripture.  You'll be inspired to keep learning more.  While these verses are short, they are powerful verses in the Bible.
6 Very Short Bible verses
We'll start with some of the shortest Bible verses to memorize. These have less than 10 words so they are easy to memorize.
Psalm 23:1 "The Lord is my shepherd, I shall not want"
Psalm 23 is a popular chapter written by David. He could relate to God as His Shepherd because he started as a shepherd before becoming a king. As our Shepherd, God leads us and takes care of us daily.
John 3:30 "He must increase, but I must decrease."
What a short but powerful Bible verse. I pray this verse over myself often because it humbles me. In our lives as believers, it's Jesus Christ who must increase while we decrease. We are His servants. He has all the power. To Him be glory and honor forever.
1 Thessalonians 5:16 "Rejoice always"
No matter the situation, God wants us to always rejoice. We rejoice because He is our strength, our hope, and our Savior. His grace is sufficient for us.
Psalm 56:3 "Whenever I am afraid, I will trust in You"
Are you overwhelmed with fear and anxiety? This is such a short but good Bible verse to memorize to help you overcome fear in life.
1 Thessalonians 5:17 "Pray without ceasing"
Another favorite of mine. This short memory verse invites us to have a conversation with God at any time. No restrictions, no boundaries, no special positions, no fancy words. Just pray like you're breathing. Don't stop talking to Him. He is available. He is listening.
1 Thessalonians 5:22 "Abstain from every form of evil"
This is a great short scripture to remind us to resist anything evil. The Holy Spirit will help us to resist temptation and do God's will when we listen to His small and still voice.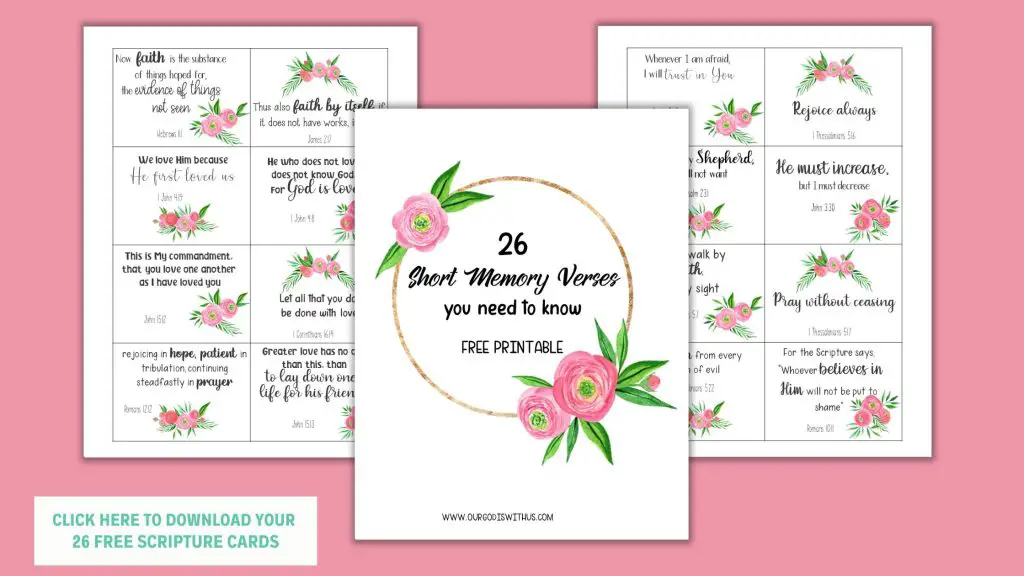 6 Memory verses about faith
These short scriptures about faith are easy to memorize. Faith is believing in God and His Word. Having faith in God is so important for us as Christians.
"Now faith is the substance of things hoped for, the evidence of things not seen."

Hebrews 11:1
This is a short, popular Bible verse. It gives us the Biblical meaning of faith. Faith is being sure of what we don't see. We haven't seen God physically but we believe that He is there and we will see Him one day. That is faith.
We have 100% confidence that God will do what He promised and we trust in Him- that's faith.
"And whatever things you ask in prayer, believing, you will receive."

Matthew 21:22
"For the Scripture says, "Whoever believes in Him will not be put to shame."

Romans 10:11
When we pray, we need to believe that God will answer the prayer because He promises that He will. When we put our faith in God, we will never be disappointed.
"For we walk by faith, not by sight."

2 Corinthians 5:7
"Watch, stand fast in the faith, be brave, be strong."

1 Corinthians 16:13
"Thus also faith by itself, if it does not have works, is dead."

James 2:17
Faith strengthens us, gives us hope, and sustains us. But our belief in God has to be accompanied by works. We need to also display the fruit of the Spirit in Galatians 5:22-23 which is evidence that the Holy Spirit is in us.
6 Memory verses about love
These powerful Scriptures remind us of the importance of God's love and how we need to imitate Him in loving others as well.
"We love Him because He first loved us." 1 John 4:19
"He who does not love does not know God, for God is love." 1 John 4:8
"Greater love has no one than this, than to lay down one's life for his friends." John 15:13
God is the author of love. Knowing God is knowing how to love others. Jesus Christ proved His love for us by dying for us on the cross. That was the ultimate sacrifice. That's the true meaning of love.
"Let all that you do be done with love." 1 Corinthians 16:14
"And now abide faith, hope, love, these three; but the greatest of these is love." 1 Corinthians 13:13
"This is My commandment, that you love one another as I have loved you." John 15:12
Jesus Christ teaches us how to love others. He forgave those who persecuted Him and those who betrayed Him. He was kind and compassionate. As Jesus' disciples, we need to follow his example of love.
8 Memory verses about hope
Christians should be full of hope especially when we look at the state of our world. We have hope because we know another life is coming, another world where we will be with God forever. These short memory verses about hope remind us that our hope should be in God alone.
"And now, Lord, what do I wait for?
My hope is in You."

Psalm 39:7
"For You are my hope, O Lord God;
You are my trust from my youth."

Psalm 71:5
"You are my hiding place and my shield;
I hope in Your word."

Psalm 119:114
"I wait for the Lord, my soul waits,
And in His word I do hope."

Psalm 130:5
These are encouraging psalms to memorize from David. This was a man who needed to be hopeful.
He was told he was going to be the next king of Israel when he was just a teenager and had to wait more than 10 years to become king. While he waited, he was on the run from Saul who was king at the time and wanted to kill him.
It's no surprise that David needed hope. He held on to God in that time of waiting. Even when times are hard and we don't know when God will fulfill His promises in our lives, let's be like David and hold on to hope in God.
"The Lord is my portion," says my soul,
"Therefore I hope in Him!"

Lamentations 3:24
"rejoicing in hope, patient in tribulation, continuing steadfastly in prayer;"

Romans 12:12
"But if we hope for what we do not see, we eagerly wait for it with perseverance."

Romans 8:25
"Therefore, since we have such hope, we use great boldness of speech—"

2 Corinthians 3:12
Hope sustains us and preserves us. It gives us strength and boldness. We can rejoice even in hard situations when our hope is in God.
Remember to download the 26 Short memory verse cards FREE printable below and start your scripture memory journey today.