One of the desires of every girl is to one day get married to her prince charming. The fairy tales made it clear that this was something we should all look forward to. But what is God's purpose for marriage? Through the bible verses about marriage and weddings, we will understand how God views marriages and what He expects from us as His children.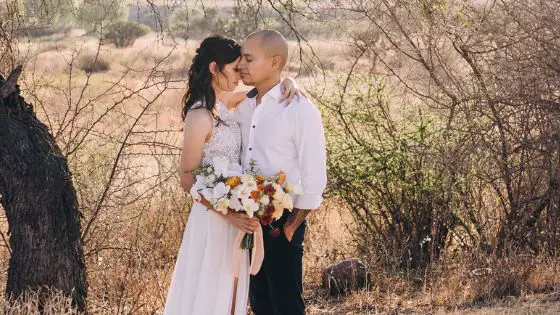 What is the importance of marriage in the Bible?
Marriage is a lifetime commitment, a covenant we make and vow that we take. The Bible refers to marriage as a picture of God's love and commitment to His children. So, marriage is serious business for God.
"For as woman came from man, even so man also comes through woman; but all things are from God."

1 Corinthians 11:12 (NKJV)
It's encouraging to know that marriage comes from God. He created marriage for a reason and purpose. We should be grateful for our spouses and look to the Bible as a guide to a successful marriage.
While we can tend to focus more on wedding preparations, it's important to spend even more time understanding God's promises, purpose, and expectations for us as couples.
That's why pre-marital Christian counseling is crucial. It prepares both parties for married life instead of getting caught up in the fantasy of their life together.
Counseling will help the couple gain more understanding and acceptance of one another, make plans together, and build realistic expectations of marriage.
Marriage is one of the relationships God uses to grow us spiritually and make us more like Him.
Because families and homes are built from marriages, God holds marriage in high regard. Families make up communities and those make up countries and continents. So, the foundation of our society is marriage.
That's why getting married without the knowledge of the biblical principles of marriage can get us into serious trouble. God's word needs to be at the center of our weddings and marriages.
Bible verses about love and marriage
Love is the foundation upon which strong and lasting marriages are built. Now love according to the Bible is different from the love we see in the world.
Let's explore these Bible verses about marriage and love.
"Beloved, let us love one another, for love is of God; and everyone who loves is born of God and knows God."

1 John 4:7
"But above all these things put on love, which is the bond of perfection."

Colossians 3:14
"A new commandment I give to you, that you love one another; as I have loved you, that you also love one another. By this all will know that you are My disciples, if you have love for one another."

John 13:34-35
Love is a commandment in the Bible. It's a rule we need to follow. It has nothing to do with how we feel. We obey God because He loved us first and we love Him in return.
God is the author of love and therefore the author of marriage. When we show love to one another as a couple, we show that we know God and His word.
The world we live in is looking for glimpses of God's love. When they see us as Christians practicing love in our marriages, this will be a testimony to them of how beautiful Christianity is.
Others around us can be saved because of the love they see in our homes. That's pretty wonderful and amazing to know.
"Let love be without hypocrisy. Abhor what is evil. Cling to what is good."

Romans 12:9
 "My little children, let us not love in word or in tongue, but in deed and in truth."

1 John 3:18
These bible verses about marriage and love show that love is an action word. We can't say we love each other and yet not act in love. That would be hypocrisy.
God expects us to show our love through the words we say to each other as a couple, how we say these words, and what we do for each other. Our love needs to a genuine.
"There is no fear in love; but perfect love casts out fear, because fear involves torment. But he who fears has not been made perfect in love."

1 John 4:18
Marriage should be a place of freedom and not fear. One of the ways I knew my husband was the one was because I was free around him. I could be myself and not who he wanted me to be.
I felt accepted with all my strengths, beauty, flaws, and weaknesses. That's the kind of unconditional love we receive from God and should give each other.
"But the fruit of the Spirit is love, joy, peace, longsuffering, kindness, goodness, faithfulness,"

Galatians 5:22
Love grows in marriage from drawing near to God and spending time with the Holy Spirit. He will teach us how to love our spouses.
"Submitting to one another in the fear of God. Wives, submit to your own husbands, as to the Lord. For the husband is head of the wife, as also Christ is head of the church; and He is the Savior of the body. "

Ephesians 5:21-23
"Nevertheless let each one of you in particular so love his own wife as himself, and let the wife see that she respects her husband."

Ephesians 5:33
"But I want you to know that the head of every man is Christ, the head of woman is man, and the head of Christ is God."

1 Corinthians 11:3
Ephesians 5:21-33 is a great passage about God's picture for marriage.
When we love and are loved, we submit. It's important to know that submission in marriage brings order to it. We worship and serve the God of order.
Everyone submits as these Bible verses about marriage show us.
Christ submits to God. The husband submits to Christ. The husband and wife submit to each other. And the wife submits to her husband.
We submit to each other out of fear for God. Our God is so mighty, full of glory and majesty that we can't help but humble ourselves before Him.
Submission has been taken out of context, misused and abused by some but when it is practiced from a place of love, it's beautiful and honors God. When we submit to our husbands, we show them respect.
"Marriage is honorable among all, and the bed undefiled; but fornicators and adulterers God will judge.""

Hebrews 13:4
 "Let the husband render to his wife the affection due her, and likewise also the wife to her husband."

1 Corinthians 7:3
God honors marriage and the marriage bed is to be respected. We are to be intimate sexually with our partners- this is not a sin.
The Bible grants us the freedom to enjoy each other in the security of marriage. We should never manipulate each other or deny each other of this as a couple.
Bible verses for wedding blessings
All marriages start with a beautiful wedding. Now that we've discussed marriage in detail, what are some encouraging wedding bible verses that we can find in God's word?
"Therefore a man shall leave his father and mother and be joined to his wife, and they shall become one flesh."

Genesis 2:24
"Love suffers long and is kind; love does not envy; love does not parade itself, is not puffed up; does not behave rudely, does not seek its own, is not provoked, thinks no evil; does not rejoice in iniquity, but rejoices in the truth;  bears all things, believes all things, hopes all things, endures all things."

1 Corinthians 13:4-7
The definition of love in 1 Corinthians 13 is so profound. This is the kind of love we need to practice as it's what God expects from us. It's a sacrificial kind of love.
When you get married, you immediately give up the "I" for the "we". You become one flesh with your partner and need to consider them in everything you do going forward.
"Let all that you do be done with love."

1 Corinthians 16:14
"Two are better than one,
Because they have a good reward for their labor."

Ecclesiastes 4:9
"He who finds a wife finds a good thing,
And obtains favor from the Lord."

Proverbs 18:22
These are good and short bible verses for wedding cards. Everything we do in marriage should be done with love as the foundation. Never make room for manipulation as a couple. Enough said.
The Bible promises us that being a couple is better because you can help each other and keep each other warm. Those winter months are a good reminder of the blessing of marriage. Can I get an amen?
"And be kind to one another, tenderhearted, forgiving one another, even as God in Christ forgave you."

Ephesians 4:32
"Be angry, and do not sin": do not let the sun go down on your wrath, nor give place to the devil."
Ephesians 4:26-27
"And above all things have fervent love for one another, for "love will cover a multitude of sins."

1 Peter 4:8
Forgiveness is big in marriage and it's so good to share this as unique wedding bible verses.  A young unmarried couple may think marriage will end all their partners' flaws. But they soon learn that they will notice even more flaws.
We need to grasp God's amazing grace and how much He has forgiven us and continues to forgive us for our sins. That's how we learn to forgive each other in marriage.
Bitterness, grudges, and keeping count of how many times your partner has wronged you will never build your marriage. Instead, it will destroy your marriage.
We have a real enemy who wants to steal the joy in your family and kill the love and intimacy you share with your spouse. Watch out for his tactics and don't give him the time of day.
So, quickly forgive and move on from issues and you can enjoy married life.
But Ruth said:

"Entreat me not to leave you,
Or to turn back from following after you;
For wherever you go, I will go;
And wherever you lodge, I will lodge;
Your people shall be my people,
And your God, my God.
Where you die, I will die,
And there will I be buried.
The Lord do so to me, and more also,
If anything but death parts you and me."

Ruth 1:16-17
Therefore what God has joined together, let not man separate."

Mark 10:9
These Bible verses for wedding blessings show that marriage is a commitment. Modern society is not strong on commitment but God's word is.
When you make your wedding vows before God and men, remember that the promises you make to each other are forever.
Trials and tribulations will come in marriage but hold on to God's word and His promises and you will make it.
"Husbands, love your wives, just as Christ also loved the church and gave Himself for her,"

Ephesians 5:25
Who can find a virtuous wife?
For her worth is far above rubies.

Proverbs 31:10
"An excellent wife is the crown of her husband."

Proverbs 12:4a
Proverbs 12:4a
"For as a young man marries a virgin,
So shall your sons marry you;
And as the bridegroom rejoices over the bride,
So shall your God rejoice over you."

Isaiah 62:5
Bible verses about love and trust
Strong marriages are built on love and trust. As a couple, you need to trust in God and trust each other.
Let's check out these Bible verses about love and trust.
"Commit your way to the Lord,
Trust also in Him,
And He shall bring it to pass."

Psalm 37:5
"Therefore I say to you, whatever things you ask when you pray, believe that you receive them, and you will have them."

Mark 11:24
"Trust in the Lord with all your heart,
And lean not on your own understanding;
In all your ways acknowledge Him,
And He shall direct your paths."

Proverbs 3:5-6
"You will keep him in perfect peace,
Whose mind is stayed on You,
Because he trusts in You.

Trust in the Lord forever,
For in Yah, the Lord, is everlasting strength."

Isaiah 26:3-4
These are inspiring scriptures to pray for your marriage. Commit your wedding and marriage to God. Never think you can handle marriage in your power.
One of the keys to successful marriages is trusting God to help you forgive each other, love each other, and commit to your love and family.
Peace in your home comes from a mind that is focused on God and His word. It comes from trusting in God and His promises.
Free Marriage Scripture Cards
As a free gift to you, I've taken 16 of these verses and wrapped them in beautiful Marriage Scripture Cards. These are absolutely free.
They're a great way to remember the verses and you can use them to pray for your marriage as well. Click image below and download instantly.