Temptations can creep up on us as Christians like a thief in the night. While the temptation is not sinning in itself, acting on it leads to sinning against God. These 30 eye-opening temptation Bible verses will equip us to resist temptation and lead a victorious Christian life.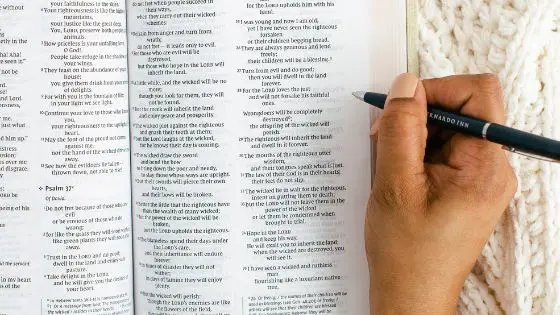 Causes of temptation
There are various types of temptations we experience in life. You may be tempted with eating unhealthy food when you should be watching your weight, overspending, lying, disobeying God, or experience sexual temptation.
The root cause of temptation is fleshly desires. This is what the Bible says. 
"Let no one say when he is tempted, "I am tempted by God"; for God cannot be tempted by evil, nor does He Himself tempt anyone. But each one is tempted when he is drawn away by his own desires and enticed. Then, when desire has conceived, it gives birth to sin; and sin, when it is full-grown, brings forth death."

James 1:13-15 (NKJV)
Spending too much time on social media can lead you to overspend and buy furniture and clothes you don't need or go on vacations you can't afford. It comes down to our need to be accepted and gratify our desires.
Peer pressure can cause one to enter into sexual temptation or the abuse of drugs and alcohol because they're looking for love and acceptance from friends and loved ones.
Lacking self-control sexually, with our temper, or when it comes to nutrition can also lead us into temptation.
When we don't spend time connecting with God through prayer, His word, worship, or fellowship, it becomes difficult for us to overcome temptation.
Examples of temptations in the Bible
There are a few people in the Bible who we can look to as examples of fighting temptation. Our greatest example is Jesus Christ Himself.
In Matthew 4:1-11, Jesus was tempted by the devil. How did Jesus resist temptation? Through the word of God and memorizing scripture. This is one of the most effective tools for victorious Christian living.
Another example of temptation in the Bible is Joseph. He was able to resist sexual temptation by actually fleeing from the scene and Potiphar's wife who was luring him to sin against God.
As Christians, we can't entertain sin because it's dangerous. Sometimes we need to be radical and take extreme measures to flee temptation.
David however is one person who could not resist temptation. He could not control himself and admired someone else's wife Bathsheba. This led to cheating and the murder of her husband Uriah. God was not pleased with David because of this.
The fall of humankind was because of someone unable to fight temptation. That person was Eve. She was tempted to disobey God by the devil which led to the introduction of sin in the world.
Even those around us can be the cause of our temptation. After he lost everything including his wealth, kids, and health, Job is an example of someone who was encouraged to disobey God by his wife and even friends. But he stood his ground and never gave in to the temptation.
30 Eye-Opening Temptation Bible verses
What does the Bible say about resisting temptation? Through these 30 powerful scriptures about temptation, we will learn more about how to avoid and escape temptations that come our way.
"If we say that we have no sin, we deceive ourselves, and the truth is not in us."

1 John 1:8
"For what I am doing, I do not understand. For what I will to do, that I do not practice; but what I hate, that I do. If, then, I do what I will not to do, I agree with the law that it is good.  But now, it is no longer I who do it, but sin that dwells in me."

Romans 7:15-17
We need to be honest with ourselves when we have challenges in a specific area. Admitting where we're struggling is the first step to getting the help we need.
No one should judge or shame a Christian for being tempted or sinning against God. Even the Bible says the fight between the flesh and the spiritual is hard.
But there's hope in God because he gives us a way to escape.
"I say then: Walk in the Spirit, and you shall not fulfill the lust of the flesh."

Galatians 5:16
"But put on the Lord Jesus Christ, and make no provision for the flesh, to fulfill its lusts."

Romans 13:14
"For the grace of God that brings salvation has appeared to all men, teaching us that, denying ungodliness and worldly lusts, we should live soberly, righteously, and godly in the present age,"

Titus 2:11-12
The first way we can overcome temptation is not to fulfill the lusts of the flesh. Just because you feel something doesn't mean you need to act on it.
We need to disobey the flesh and obey God by walking according to His spirit.
God's amazing grace teaches us to walk in the fear of God and according to His ways. We need to choose not to put ourselves in temptation's way.
"Finally, my brethren, be strong in the Lord and in the power of His might. Put on the whole armor of God, that you may be able to stand against the wiles of the devil."

Ephesians 6:10-11
"When He came to the place, He said to them, "Pray that you may not enter into temptation."

Luke 22:40
"Watch and pray, lest you enter into temptation. The spirit indeed is willing, but the flesh is weak."

Matthew 26:41
In these Bible verses about resisting temptation, we see that prayer is a powerful weapon when we struggle. Jesus prayed and encouraged his disciples to pray for victory.
The armor of God helps us to stand against trials and temptations.
"Flee sexual immorality. Every sin that a man does is outside the body, but he who commits sexual immorality sins against his own body. Or do you not know that your body is the temple of the Holy Spirit who is in you, whom you have from God, and you are not your own? For you were bought at a price; therefore glorify God in your body and in your spirit, which are God's."

1 Corinthians 6:18-20
"Flee also youthful lusts; but pursue righteousness, faith, love, peace with those who call on the Lord out of a pure heart."

2 Timothy 2:22
Sexual temptation is one that we can't even entertain. We must be careful because intimate friendships with the opposite gender and getting connected emotionally can often lead to this sin.
Just like Joseph fled sexual temptation, the Bible encourages us to run away with our lives We should rather pursue faith, love, and peace because these will lead us to eternal life.
"Then Jesus was led up by the Spirit into the wilderness to be tempted by the devil."

Matthew 4:1
"For in that He Himself has suffered, being tempted, He is able to aid those who are tempted."

Hebrews 2:18
"For we do not have a High Priest who cannot sympathize with our weaknesses, but was in all points tempted as we are, yet without sin."

Hebrews 4:15
"then the Lord knows how to deliver the godly out of temptations and to reserve the unjust under punishment for the day of judgment,"

2 Peter 2:9
In these Bible verses about temptation, we see that because Jesus Christ Himself was tempted, He has the power and ability to help us in our time of need.
Jesus is compassionate and empathetic towards us because He knows us and loves us unconditionally. Calling on Him and leaning on Him is the key to overcoming temptation. 
"No temptation has overtaken you except such as is common to man; but God is faithful, who will not allow you to be tempted beyond what you are able, but with the temptation will also make the way of escape, that you may be able to bear it."

1 Corinthians 10:13
"Therefore we also, since we are surrounded by so great a cloud of witnesses, let us lay aside every weight, and the sin which so easily ensnares us, and let us run with endurance the race that is set before us,"

Hebrews 12:1
As we've seen in the examples of temptations in the Bible, being tempted is common. Some in the Bible overcame and some didn't.
We can look at those who managed to conquer and learn from them. This will help us stay strong in the Christian race.
God gives all of us a way to escape the struggles, we just have to obey and choose His way.
"Therefore submit to God. Resist the devil and he will flee from you."

James 4:7
"Be sober, be vigilant; because your adversary the devil walks about like a roaring lion, seeking whom he may devour."

1 Peter 5:8
"Now when the devil had ended every temptation, he departed from Him until an opportune time."

Luke 4:13
We are in a spiritual battle and the weapons of our warfare are not physical but spiritual. The enemy of our souls is out to get us, destroy us, steal our joy and kill our relationship with God.
He brings temptations to us so that when we sin against God, we feel guilt and shame and no longer connect with God.
That's why we have to prepare beforehand for the battle. By memorizing scriptures, having discernment, through prayer, and making sure we are surrounded by and accountable to godly friends, we limit his power over us.
"For whatever is born of God overcomes the world. And this is the victory that has overcome the world—our faith."

1 John 5:4
"I can do all things through Christ who strengthens me."
Philippians 4:13
"You are of God, little children, and have overcome them, because He who is in you is greater than he who is in the world."

1 John 4:4
"But thanks be to God, who gives us the victory through our Lord Jesus Christ."

1 Corinthians 15:57
These empowering scriptures about temptation encourage us to remember our identity in Christ. In Him, we are victorious and conquerors because He strengthens us.
"But those who desire to be rich fall into temptation and a snare, and into many foolish and harmful lusts which drown men in destruction and perdition."

1 Timothy 6:9
"Finally, brethren, whatever things are true, whatever things are noble, whatever things are just, whatever things are pure, whatever things are lovely, whatever things are of good report, if there is any virtue and if there is anything praiseworthy—meditate on these things."

Philippians 4:8
Keeping our mindset focused on the things of God helps us to resist and fight off temptations. Meditating on God's word and holding on to His promises is one of the effective keys to winning against the schemes of the enemy. 
"And let us not grow weary while doing good, for in due season we shall reap if we do not lose heart."

Galatians 6:9
"He who overcomes shall be clothed in white garments, and I will not blot out his name from the Book of Life; but I will confess his name before My Father and before His angels."

Revelation 3:5
"Blessed is the man who endures temptation; for when he has been approved, he will receive the crown of life which the Lord has promised to those who love Him."

James 1:12
In these scriptures, we are reminded that there is a reward for those who are able to overcome. God blesses us on earth and also gives us the crown of life one day in heaven.
The reward for remaining strong and not allowing temptation to lead us to sin against God should motivate us to stay strong in the Lord and do His will.
"And do not lead us into temptation,
But deliver us from the evil one.
For Yours is the kingdom and the power and the glory forever. Amen."

Matthew 6:13
"Your word I have hidden in my heart,
That I might not sin against You."

Psalm 119:11
May these 30 temptations Bible verses encourage, empower and strengthen you in the Lord. Through Jesus Christ, we are more than conquerors against the plans and schemes of the enemy.