Do you experience the joy of the Lord daily? Or has the weight of adulting in the 21st century where there's one global crisis after the other, social media comparisons, pressure of perfect homes, careers, marriages, and parenting stolen your joy? These 30 Joy Bible verses will encourage you to seek and experience joy in God no matter what season of life you find yourself in.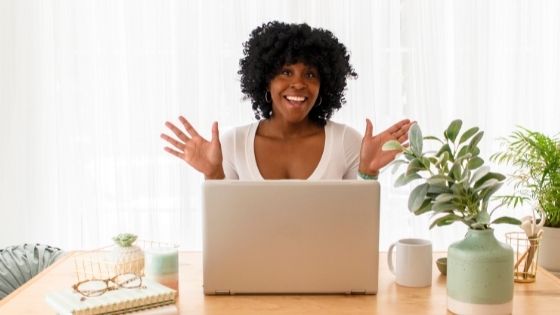 The difference between joy and happiness
The word happy is not used much in the Bible but the word joy is.  So the question is what is joy vs happiness?
Joy is deep in the heart and soul. It's not dependent on events and circumstances. We choose joy even while suffering.  Joy is a state of being. Joy is a fruit of the Holy Spirit.
A joyful heart results in inward peace and a state of being content in every circumstance. The difference between joy and happiness is joy is sacrificial and it's selfless whereas happiness usually revolves around an individual.
Apostles like Paul could write books of the Bible's New Testament while chained in prison and rejoice because they had the joy of the Lord in their hearts and it sustained them. They were not happy but rather joyful.
They understood that what they were doing was bigger than them. That's why until today, we're benefitting from the books they wrote.
Happiness comes and goes. It's dependent on a specific event or circumstance. It's external. Happiness is not a sin but it's also not the goal. The goal is- joy because it's long-lasting and Biblical.
The world we live in says "don't worry, be happy." That's because the world and everything in it is passing away. It's all temporary. The world seeks the high feeling of "right now" with no eternal perspective.
But as believers, we should seek and pursue joy in the Lord. Joy in the Bible is rooted in who God is and our deep connection to Him. The foundation of our joy is our faith. Happiness on the other hand can be experienced whether someone believes in God or not.
Having joy vs happiness is practicing and living out your faith in God.
Joy Bible verses
God wants us to experience long-lasting joy and this can only be done when we abide in Him through His word.  These scriptures on joy will show us where the source of our joy is found.
"Now may the God of hope fill you with all joy and peace in believing, that you may abound in hope by the power of the Holy Spirit."

Romans 15:13
"And not only that, but we also rejoice in God through our Lord Jesus Christ, through whom we have now received the reconciliation."

Romans 5:11
"You have made known to me the ways of life;
You will make me full of joy in Your presence."

Acts 2:28
It's God who fills us with joy and peace. We find joy when we're in God's presence and we're abiding in Him.  So when we don't feel joyful we should ask God to help us and re-fill us with His joy.
When we have the joy of the Lord we overflow with hope. And hope is so important to hold onto in difficult seasons.
Our joy comes from our salvation. We've been reconciled with God through Christ. Imagine a lost child in a big city- looking desperately for his parents and his source of comfort.  Now hopeless and in despair- his parents finally locate him. That reunion and reconciliation will bring joy to both the child and parents.
That's the reconciliation we've received from God. We were lost children in a dark and broken world but He has found us and given us His unconditional love and joy.
God's Joy Bible verses
How do you get joy in the Bible? From God Himself. We can know joy because God is joy. He has joy because it's one of His many wonderful attributes. And God loves to give His joy to His children.
These terrific Bible verses about God's joy will inspire and encourage our hearts.
"These things I have spoken to you, that My joy may remain in you, and that your joy may be full."

John 15:11
"But the fruit of the Spirit is love, joy, peace, longsuffering, kindness, goodness, faithfulness,"

Galatians 5:22
"for the kingdom of God is not eating and drinking, but righteousness and peace and joy in the Holy Spirit."

Romans 14:17
"But now I come to You, and these things I speak in the world, that they may have My joy fulfilled in themselves."

John 17:13
"The Lord your God in your midst,
The Mighty One, will save;
He will rejoice over you with gladness,
He will quiet you with His love,
He will rejoice over you with singing."

Zephaniah 3:17
Joy is a fruit of the Holy Spirit. The more time we spend with the Holy Spirit, the more joyful our hearts will be. Jesus said His joy would remain with us when He left this earth. God, Jesus, and the Holy Spirit are one. God's joy is our joy.
It's important to remember that Christianity is not a religion but a relationship with God. God is our King and He has a kingdom. I might add that He is an amazing King. While we are His servants in His kingdom, we are also His children and friends. Pretty cool, right?
There are 3 things in the kingdom of God-righteousness, peace, and joy. When these 3 are in our lives we are living in His Kingdom. It's not a physical kingdom with a palace and horses and plenty of food. It's a spiritual kingdom in our hearts that we live out by faith in God.
God rejoices over us with gladness and singing because He loves us unconditionally. He gives us His joy because we are His children.
Choose Joy Bible verses
Joy in the Bible is a choice we make daily. Not once or twice then that's it- but something we choose over and over again.
While God has given us His joy, He doesn't force us to walk in it and experience it. He never forces us to do anything we don't want to do. These scriptures on joy will show us that God continually encourages us to choose joy daily so it can guide and lead us.
"Rejoice in the Lord always. Again I will say, rejoice!"

Philippians 4:4
"Rejoice always,"

1 Thessalonians 5:16
"Rejoice with those who rejoice, and weep with those who weep."

Romans 12:15
These are great and powerful short Bible verses to memorize. We can choose joy and rejoice because we have God's joy in our hearts.
"Command those who are rich in this present age not to be haughty, nor to trust in uncertain riches but in the living God, who gives us richly all things to enjoy."

1 Timothy 6:17
Rich people are generally happy people because their wealth fixes problems. But they hardly have joy. The Bible warns the rich not to trust in their riches which are temporary but rather trust in God- the source of deep and long-lasting joy.
Psalms about joy
The book of Psalms is one of my favorites in the Bible. We can see David's honesty with God. Most times he expressed his love for God and praised and worshiped him. But other times he had unanswered questions and was sad and low in spirit.
But David always rose back up from his sadness. So we can appreciate these joyful psalms because they come from a genuine man- a man after God's own heart.
"You will show me the path of life; In Your presence is fullness of joy; At Your right hand are pleasures forevermore."

Psalm 16:11
"This is the day the Lord has made;
We will rejoice and be glad in it."

Psalm 118:24
"But let all those rejoice who put their trust in You;
Let them ever shout for joy, because You defend them;
Let those also who love Your name
Be joyful in You."

Psalm 5:11
"The Lord is my strength and my shield;
My heart trusted in Him, and I am helped;
Therefore my heart greatly rejoices,
And with my song I will praise Him."

Psalm 28:7
"My lips shall greatly rejoice when I sing to You, And my soul, which You have redeemed."

Psalm 71:23
These are encouraging joy Bible verses as they show that it's when we trust in God that we rejoice. When we understand how to love God and the power of His name, joy will develop in our hearts.
We rejoice in the Lord with worship and praise. Even in dark times. That's because we know He is our strength, shield, sustainer, defender, and Helper.
"Delight yourself also in the Lord,
And He shall give you the desires of your heart."

Psalm 37:4
"The statutes of the Lord are right, rejoicing the heart;
The commandment of the Lord is pure, enlightening the eyes;"

Psalm 19:8
"I have set the Lord always before me;
Because He is at my right hand I shall not be moved.

Therefore my heart is glad, and my glory rejoices;
My flesh also will rest in hope."

Psalm 16:8-9
"In the multitude of my anxieties within me,
Your comforts delight my soul."

Psalm 94:19
Our comfort, hope, and peace are in knowing the importance of the word of God. It's His word that makes our hearts joyful because we get direction, guidance, instruction, encouragement, healing, and deliverance.
Knowing God's word helps us stop worrying about everything but rather choose joy because we understand that He's working everything out for our good.
"You have turned for me my mourning into dancing;
You have put off my sackcloth and clothed me with gladness,"

Psalm 30:11
"Those who sow in tears
Shall reap in joy."

Psalm 126:5
It's only when God's joy is filled in our hearts that He can turn our sad outlook on life into rejoicing. We get to understand in the challenging times that "this too shall pass" and we will live to see the goodness of the Lord in the land of the living.

Bible verses about joy in suffering
Joy in the Bible doesn't mean that problems are absent. It just means we choose to trust God despite the problems. We choose to believe God's word and promises. It's a shift in focus from the problem to the Ultimate Provider of solutions and peace through it all.
The joy of the Lord is important because it ministers to unbelievers. Your joy even amid difficult and frustrating circumstances can serve as a powerful testimony of your faith in God.
These are lovely Bible verses about trusting God in difficult times and experiencing joy through it all.
"My brethren, count it all joy when you fall into various trials, knowing that the testing of your faith produces patience.  But let patience have its perfect work, that you may be perfect and complete, lacking nothing."

James 1:2-4
"rejoicing in hope, patient in tribulation, continuing steadfastly in prayer;"

Romans 12:12
"strengthened with all might, according to His glorious power, for all patience and longsuffering with joy;"

Colossians 1:11
"And you became followers of us and of the Lord, having received the word in much affliction, with joy of the Holy Spirit"

1 Thessalonians  1:6
What a powerful way to look at suffering and hard times. The Bible says we need to see our tough times as seasons of character-building, a time of being pruned by God to produce the right woman, wife, and mom He needs to stand in His kingdom.
What is the secret of joy in suffering? It's patience, prayer, and God's power. We have to wait upon God's timing to end the suffering and to continue praying for Him to sustain us and keep our joy in that season.  
Relying on the power of God and not our own will help us lean on God in challenging times.
"that the genuineness of your faith, being much more precious than gold that perishes, though it is tested by fire, may be found to praise, honor, and glory at the revelation of Jesus Christ, whom having not seen you love. Though now you do not see Him, yet believing, you rejoice with joy inexpressible and full of glory,"

1 Peter 1:7-8
This is a powerful verse about our faith and joy in Jesus, whom we have not seen yet we love. That's because we see the evidence of His love for us on the Cross. And unlike Thomas, we don't need to know He is physically here. We believe He is always there by faith. And that brings us inexpressible joy
"Then he said to them, "Go your way, eat the fat, drink the sweet, and send portions to those for whom nothing is prepared; for this day is holy to our Lord. Do not sorrow, for the joy of the Lord is your strength."

Nehemiah 8:10
What does it mean when we say, "the joy of the lord is my strength?". It means God's joy not our ideas, plans, schemes or relationships will strengthen us in hard seasons. When sorrow attempts to overwhelm us, we look unto God to Help us, heal us and hear our prayer.
He will give us the strength to endure. Anything or anyone else we run to will not sustain us the way God will. It means when we're weak and in despair we look up to and lean on God to give us His strength and His joy in suffering.
"looking unto Jesus, the author and finisher of our faith, who for the joy that was set before Him endured the cross, despising the shame, and has sat down at the right hand of the throne of God."

Hebrews 12:2
Our example of joy in suffering is Jesus Christ himself. He was able to go through the painful Cross because He knew that on the other side there's resurrection, redemption, and reconciliation. There was joy at the end of the pain.
Jesus is our standard and example and as His disciples, we can ask Him to teach us how to have a joyful heart while enduring suffering on earth.
When your heart is resting and trusting in Jesus Christ, you know that your negative circumstances are for a season and reason. Ultimately challenging times draw us near to God and bring glory to God. Knowing that can help you remain joyful always.
I know that experiencing joy is not easy. But these scriptures on joy show us that it's possible and it's what God wants for us. Step-by-step, day-by-day as we stay in God's presence, in Word and prayer we will experience the fullness of His joy.
Prayer for joy
Heavenly Father, I thank You for your wonderful love and presence in my life. Today I confess that there are things which have been stealing my joy such as ______,_____,_____,_____ and ______. I want to experience true joy in you. Fill me with your joy today God.
Help me daily to choose joy no matter what my circumstances are. I want to trust You more and more. Thank you for hearing my prayers always.
In Jesus' name, I pray. Amen
Free Joy Scripture Cards
As a gift to you, I've taken 16 of these joy Bible verses and packaged them in beautiful Scripture cards. You can download these today, for FREE. Just click the image below.