Motherhood is a blessing and our kids are so precious in our eyes and God's eyes. While motherhood is amazing, it can be tough, so we need help and support along the journey. These uplifting Bible verses for mothers will inspire you and reassure you that God's wonderful word is the key to becoming a great and godly mom.
Encouraging Bible verses for moms
As a mom, you can doubt yourself and your abilities to be a good mom for your child. These encouraging Bible verses for mothers will uplift you and help you along the way.
"When you pass through the waters, I will be with you;
And through the rivers, they shall not overflow you.
When you walk through the fire, you shall not be burned,
Nor shall the flame scorch you."

Isaiah 43:2
"Let your conduct be without covetousness; be content with such things as you have. For He Himself has said, "I will never leave you nor forsake you."'"

Hebrews 13:5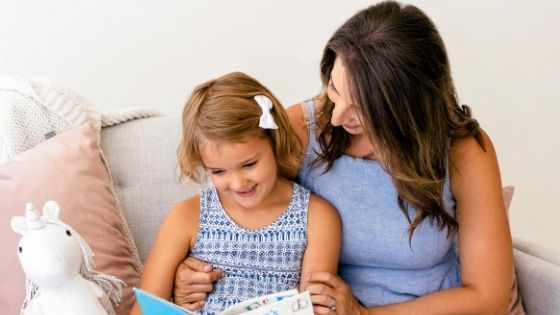 It's so easy to feel alone as a mom. You can feel like everyone has got it together and you're the only one who's overwhelmed and messing this up. But I'm here to remind you that doing your best is the only thing you can do.
Most moms that you see around you on social media are probably also struggling as moms and not sharing it.
These encouraging scriptures for moms assure us that God will always be with us. It's His presence that will sustain us and help us as moms.
Through the ups and downs of motherhood, God will preserve us and protect us as His children. He alone promises that He'll never leave us nor forsake us and He's the only One who can make that promise and keep it.
"Be anxious for nothing, but in everything by prayer and supplication, with thanksgiving, let your requests be made known to God; and the peace of God, which surpasses all understanding, will guard your hearts and minds through Christ Jesus."

Philippians 4:6-7
Do you worry about everything as a mom like your kids' future, their safety, their faith, their friends, or your finances and parenting skills? God invites us to worry about nothing but pray about everything.
Your kids are not worried about anything because they know you'll take care of it all. That same child-like trust is what God wants us to have for Him as our Father. Tell God everything you're worried about and He'll give you extraordinary peace even in chaos.
"But Jesus looked at them and said, "With men it is impossible, but not with God; for with God all things are possible."

Mark 10:27
"You are my hiding place and my shield;
I hope in Your word."

Psalm 119:114
Pregnancy itself is a miracle from God. Childbirth is a miracle. So, God has already done miraculous things in our lives as moms. This should help us grow in faith and believe God to do the impossible in the lives of our children.
As long as we draw near to God even as busy moms, and make Him our hiding place, our refuge, and shield, He will bless us. Our hope is not in the parenting books (though they're good and have a place) but our hope for our kids in this broken world is in God. He will keep them all the days of their lives.
"And we know that all things work together for good to those who love God, to those who are the called according to His purpose."

Romans 8:28
This is such an important bible verse for mothers to hold onto. It's a promise from God that everything will turn out for good. You may think you made a mistake and messed up your kids because you were young and didn't know better, but God says He will use that mistake to fulfill His purpose for your life and your child's life.
The good, the bad, the ugly, the plans, the mistakes, the lessons, the discipline, the wins- God will work everything out for good and His purpose. This verse should encourage us and give us peace.
Scriptures for moms and their strength
Women are super strong and that's a fact. We go through so much as women and moms and still we stand. However, relying on our strength alone will never work so we need God and His word to be the source of our strength.
"Seek the Lord and His strength;
Seek His face evermore!"

Psalm 105:4
"God is our refuge and strength,
A very present help in trouble."

Psalm 46:1
"But those who wait on the Lord
Shall renew their strength;
They shall mount up with wings like eagles,
They shall run and not be weary,
They shall walk and not faint."

Isaiah 40:31
"And let us not grow weary while doing good, for in due season we shall reap if we do not lose heart."

Galatians 6:9
When you feel tired as a mom, know that God will strengthen you.  If you have a wayward and stubborn child who refuses to listen to reason and you feel tired of making the effort to help them get to the straight path, ask God for His strength and power.
God asks us not to give up doing what's right for our kids. Keep praying for them and don't lose hope. God is a way-maker and miracle worker.
"And He said to me, "My grace is sufficient for you, for My strength is made perfect in weakness." Therefore, most gladly I will rather boast in my infirmities, that the power of Christ may rest upon me."

2 Corinthians 12:9
This is a great scripture for mothers who struggle with perfection. When you are striving to be a perfect mom, there's no room for God in your life. God wants to show us who He is and His power and strength are shown in our weakness.
It's when we're weak and vulnerable that God comes to strengthen us, sustain us and lift us.
"My flesh and my heart fail;
But God is the strength of my heart and my portion forever."

Psalm 73:26
"He gives power to the weak,
And to those who have no might He increases strength."

Isaiah 40:29
"I can do all things through Christ who strengthens me."

Philippians 4:13
These inspiring Bible verses about strength and courage teach us that our flesh is weak and will become tired but God is always strong and He gives us His strength. Motherhood will require so much from us, and we can do it all only with Christ's strength.
Bible verses for mothers about rest
Putting mothers and rest in the same sentence seems taboo. For some reason, the world has convinced moms that rest is selfish. But is it really? What does God say about rest? These bible verses about rest will help us as moms view rest in a godly way.
 "And He said, "My Presence will go with you, and I will give you rest."

Exodus 33:14
"Hear my cry, O God;
Attend to my prayer.
From the end of the earth I will cry to You,
When my heart is overwhelmed;
Lead me to the rock that is higher than I."

Psalm 61:1-2
"Repent therefore and be converted, that your sins may be blotted out, so that times of refreshing may come from the presence of the Lord,"

Acts 3:19
"Come to Me, all you who labor and are heavy laden, and I will give you rest. Take My yoke upon you and learn from Me, for I am gentle and lowly in heart, and you will find rest for your souls. For My yoke is easy and My burden is light."

Matthew 11:28-30
If there's one thing moms struggle with it's resting. But these scriptures for moms show us that God wants us to rest and be refreshed. If we don't, we can end up suffering emotionally, spiritually, mentally and physically from burnout, stress, anxiety, sleep disorders, and headaches.
Jesus Christ invites us to go to Him for rest. It's an open invitation and we just have to accept it.
We rest in God when we learn to trust in Him and depend on Him. If you find yourself overwhelmed as a mom, learn to manage your time and leave room for rest even if you have to plan for it. It's not selfish, it's needed.
Rest also comes when we pray to God. When we empty our minds of all the worries and scenarios we're playing in our heads, we can actually rest and relax knowing God will take care of it.
Bible verses about trusting God in difficult times
It's not easy to trust people when you've been hurt or disappointed. But God asks us to trust in Him especially in tough seasons. These scriptures about trusting God will show us the benefits of relying on God as mothers.
"I will lift up my eyes to the hills—
From whence comes my help?
My help comes from the Lord,
Who made heaven and earth."

Psalm 121:1-2
"He who dwells in the secret place of the Most High
Shall abide under the shadow of the Almighty.
I will say of the Lord, "He is my refuge and my fortress;
My God, in Him I will trust.""

Psalm 91:1-2
"You will keep him in perfect peace,
Whose mind is stayed on You,
Because he trusts in You."

Isaiah 26:3
Our help as moms comes from God.  He should be the first one we run to when our kids are struggling. We can then turn to friends and family after talking to Go first. When we trust in God, He gives us His peace.
And how amazing is it to be a peaceful and calm mom? You can extend that to your kids and family. When God gives you His peace, it becomes a source of strength for you in difficult times.
''Blessed is the man who trusts in the Lord,
And whose hope is the Lord.

For he shall be like a tree planted by the waters,
Which spreads out its roots by the river,
And will not fear when heat comes;
But its leaf will be green,
And will not be anxious in the year of drought,
Nor will cease from yielding fruit."

Jeremiah 17:7-8
"He will not be afraid of evil tidings;
His heart is steadfast, trusting in the Lord."

Psalm 112:7
"Trust in the Lord with all your heart,
And lean not on your own understanding;

In all your ways acknowledge Him,
And He shall direct your paths."

Proverbs 3:5-6
These are incredible promises God has for us when we trust in Him. He blesses us, directs our paths, we become fruitful, we won't fear, we're not moved by the ever-changing world but are steady and secure in God.
Bible verses for mothers about spiritual warfare
Motherhood is a battlefield. The devil comes to steal, kill and destroy (John 10:10) from us and our kids. He knows that a mom's heart is with her kids so he wants to destroy our kids to destroy us. That's why we need to stand firm in God's word so we can be victorious in the spiritual battles we face.
"For though we walk in the flesh, we do not war according to the flesh.  For the weapons of our warfare are not carnal but mighty in God for pulling down strongholds, casting down arguments and every high thing that exalts itself against the knowledge of God, bringing every thought into captivity to the obedience of Christ,"

2 Corinthians 10:3-5
"Finally, my brethren, be strong in the Lord and in the power of His might. Put on the whole armor of God, that you may be able to stand against the wiles of the devil. For we do not wrestle against flesh and blood, but against principalities, against powers, against the rulers of the darkness of this age, against spiritual hosts of wickedness in the heavenly places"

Ephesians 6:10-12
It's so important to remember that the enemy is never your child, their friends, or technology. The enemy is the devil. We can't fight a spiritual battle with physical words and weapons. That's why we need the full armor of God.
"You are of God, little children, and have overcome them, because He who is in you is greater than he who is in the world."

1 John 4:4
"Be sober, be vigilant; because your adversary the devil walks about like a roaring lion, seeking whom he may devour."

1 Peter 5:8
"For whatever is born of God overcomes the world. And this is the victory that has overcome the world—our faith."

1 John 5:4
"Yet in all these things we are more than conquerors through Him who loved us."

Romans 8:37
These scriptures for mothers facing spiritual warfare are an assurance that we are already winners. We're more than conquerors in Jesus' name. So, we fight battles not for victory but from a place of victory. Keep the faith and keep believing God as a mom and you'll surely overcome any challenges you'll face.
Free Scripture Cards for mothers
To encourage and strengthen you to remember with these Bible verses, I've put them in beautiful cards. These Scripture Cards are Free and a gift to you. Click below and download your copy instantly.