What does the Bible say about the home?
God is the author and creator of all things including the family and the home. Everything has been created to bring glory to Him. Through these beautiful Bible verses for the home, we will understand how to build our homes on Christ, the solid rock.
While physically our homes relate to a physical place or property where we live, there is also a spiritual meaning to the home. In the Bible, God refers to our bodies as a home where the Holy Spirit resides as well.
The Bible goes on to say, we are buildings and God's field and we are built up by his teachings and principles. His word is the foundation for us as believers.
The family living in a home is a reflection of the relationship between Jesus Christ and the Church. He laid down his life for the church and in turn, he asks the church to love him, obey him and become more like him.
Our goal as a family is to love God and serve him every day. When we do this, God will bless us as his dear children.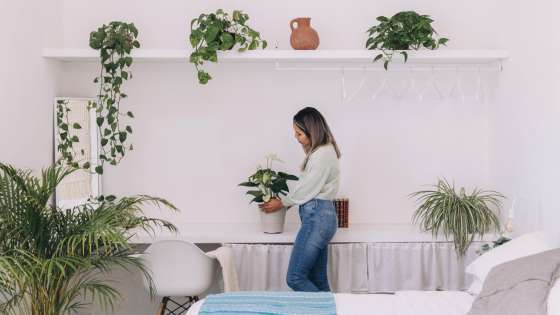 32 Beautiful Home Bible verses
In the Parable of the Wise and Foolish Builders, Jesus spoke about having the right foundation for building our homes. For the house not to be shaken or destroyed when the storms of life come, we have to build the house on Jesus Christ as the solid foundation.  
There are many blessings God wants to shower us in our homes such as love, joy, and peace because he is our heavenly father. As we make him the center of our homes we will experience his blessings.
In these Bible verses about the home, you'll learn how to have a home that seeks God first and His kingdom (Matthew 6:33). This is the kind of home we should all aspire to have because it's a blessed home that will be sustained by God not just in this generation but the next one as well.   
"Consequently, you are no longer foreigners and strangers, but fellow citizens with God's people and also members of his household, built on the foundation of the apostles and prophets, with Christ Jesus himself as the chief cornerstone."

Ephesians 2:19-20 NIV
"For we are co-workers in God's service; you are God's field, God's building."

1 Corinthians 3:9 NIV
We are God's building and with Jesus Christ as the Chief Cornerstone, molding how we speak, our characters, behaviors and attitudes to become more Christ-like. Our homes are also to be dedicated to God so that they will be built on his principles.
"and this is what you shall say, 'Have a long life! Peace be to you, and peace to your house, and peace to all that you have."

1 Samuel 25:6 AMP
"The Lord's curse is on the house of the wicked, but he blesses the home of the righteous."

Proverbs 3:33 NIV
"The wicked are overthrown [by their evil] and are no more,
But the house of the [consistently] righteous will stand [securely]."

Proverbs 12:7 AMP
God promises peace to our marriages, our children, our grandchildren, and in all areas of our lives. He promises to bless our families when we abide by his word and honor him with our lives.
"Through [skillful and godly] wisdom a house [a life, a home, a family] is built,
And by understanding it is established [on a sound and good foundation],
And by knowledge its rooms are filled
With all precious and pleasant riches."

Proverbs 24:3-4 AMP
"Great and priceless treasure is in the house of the [consistently] righteous one [who seeks godly instruction and grows in wisdom],
But trouble is in the income of the wicked one [who rejects the laws of God]."

Proverbs 15:6 AMP
"The wise woman builds her house [on a foundation of godly precepts, and her household thrives],
But the foolish one [who lacks spiritual insight] tears it down with her own hands [by ignoring godly principles]."

Proverbs 14:1 AMP
"Unless the Lord builds the house,
    the builders labor in vain.
Unless the Lord watches over the city,
    the guards stand watch in vain."

Psalm 127:1 NIV
"For every house is built by someone, but the builder of all things is God."

Hebrews 3:4 AMP
In these bible verses about home and family, we learn that the foundation for the home is God. Unless He builds each of us with his word, teaching, and encouragement, that house will not stand. Because our God is the Creator of heaven and earth, he is our capable and perfect builder.
Allow him to direct your decision-making as a family. Use the Bible to teach your children about life, values, empathy, working hard, time management, identity in Christ and just being a responsible upstanding person who is a blessing to their family and community.
 "Above all, have fervent and unfailing love for one another, because love covers a multitude of sins [it overlooks unkindness and unselfishly seeks the best for others]."

1 Peter 4:8 AMP
"And above all these put on love, which binds everything together in perfect harmony."

Colossians 3:14 ESV
"Love endures with patience and serenity, love is kind and thoughtful, and is not jealous or envious; love does not brag and is not proud or arrogant."

1 Corinthians 13:4 AMP
In these home bible verses, we learn that a warm and welcoming home is full of the love of God. This is a home where people are kind, forgive each other easily and extend grace. The same grace God has extended to them.
Love helps to bind and unite a family in all it does. Everyone wants the best for each other and unhealthy competition doesn't exist.
"And whatever you do, do it heartily, as to the Lord and not to men,"

Colossians 3:23 NKJV
"Let all that you do be done with love."

1 Corinthians 16:14 NKJV
As you take care of your home and family, don't do it to get the appreciation of your husband or kids. That's just a bonus if they do thank you for all your efforts as a homemaker.
The Bible says to do it for the Lord. Work hard, efficiently, and lovingly knowing that your reward will ultimately come from Him.
As you obey him, honor him, and are a good steward of the home and family you've been given, you'll be remembered, honored, and favored by God.
"The Lord bless you and keep you;
The Lord make His face shine upon you,
And be gracious to you;
The Lord lift up His countenance upon you,
And give you peace."

Numbers 6:24-26 NKJV
"The Lord will protect you from all evil;
He will keep your life.
The Lord will guard your going out and your coming in [everything that you do]
From this time forth and forever."

Psalm 121:7-8 AMP
"He will love you and bless you and increase your numbers. He will bless the fruit of your womb, the crops of your land—your grain, new wine and olive oil—the calves of your herds and the lambs of your flocks in the land he swore to your ancestors to give you."

Deuteronomy 7:13 NIV
These home scriptures are a declaration of God's blessing upon your family. You can pray them over your children daily before they sleep.
They are also great scripture to pray as children go out to school, work, or other activities so they would go with the protection of the Lord.
"Jesus answered him, "If anyone loves me, he will keep my word, and my Father will love him, and we will come to him and make our home with him."

John 14:23 ESV
Jesus Christ dwells in our hearts if we love and obey him. By extension, he lives in our physical homes too. As believers, let's be obedient to the principles of the Bible, connect with God daily, and build a close relationship with him so he may dwell in our homes.
"Behold, how good and how pleasant it is
For brothers to dwell together in unity!"

Psalm 133:1 AMP
"And if a house is divided against itself, that house cannot stand."

Mark 3:25 AMP
One of the most wonderful things you can experience in your home is unity. In these home scriptures, we are encouraged to live in unity as a family so we can experience joy and peace.
"Jesus said to them, "It is written [in Scripture], 'My house shall be called a house of prayer'; but you are making it a robbers' den."

Matthew 21:13 AMP
Jesus Christ wants our homes to be known for good things in the neighborhoods where we reside. After all, we are his ambassadors. May our homes be known for prayer, generosity, love, and kindness to all that come to them.
"Gracious words are a honeycomb,
    sweet to the soul and healing to the bones."

Proverbs 16:24 NIV
"Do not let unwholesome [foul, profane, worthless, vulgar] words ever come out of your mouth, but only such speech as is good for building up others, according to the need and the occasion, so that it will be a blessing to those who hear [you speak]."

Ephesians 4:29 AMP
Our homes should reflect the God we worship. Our words should be gracious and kind while foul and vulgar language should not be tolerated. Our words should be used only to build and encourage each other as a family.
"So, as God's own chosen people, who are holy [set apart, sanctified for His purpose] and well-beloved [by God Himself], put on a heart of compassion, kindness, humility, gentleness, and patience [which has the power to endure whatever injustice or unpleasantness comes, with good temper];"

Colossians 3:12 AMP
" But the fruit of the Spirit is love, joy, peace, forbearance, kindness, goodness, faithfulness, gentleness and self-control. Against such things there is no law."

Galatians 5:22-23 NIV
As you spend more time as a family in the Bible learning from the truth in God's word, everyone in your home will reflect the fruit of the spirit. God will set you apart for his purpose as a family and his power will work in you so that you become more Christ-like.
New Home Bible verses
If you're building a new house, it's a great idea to write Bible verses on the walls or studs of the house being built. Remember to dedicate your home if you're going to build it from the ground up.
Pray to God that he will oversee the construction of the home as there can be a lot of frustration like new costs coming up that were not budgeted for. In the same way, your home is being constructed; your character is also being built to reflect God's character.  
You can also dedicate a new home purchase or even the new place you're renting. Check out these wonderful new home scriptures.
"give thanks in all circumstances; for this is God's will for you in Christ Jesus."

1 Thessalonians 5:18 NIV
"Therefore, as you received Christ Jesus the Lord, so walk in him, rooted and built up in him and established in the faith, just as you were taught, abounding in thanksgiving."

Colossians 2:6-7 ESV
God wants us to be grateful for all things. If you have a new place, it's an honor and privilege, praise God for it and dedicate it to him.
"The officers shall also speak to the soldiers, saying, 'What man is there who has built a new house and has not yet dedicated it? Let him go and return to his house, otherwise he might die in the battle and another man would dedicate it."

Deuteronomy 20:5 AMP
"For now I have chosen and sanctified and set apart for My purpose this house that My Name may be here forever, and My eyes and My heart will be here perpetually."

2 Chronicles 7:16 AMP
"Sovereign Lord, you are God! Your covenant is trustworthy, and you have promised these good things to your servant. Now be pleased to bless the house of your servant, that it may continue forever in your sight; for you, Sovereign Lord, have spoken, and with your blessing the house of your servant will be blessed forever."

2 Samuel 7:28-29 NIV
"All these blessings will come on you and accompany you if you obey the Lord your God:"

Deuteronomy 28:2 NIV
The home doesn't just physically accommodate our families. It's also a place for us to experience God's grace, love, favor, peace, and blessings and extend these to each other and to those that enter our homes.
Whether old or new, our homes still have to be built on a solid foundation which is the word of God. This word will guide how we act, speak to each other, and relate to each other.
Through these Bible verses for the home, we get proper guidance on creating a home that serves and glorifies God. May the Holy Spirit help us obey his teachings.