It's very important as believers for us to know, understand and live according to our identity in Christ. If we don't make an effort to do this, we will continue to live according to the identity the world gives us. Knowing the amazing truth about our identity in Christ gives us victory, confidence, a purpose and helps us live an intentional life.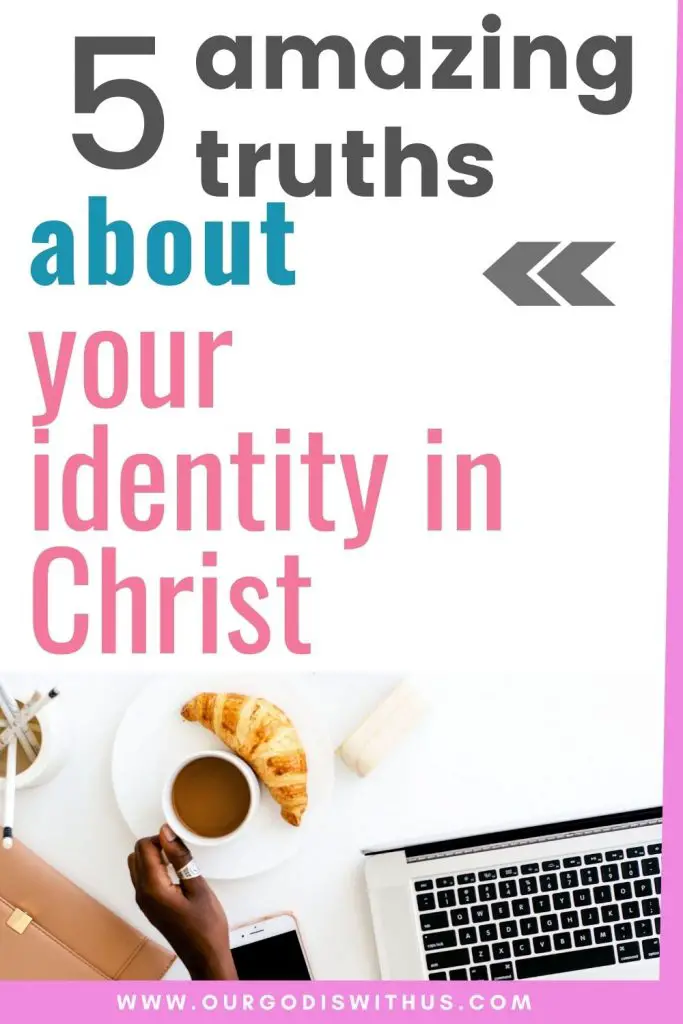 What does Identity mean?
Identity means who you are as a person. Not so much what you do, but who you are. It's how you are distinguished and recognized.
Your character, beliefs and qualities define you as a person.
Why is it important to know your identity in Christ?
This is a great question which we can answer with a few Christian quotes about our Identity in Christ.
1. Knowing your identity in Christ empowers you
"The more we focus on who we are in Christ, the less it matters who we were in the past, or even what happened to us."

Joyce Meyer
If you are held back because you're letting what you did or what happened to you before Christ, define you-then you will live a defeated life. Jesus Christ said on the Cross "It is finished".
All those past mistakes, sins and regrets are finished and now you need to be empowered by living according to who Christ says you are. It's time to fully embrace your identity in Christ.
2. Knowing your identity in Christ gives you confidence
"If your identity is found in Christ, then it matters less and less what people think of you."

Leonard I. Sweet
When you know who you are in Christ, you are not driven by or affected a lot by what other people think of you. You start to understand that the opinion of other people is not as important as God's facts about you that are in the Bible.
3. Knowing your identity in Christ sets you free
"Religion: 'My identity is built on being a good person.' Gospel: 'My identity is not built on my record or my performance but on Christ's.' "

Timothy Keller
What an amazing and freeing experience to know that Jesus Christ has set you free from doing works to prove yourself to God. You don't have to be this good and perfect person. You just need to be a kingdom minded woman, believer, disciple and Christ follower.
Once you know who you are, you no longer have to work for God's approval because you know you already got it in Christ. And that brings true freedom.
4. Knowing your identity in Christ changes your behavior
"You must know, rest in, think through, and act upon your new identity – you are in Christ."

Sinclair B. Ferguson
When you know who you are in Christ, it sure changes the way you talk, think and behave. That's the power of the Gospel!
5 Amazing Truths about your Identity in Christ
1. You are a new Creation
"Therefore, if anyone is in Christ, he is a new creation; old things have passed away; behold, all things have become new." (NKJV)

2 Corinthians 5:17
This is one of my favorite Bible verses! In Christ, we are made new. As people we are a spirit, living in a body who have a soul. So in Christ we may still be the same person physically but our Spirit is now new and our soul (emotions, thoughts) continues to be transformed to become new in Christ.
So everything we have done before Christ has passed away. We can forgive ourselves because we didn't know better. We can allow the blood of Jesus Christ to wash away our sins and be refreshed.
2. You are loved unconditionally
" For I am persuaded that neither death nor life, nor angels nor principalities nor powers, nor things present nor things to come, nor height nor depth, nor any other created thing, shall be able to separate us from the love of God which is in Christ Jesus our Lord."

Romans 8:38-39
What an empowering and amazing truth. It's normal as humans that we desire to be loved, wanted and accepted for who we are- faults and all. And God does just that. He loves us unconditionally. Nothing and no one can separate us from the love of God that we find in Christ Jesus.
3. You are a child of God
"But as many as received Him, to them He gave the right to become children of God, to those who believe in His name"

John 1:12
When we have a sense of belonging, we feel secure, powerful and confident. In God we belong. When we receive Jesus Christ, we are given a new identity- children of God. No matter what our relationship is with our physical parents- we can rest secure knowing we belong to our Heavenly Father.
4. You are His masterpiece
"For we are God's masterpiece. He has created us anew in Christ Jesus, so we can do the good things he planned for us long ago." (NLT)

Ephesians 2:10
A masterpiece is a gem and work of outstanding skill and art. That's you and me my friend! How beautiful are the words God uses to describe us? God has created us with a purpose and plan and all we need to do is walk in it.
You are unique, there's no one else like you in the world. Knowing your identity in Christ helps you live in that purpose.
5. You are chosen, royalty, holy and special
"But you are a chosen generation, a royal priesthood, a holy nation, His own special people, that you may proclaim the praises of Him who called you out of darkness into His marvelous light"

1 Peter 2:9
You are set apart by God, you are royalty because Your Father is the King of kings, you are Holy because of the blood of Jesus and you are special to God.
Moreover, God has called you out of the darkness of not knowing Him into the light of the Gospel. Because of that You can give glory and praise to His name. Because He has give you a new identity in Christ.
My Encouragement to you
The world will attempt to define you if you don't know who you are. But knowing the amazing truth about your identity in Christ will empower you to act on it. Most times you wont feel like you are who God says you are but keep believing in God's truth about your identity and watch as your heart, mind and behavior transform to align to His word.
Let's Pray
Heavenly Father, thank you for giving me a new identity in Christ. I honor you and praise your Holy name. There is none like you O Lord. From today onwards, l want to walk in my new identity. I no longer want to be defined by the standards of this world but only by the truth of Your word.
In Jesus' name I pray. Amen.