The new school year is upon us. It's a unique time for our children and as parents, we've had to make difficult choices regarding our children's education so they continue learning while staying safe and healthy.  While a lot has changed over the past year or so, one thing remains the same- the importance of back to school prayers.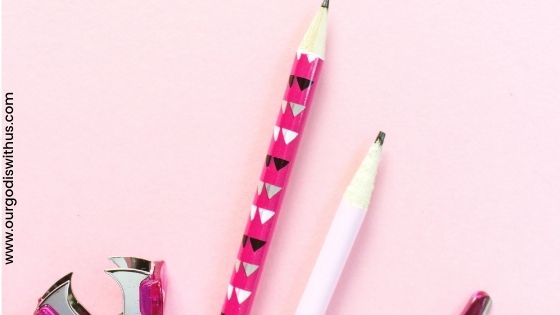 The Power of Prayer
Prayer is a very powerful and an important spiritual discipline God has given us to get close to Him. It's also a powerful way of fighting the schemes of the devil. The truth is, prayer really does change things. It did in the Bible and still does today.
Ephesians 6:10-18 details the armor of God that we need to fight the spiritual battles we face daily.
And at the end, it says:
"praying always with all prayer and supplication in the Spirit, being watchful to this end with all perseverance and supplication for all the saints"

Ephesians 6:18
The Bible tells us here to "Watch and Pray" and pray with perseverance. Sometimes we wonder how we can serve more in God's kingdom. Well, going to battle for our children in prayer is one way.
So as our children go back to school, prayer is very important. We need to ensure our prayers cover them- their minds, bodies and souls so that they are equipped to handle a new school year.
Back to school prayer for teachers
Before we pray for our children as they go back to school, we should pray for their teachers. Teachers play a crucial role in shaping our children's behavior and thoughts.
If you've ever wondered how you can bless your children's teachers, prayer is definitely one way of doing that. Even at school, teachers play a parenting role so it's very important that we pray for them.
Heavenly Father, thank you for all the teachers that you have given a special and important role in our children's lives. As they go back to school, teachers are faced with a lot of work, pressure and challenges. We pray that may You strengthen them, guide them and help them to bear the work they have before them.
Give them rest when they need it. Give them patience to deal with our children. And more importantly give them love for our children as they are an extension of us as parents. May our children obey their teachers as well and be a blessing to them.
In Jesus' name we pray. Amen
6 Important Back to School Prayers
Our children are so precious and they have so much potential to do big things in their lives. That's why the enemy of our souls targets them to steal, kill and destroy their future. As they will be going back to school, as their parents and guardians let's pray for them and speak a blessing over them.
1. Short Prayer for first day of school
The first day of school is a special one where parents, teachers and students are excited, worried and nervous. Talk about mixed feelings! I remember the first day or pre-school for our firstborn. She was so shy and scared going in but she came out so excited and full of stories of meeting new friends and her teacher.
It's an even more special experience if the first day of school is the first day of nursery, kindergarten, pre-school, primary school, middle school, high school or College. That's a whole new season and phase for parents and students.  A lot more emotions and preparations are involved and our need for God's guidance and blessing more apparent.
First impressions count. If our children have an awful first day of school, it sets their expectations for the rest of the school year and they might resist going back to school. That's why it's important to pray especially for that first day of school.
Lord, thank you for bringing our children safely into the new school year. We know that learning during the past few months has been different and challenging for them. 
We ask that you may protect them and guide them as they find themselves in a new school environment with new subjects, teachers and friends. May they put their trust in You Lord to stay strong and courageous all day long.
In Jesus' name we pray. Amen.
2. Prayer for protection of children
"He who dwells in the secret place of the Most High
Shall abide under the shadow of the Almighty.
I will say of the Lord, "He is my refuge and my fortress;
My God, in Him I will trust.""

Psalm 91:1-2
We need God to protect our children as they go back to school. We know the enemy only intends to harm them but we stand in the promises of God as we pray.
Today in schools there's all kinds of danger- violence, physical bullying, cyber-bullying and risk of infections and diseases.
Only God can protect our children at all times. He will protect them physically, mentally and spiritually from powers and principalities that stand in the way of their victory as students.
Lord we thank you for the children you have given us. We worship You Almighty God for You have all the power. You alone are our refuge. In this moment, we stand in the gap for our children as they go back to school.
May they dwell under the shadow of Your wings. We ask that You protect them against any harm. Cover them with Your feathers. Send Your angels to surround our children. We put our trust in You Lord.
In Jesus' name we pray. Amen.
3. Special Prayer for friends
"Do not be deceived: "Evil company corrupts good habits.""

1 Corinthians 15:33
"As iron sharpens iron,
So a man sharpens the countenance of his friend."

Proverbs 27:17
There's no doubt about it- having good friends is important to the development and character of our children.  We need to teach our children to be able to choose good friends that support the values we're teaching them at home.
As parents we ought to be vigilant and diligent when it comes to the friends our children keep. We need to observe their friends and listen to their conversations.
Even befriending our children's friends on social media can help us know the type of personality they have and if they have a good influence on our children.
Heavenly Father, we pray that our children would be surrounded by godly friends. Friends that will sharpen their character. Friends that will help them become more like You Lord.
Help our children to be able to choose the right friends and when they're not able to, may we as their parents be able to guide them to have good friends. May our children also be a good influence to their friends.
In Jesus' name we pray. Amen
4. Back to school Prayer for Strength and Guidance
"I can do all things through Christ who strengthens me."

Philippians 4:13
"But those who wait on the Lord
Shall renew their strength;
They shall mount up with wings like eagles,
They shall run and not be weary,
They shall walk and not faint."

Isaiah 40:31
School work can be hard for our children. Even when I help my daughter with her homework, I'm surprised at what she's learning already and she's barely 7! The work is easy for us now as parents because we have hindsight and have passed that stage, but our children may struggle.
We need to pray for God to strengthen them to keep going and for guidance on how to do the work. It's important that we trust God to renew their strength. We also pray for our children to believe that in God, they really can do ALL things as He will guide and help them.
O God, we bring our children to You. We humbly ask that You may strengthen and guide them to do their schoolwork. Even when they struggle may they rely on You to renew their strength.
May they not become weary of doing the hard things but remember there's a reward in their hard work. Even when the schoolwork is tough because it's a new year, may they see this as an opportunity to learn and grow. We pray that they develop new skills that will support their next step in their schooling.
In Jesus' name we pray. Amen.
5. Going back to school Prayer for Wisdom
"And Jesus increased in wisdom and stature, and in favor with God and men."

Luke 2:52
"If any of you lacks wisdom, let him ask of God, who gives to all liberally and without reproach, and it will be given to him."

James 1:5
As our children head back to school, we want to pray for God to help them grow in wisdom. Just like Jesus grew in wisdom, we desire the same for our children.
Wisdom is desirable because wise children can choose Godly friends. Wise children don't give up on themselves and their studies. Everyone loves to hang around wise children- Jesus gained favor with God and man because He was wise.
The Bible has an open invitation for us to ask God for wisdom if we're lacking it and He will give is to us. The same way God gave wisdom to King Solomon in the Bible when He asked for it, He can do the same for our children as well.
Lord as our children go back to school, given them wisdom to make the right choices. May they grow to be wise and win the favor of both men and God.
We pray that they trust in You to direct their paths. Help them offer good counsel to their friends and those around them. Thank you that you have given them a Spirit of power, love and a sound mind. Increase their knowledge, insight and understanding.
In Jesus' name we pray amen.
6. Prayer for Hope and Faith
"For I know the thoughts that I think toward you, says the Lord, thoughts of peace and not of evil, to give you a future and a hope."

Jeremiah 29:11
"Let us hold fast the confession of our hope without wavering, for He who promised is faithful."

Hebrews 10:23
It's been a tough year. Not only for us as parents but for our children as well. At times we can find ourselves losing hope of a better day, a "normal" life and a brighter future.
We need to pray for our children to continue to hold on to Hope in God and never lose faith in His goodness, grace, mercy and lovingkindness.
Praying for our children to never lose faith in God, reading the Bible with them and sharing inspirational hope quotes will encourage them through these tough times.
Oh Lord, this year has not been easy. We have found ourselves losing faith in You and hope as parents. Even our children are losing hope in a better tomorrow. But we choose to hold on to your promises because we know You are faithful.
We know that you have great plans for our children- to given them peace, a future and hope. May we all continue to place our hope and faith in You. As our children go back to school, we pray that they would be full of hope and faith in You because their future is in Your hands.
In Jesus name we pray. Amen
4 More Back to School Bible verses
We can also pray more Bible verses over our children as they will be going back to school. Praying Scriptures over our children is so powerful because we pray God's words and His promises over them.
"But the fruit of the Spirit is love, joy, peace, longsuffering, kindness, goodness, faithfulness, gentleness, self-control. Against such there is no law."

Galatians 5:22-23
As our children head back to school, let's pray that they bear the fruit of the Holy Spirit. It takes a lot of guidance and nurturing in God's word to bear fruit. The fruit is the visible actions that show that the Holy Spirit is working inside our children's hearts.
"Be anxious for nothing, but in everything by prayer and supplication, with thanksgiving, let your requests be made known to God; and the peace of God, which surpasses all understanding, will guard your hearts and minds through Christ Jesus. "

Philippians 4:6-7
There's a lot of fear in schools and in the world right now. As parents let's pray against anxiety in our children and for them to overcome fear. Let's ask God to give them His peace even in the midst of chaos.
"Trust in the Lord with all your heart,
And lean not on your own understanding;
In all your ways acknowledge Him,
And He shall direct your paths"

Proverbs 3:5-6
Let's to pray that our children trust God with all their hearts and acknowledge Him in everything they do at school. Let's pray for God's powerful guidance in their lives and in this season.
"You are the light of the world. A city that is set on a hill cannot be hidden. Nor do they light a lamp and put it under a basket, but on a lampstand, and it gives light to all who are in the house. Let your light so shine before men, that they may see your good works and glorify your Father in heaven."

Matthew 5:14-16
This is one of my favorite back to school Bible verses. Our children are the light in this dark world. Let's pray that they would excel in all areas of school- arts, sports, academics and all other activities so that other students and their teachers would praise God in heaven.
As we are preparing school supplies for the school year, let us also prepare our hearts and those of our children to face the future with wisdom, strength, hope and faith. Let's pray for Godly friends and His protection. We can't be everywhere with our children but God can.  Back to school prayers for our children will help put them back safely in God's hands.
Back to School lunch notes
If you are looking for some great, inspiring and encouraging Christian lunch notes, then you're in the right place. I have a wide selection of printable school notes in my Etsy shop that your little ones will love. Click image below and get them today.