The weather seasons bring significant changes in nature, temperature and human activity. No matter how much we love one particular season, at some point it ends and we have to welcome a new one. Just like the weather seasons, we also face changes and transitions in our lives which bring shifts and adjustments. God gives us helpful bible verses about change and transition we can look to that will allow us to navigate change and growth much better.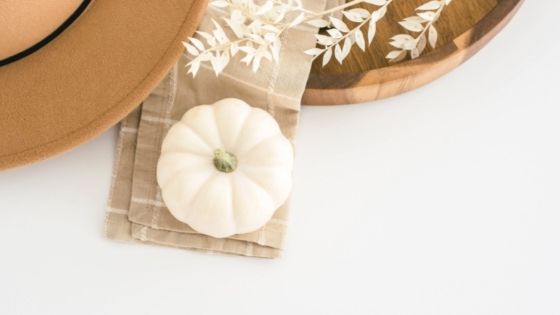 3 Biblical principles of transition
God's word is key to understanding and dealing with transitions. God gave us some basic biblical principles that guide times of change and transition.
1. God remains the same
"But You are the same,
And Your years will have no end."

Psalm 102:27 (NKJV)
While seasons will shift, God Himself remains the same. He is forever faithful. It helps to remember that truth because it anchors you in times of transition and change.  
2. In Christ we're changing daily
"Therefore we do not lose heart. Even though our outward man is perishing, yet the inward man is being renewed day by day."

2 Corinthians 4:16
Changes in season usually bring drastic changes to our routines and lives. But one Biblical principle of transition is that we are already changing daily. In Christ, our inner man is being renewed day by day. We embrace change better when we remember that. It's quite an amazing and liberating truth to hold onto.
3. Your current season prepares you for the next
As we will see in the Bible stories about change and transition, our current season of life prepares us for the next. What God is teaching you in the current season, what you're going through, what He is revealing to you will be useful in the next season he will bring you to.
5 Inspirational Bible stories about change and transition
The Bible is full of stories of change and growth. It's always a great comfort to read that other people like us went through major transitions in their life and God helped them navigate the old and new season.
1. Jesus' transition from heaven to earth
"And the Word became flesh and dwelt among us, and we beheld His glory, the glory as of the only begotten of the Father, full of grace and truth."

John 1:14
Jesus is the Word of God who was there since the creation of the world. The biggest transition in the Bible is Jesus taking on the form of flesh and coming to stay on earth for 33 years. This makes me see how amazing change can be.
If Jesus hadn't come we wouldn't have salvation. So while we may feel uncomfortable about seasons of change, looking at the life of Jesus will make us want to embrace change.
2. David's transition from a shepherd to a king
In 1 Samuel 16:5-13, we read David's story of change and transition. David was a shepherd boy, the last born in his family, with brothers who were in the army yet God chose him to be the next king of Israel not his bigger and stronger brothers.
David was preparing for the change and transition without even knowing it. He killed bears and lions to protect his sheep and God was preparing him to kill Goliath and many more that he would kill and bring victory to God's people. He led sheep in preparation for leading the children of Israel.
In the same way, our current season will prepare us for the next season. That's how God operates. 
3. Paul's transition from persecutor to preacher
The conversion of Saul who later on became Paul in Acts 9:1-30 is one of the most profound Bible stories of change and transition. While it took David years from his anointing to become a king to actually taking the role, Paul changed almost immediately when he encountered Jesus. Sometimes change is sudden and sometimes it takes years and we have to learn to wait on the Lord.
Paul changed from a persecutor of Jesus' disciples to becoming an Apostle, a preacher and prisoner of the Gospel and the writer of most of the New Testament. This is what happens when we embrace change!
4. Jesus' disciples transition
Simon Peter and Andrew changed from humble fishermen to becoming fishers of men. Matthew transitioned from a tax collector who was hated, despised and an outcast in his community to becoming Jesus' disciple and one of the key writers of the Bible. He wrote the Gospel of Matthew.
These disciples' transition in the Bible show that God will use our current skills and knowledge to prepare us for the new season of life.
5. Joseph's transition from prisoner to Prime Minister
The story of Joseph from being a prisoner in Egypt facing betrayal and false accusations to becoming the Prime Minister of Egypt is one inspirational Bible story about change and transition. One consistent theme with Joseph's story is God was with him through all the changes and seasons he was going through. That same God is faithful to be with us today in our own transitions.
How do you know if God is transitioning you
I'm personally going through a season of major transition in my life. From full-time corporate wife to work from home mama with a calling for ministry and entrepreneurship. It hasn't been an easy transition. In fact, it's been a time of self- discovery. I'm learning the importance of discipline, managing my time, planning and being productive.
I've learnt a few ways in which God shows you he is transitioning you.
You start to feel uncomfortable and restless in your current season. Your passions may start to shift. My passion for my corporate job deteriorated just before it ended.
God persistently turns your attention to a new season. Wherever you turn, you hear sermons about it, you read the Bible and see bible verses about change and transition or you read an article like this one!
Doors keep closing in your current season because God is preparing you to transition to the next season.
You might experience pain before a major transition-in order for our salvation to come Jesus went through the pain of the Cross.  
The best thing to do when you sense a time of transition is coming is to stay connected to God in prayer and His word and continue to seek Godly counsel to guide you during the process.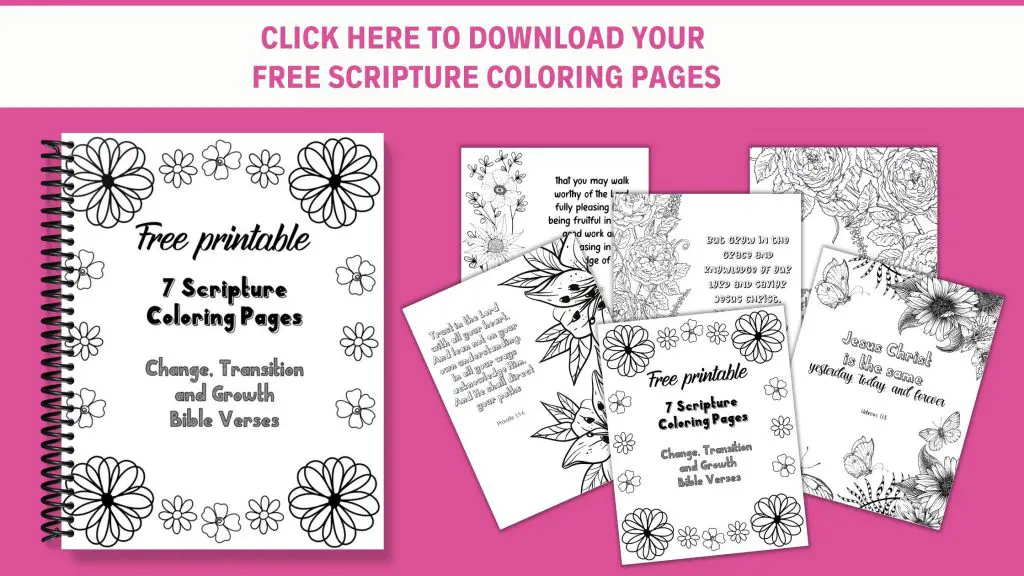 7 Helpful Bible verses about change and transition
What transition are you going through in your life? Have you suddenly become a homeschool mom? Do you have a newborn? Is it a new career? Or a new church? These 7 Scriptures about change and transition will help and guide you through the process and new season of life you find yourself in.
"Jesus Christ is the same yesterday, today, and forever." (NKJV)

Hebrews 13:8
While seasons change in our lives, it helps to know that Jesus Christ remains constant. He does not change. He is the same yesterday, today and forever.
This gives us so much hope and courage to face the future. Because we know that the same Jesus Christ of the Bible- who is a Mighty Warrior, a Way Maker, The Hope for the hopeless, Our Peace, Savior, Helper, Redeemer and friend will still be there for us in the same way no matter what.
"The grass withers, the flower fades,
But the word of our God stands forever."

Isaiah 40:8
This scripture about transition is a great reminder that God's word will not fade, disappear or fail. His truths still guide us and will continue to guide us forever. The word of God is eternal. We can lean on it always and learn from it daily. It continues to stand even in our times of transition.
The Word of God does not fail because Jesus Christ who never changes is the word of God.
"To everything there is a season,
A time for every purpose under heaven"

Ecclesiastes 3:1
This is one of those popular bible verses about change and transition that guarantees that change is a constant. There's a time for everything. There's a season for everything. It's all for God's purpose and glory.
Changes and transitions are there to grow us and make us better people.
"Therefore, if anyone is in Christ, he is a new creation; old things have passed away; behold, all things have become new."

2 Corinthians 5:17
In Christ we are made new. When we receive Jesus Christ as our Lord and Savior, our life immediately changes. The old things pass away and all things become new. This scripture shows that salvation itself means transition.
Our behavior, priorities and focus changes in Christ. It's not a one-day event. It's a journey. We continue to evolve and change and become more and more like Jesus Christ daily.
"Do not remember the former things,
Nor consider the things of old.
Behold, I will do a new thing,
Now it shall spring forth;
Shall you not know it?
I will even make a road in the wilderness
And rivers in the desert."

Isaiah 43:18-19
This transition bible verse teaches us that when we move into a new season, it helps not to dwell on the old life. We need to fully embrace the new thing which God is doing in our lives.
Even when we're moving from what may be a loss and the future looks bleak, God promises us that He will make a road in the wilderness and rivers in the desert.
I stayed in the Middle East and most of our surroundings was desert. I can't even imagine having a river in the desert but that's what God promises. He turns the impossible and makes it all possible in our new season. All we need to do is trust Him.
"Trust in the Lord with all your heart,
And lean not on your own understanding;
In all your ways acknowledge Him,
And He shall direct your paths."

Proverbs 3:5-6
What a comforting scripture about change and transition. It's one of my favorite Bible verses for trusting God with the future. We are to trust God fully and not our own rationale and understanding of the situation.
We are to acknowledge His word and His ways. When we do that, He will direct our steps. He will lead and guide us.
We will not be lost when we trust in Him. It's that child-like trust that God is looking for in us when we enter new seasons. When we look only to Him for our needs, He will provide. Because He is a faithful God who loves us. So it's important in seasons of change to learn how to let go and let God.
Daniel answered and said:

"Blessed be the name of God forever and ever,
For wisdom and might are His.
And He changes the times and the seasons;
He removes kings and raises up kings;
He gives wisdom to the wise
And knowledge to those who have understanding."

Daniel 2:20-21
It is God who changes times and seasons. He allows it for us to grow and become more like Him. He gives us wisdom and understanding in the new season. He is the Almighty God and deserves all our praise and worship.
Change and transition leads to growth
One thing is for sure, transition in the Bible always led to growth. Even in our own lives it does. And growing is so crucial for us to become who we were meant to be-the bearers of God's image.  
What does the Bible say about growth
When we transition to a new season we grow in our faith in God. We have new experiences so we get to know God in a new and fresh way. Knowing God better also means knowing ourselves better. So it's a win-win!
"but grow in the grace and knowledge of our Lord and Savior Jesus Christ. To Him be the glory both now and forever. Amen."

2 Peter 3:18
"that you may walk worthy of the Lord, fully pleasing Him, being fruitful in every good work and increasing in the knowledge of God;"

Colossians 1:10
"But we all, with unveiled face, beholding as in a mirror the glory of the Lord, are being transformed into the same image from glory to glory, just as by the Spirit of the Lord."

2 Corinthians 3:18
" in whom you also are being built together for a dwelling place of God in the Spirit."

Ephesians 2:22
Learning to embrace change
We like our comfort zone. But though we may resist a change, it also doesn't take us long to see the change as the new normal.
How can you learn to embrace change better? What does the Bible say about dealing with change and transition? The answer is that by holding on to God's promises we will be better able to embrace change. The Bible is our source which gives us all the answers for Christian living.
God's promises to help you deal with change
God's mercies are new each morning to help us deal with change (Lamentations 3:21-23)
The word of God equips us and lights our path through change (Psalm 119:105)
You can deal with change because the Bible promises that we can do all things in Christ. He will strengthen us through the new season (Philippians 4:13)
In the end everything works out for the good of those who love God. (Romans 8:28)
Change and transition in our life is guaranteed. God allows it to grow us and build us up to become more like Him. In order to grow we need to be ready and willing to let go of the old and welcome the new.
It's not easy but God promises to be there for us if we only trust Him. His word will guide us because it remains the same.
Free Coloring Pages
To help you remember these powerful scriptures about change and transition, I've made some coloring pages for you. They're absolutely free for you to download today. Just click the image below.