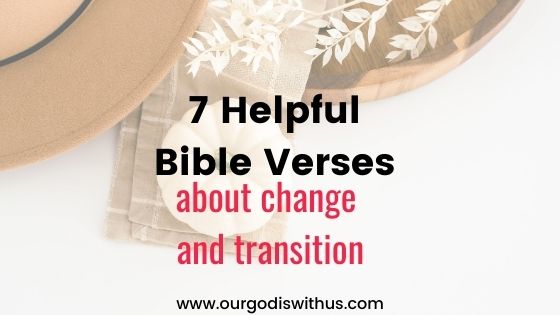 7 Helpful Bible Verses about change and transition
The weather seasons summer, autumn, winter and spring come with significant changes in characteristics, nature, temperature and human activity.
No matter how much we can love one particular season, at some point it ends and we have to welcome a new one. As I'm writing this, we are experiencing the end of summer and starting to transition to autumn.
This transition requires adjustment which can be difficult for us as we are creatures of habit. We like our comfort zone. But though we may resist a change, it also doesn't take us long to see the change as the new normal.
Just like the weather seasons, we also face changes and transitions in our lives which require an adjustment.
A time of transition
I'm personally going through a transition of seasons in the past few months. From full-time corporate woman to work from home mama with a calling for ministry and entrepreneurship.
It hasn't been an easy transition. In fact, it's been a time of self- discovery. I'm learning the importance of discipline, managing my time, planning and being productive (not just busy!).
One thing is for sure, seasons of transition in our lives lead to growth. And growing is so crucial for us to become who we were meant to be.
What transition are you going through in your life? Have you suddenly become a homeschool mom? Do you have a newborn? Is it a new career? Or a new church?
We can look to the Bible to help and guide us through seasons of change and transition.
7 Helpful Bible verses about change and transition
"Jesus Christ is the same yesterday, today, and forever." (NKJV)

Hebrews 13:8
While seasons change in our lives, it helps to know that Jesus Christ remains constant. He does not change. He is the same yesterday, today and forever.
This gives us so much hope and courage to face the future. Because we know that the same Jesus Christ of the Bible- who is a Mighty Warrior, a Way Maker, The Hope for the hopeless, Our Peace, Savior, Helper, Redeemer and friend will still be there for us in the same way no matter what.
"The grass withers, the flower fades,
But the word of our God stands forever."

Isaiah 40:8
God's word will not fade, disappear or fail. His truths still guide us and will continue to guide us forever. The word of God is eternal. We can lean on it always and learn from it daily. It continues to stand even in our times of transition.
The Word of God does not fail because Jesus Christ who never changes is the word of God.
"To everything there is a season,
A time for every purpose under heaven"

Ecclesiastes 3:1
This is one of those popular Bible verses that guarantees that change will always be there. There's a time for everything. There's a season for everything. It's all for God's purpose and glory.
Changes and transitions are there to grow us and make us better people.
"Therefore, if anyone is in Christ, he is a new creation; old things have passed away; behold, all things have become new."

2 Corinthians 5:17
In Christ we are made new. When we receive Jesus Christ as our Lord and Savior, our life immediately changes. The old things pass away and all things become new. Salvation means transition.
Our behavior, priorities and focus changes in Christ. It's not a one-day event. It's a journey. We continue to evolve and change and become more and more like Jesus Christ daily.
"Do not remember the former things,
Nor consider the things of old.
Behold, I will do a new thing,
Now it shall spring forth;
Shall you not know it?
I will even make a road in the wilderness
And rivers in the desert."

Isaiah 43:18-19
When our lives transition into a new season, it helps not to dwell on the old life and season. We need to fully embrace the new thing which God is doing in our lives.
Even when we're moving from what may be a loss and the future looks bleak, God promises us that He will make a road in the wilderness and rivers in the desert.
I stay in the Middle East and most of our surroundings is desert. I can't even imagine having a river in the desert but that's what God promises. He turns the impossible and makes it all possible in our new season. All we need to do is trust Him.
"Trust in the Lord with all your heart,
And lean not on your own understanding;
In all your ways acknowledge Him,
And He shall direct your paths."

Proverbs 3:5-6
This is one of my favorite verses for trusting God with the future. We are to trust God fully and not our own rationale and understanding of the situation.
We are to acknowledge His word and His ways. When we do that, He will direct our steps. He will lead and guide us.
We will not be lost when we trust in Him. It's that child-like trust that God is looking for in us when we enter change and transition. When we look only to Him for our needs, He will provide. Because He is a faithful God who loves us. So it's important in seasons of change to learn how to let go and let God.
Daniel answered and said:

"Blessed be the name of God forever and ever,
For wisdom and might are His.
And He changes the times and the seasons;
He removes kings and raises up kings;
He gives wisdom to the wise
And knowledge to those who have understanding."

Daniel 2:20-21
It is God who changes times and seasons. He allows it for us to grow and become more like Him. He gives us wisdom and understanding in the new season. He is the Almighty God and deserves all our Praise and worship.
My Encouragement to You
Changes and transitions in our life are guaranteed. God allows them to grow us and build us up to become more like Him. In order to grow we need to be ready and willing to let go of the old and welcome the new.
It's not easy but God promises to be there for us if we only trust Him. His word will guide us because it remains the same.
Let's Pray
Lord Jesus, thank you for being faithful in our lives. Even though seasons of life will change, yet You remain the same. Your word remains constant. We honor You and bless your Holy name.
As we enter times of transition and change, may we learn to trust You by letting go of the old and embracing the new. Help us not to lean on our own understanding but to let You direct our paths.
We look forward to growing in the new season. Continue to lead and direct us.
In Jesus name we pray. Amen.