Our wedding days are filled with so much hope, love, excitement and pure joy. But along the way we discover that staying married is harder than getting married. We say hurtful words to each other, we don't appreciate each other, misunderstandings occur leading to deeply troubled marriages. We need marriage restoration prayers that will help us heal our broken marriages with God's power.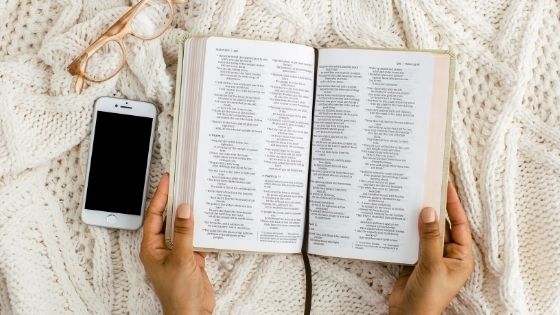 What are some common marriage problems
We go to God with restoration prayers when there are problems in our marriages and we need healing. Some of the top marriage problems are:
Breakdown in communication
Differences in personality, values and opinions
A sexual or emotional affair
Money problems
Gossip
Selfishness and looking out for individual not family interests
At the root of these common marriage problems is sin. Marriage is a union of 2 sinners. So in order for a broken marriage to be healed again, we must come back to the biblical principles of marriage and do marriage God's way not our way or the world's way.
Following God's principles and standards for marriage will help us lay a solid foundation for our marriages to thrive and not just survive.
Can God restore a broken marriage?
You may have been hurt so badly in your marriage or you've been struggling with marital problems for so long that you wonder if God can help you. The truth is He can and He will if you will just trust God to restore your marriage. Our God is in the business of reconciliation.
"Now all things are of God, who has reconciled us to Himself through Jesus Christ, and has given us the ministry of reconciliation, that is, that God was in Christ reconciling the world to Himself, not imputing their trespasses to them, and has committed to us the word of reconciliation."

2 Corinthians 5:18-19
Does God want marriages restored? Absolutely, yes! God firstly reconciled us to Himself through Jesus Christ. This is the very reason why Jesus came into the world-restoration and reconciliation to God.
Now, God has given us the ministry of reconciliation as well. So your desire for marriage restoration and reconciliation is a ministry in itself. How amazing is that?
God wants your marriage to be restored and He is able to help you because He is the all-powerful and all-knowing God.
6 Encouraging Marriage Restoration Scriptures
What does God say about marriage restoration? Well, we find that Scriptures help us not only to know what God says but guides our marriage restoration prayers as we will pray God's word over them. These Bible verses will encourage you to heal from a broken marriage.
"But Jesus looked at them and said to them, "With men this is impossible, but with God all things are possible""

Matthew 19:26
If you've asked yourself the question, "how do I let God heal my marriage?" then the first thing you need to do is trust God to do it.  Even if you think your marriage is beyond repair, what is impossible with man is possible with God. If God can raise Jesus Christ from the dead, He can definitely restore your marriage. Just trust Him. All things are possible with God.
"For I know the thoughts that I think toward you, says the Lord, thoughts of peace and not of evil, to give you a future and a hope."

Jeremiah 29:11
What an amazing, encouraging and powerful verse this is. God's plan and thoughts for you and your husband is peace, hope and a future. You can hold on to this promise. You can pray it over your broken marriage so you can begin to heal and trust God to restore your marriage.
"bearing with one another, and forgiving one another, if anyone has a complaint against another; even as Christ forgave you, so you also must do."

Colossians 3:13
To bear with each other is to endure difficult times in our marriages. Modern culture says if you're not happy in your marriage, just leave. We give up so easily.
But God says bear with your spouse, no matter how hard it may be. Forgive him because Jesus Christ has forgiven you. When you understand that you will begin to see healing in your marriage.
"And be kind to one another, tenderhearted, forgiving one another, even as God in Christ forgave you."

Ephesians 4:32
A critical spirit in marriage can take root without us even noticing. That's why the Bible says we need to be kind and tenderhearted to each other, in both words and deeds. Being critical of your husband stifles the love in your marriage.
God reminds us in this Bible verse about marriage restoration that showing compassion, being affectionate and caring towards your spouse will go a long way to restore your broken marriage.
"And why do you look at the speck in your brother's eye, but do not consider the plank in your own eye? Or how can you say to your brother, 'Let me remove the speck from your eye'; and look, a plank is in your own eye?"

Matthew 7:3-4
The truth is, it takes 2 to build a marriage and 2 to break it. No matter the hurt or issues, be humble enough to admit your part in the broken marriage. Ask God to forgive you and for the grace to extend the same forgiveness to Your husband.
"rejoicing in hope, patient in tribulation, continuing steadfastly in prayer;"

Romans 12:12
What a short and powerful Bible verse to remember and memorize. Even when your marriage is in trouble, remember to rejoice because there's always hope in God. Be patient, don't give up, God will restore your marriage. Moreover, it's important to continue in prayer so God can help you overcome the problems in your marriage.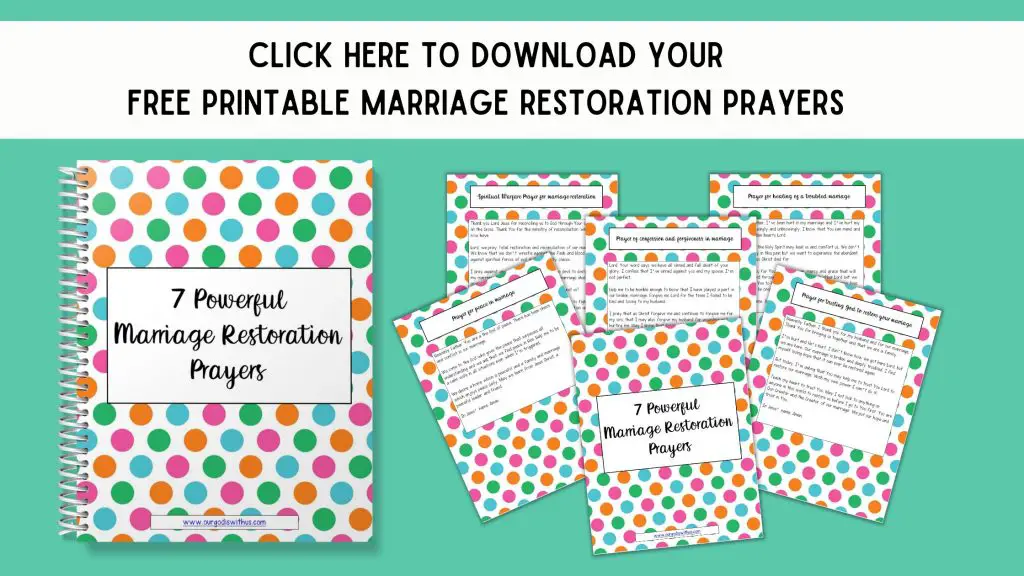 7 Powerful Marriage restoration prayers
Have you ever wondered, "how do I ask God to restore my marriage?" The answer is through prayer. The best biblical advice for marriage problems really is to pray for God to restore that marriage. Hearts change when we pray. How we act and the way we speak to each other in marriage changes when we pray. Prayer is how you let God heal your marriage.
Jesus said in John 10:10 that the devil comes to steal, kill and destroy the love, joy and unity in our marriages. We need to know that marriages are being fought spiritually. So many times we blame our husbands for the problems in our marriage but the real enemy is the devil.
We need powerful spiritual warfare prayers for marriage restoration. We need our marriages to be restored to the purpose and biblical principles God created them for. These prayers for a deeply troubled marriage will help save our marriages from divorce and lead to joy and happiness being restored again.
1. Prayer for trusting God to restore your marriage
Heavenly Father, I thank you for my husband and for our marriage. Thank You for bringing us together and that we are a family. I'm hurt and He's hurt. I don't know how we got here Lord, but we are here. Our marriage is broken and deeply troubled. I find myself losing hope that it can ever be restored again.
But today, I'm asking that You may help me to trust You Lord to restore our marriage. With my own power I can't do it. Teach my heart to trust You. May I not look to anything or anyone in this world to restore us before I go to You first. You are Our Creator and the Creator of our marriage. We put our hope and trust in You.
In Jesus' name. Amen.
2. Prayer of confession and forgiveness in marriage
Lord, Your word says we have all sinned and fall short of your glory. I confess that I've sinned against you and my spouse. I'm not perfect. Help me to be humble enough to know that I have played a part in our broken marriage. Forgive me Lord for the times I failed to be kind and loving to my husband.
I pray that as Christ forgave me and continues to forgive me for my sins, that I may also forgive my husband for wounding and hurting me. May I know that forgiveness is an act of obedience to Your word. I pray against any root of bitterness in my heart to be removed by the Holy Spirit so that love may abound.
In Jesus' name. Amen.
3. Prayer to save marriage from divorce
Our Lord, the Bible says that You hate divorce. I pray today that only You have the power to save our marriage from divorce. In fact, I declare that divorce is not our portion for our marriage. You are the Lord who is mighty to save us from the plans of the devil.
I pray that the Holy Spirit may help us to abide in God's word and remind us to practice it daily. May He remind us of the grace we found in OUR Lord Jesus Christ and extend it to one another so that our marriage may be saved from separation and divorce.
In Jesus' name. Amen.
4. Prayer for peace in marriage
Heavenly Father, You are a the God of peace. There has been chaos and conflict in our marriage. We come to the God who gives the peace that surpasses all understanding and we ask that we find peace in Him. Help me to be a calm wife in all situations even when I'm triggered.  
We desire a home which is peaceful and a family and marriage which enjoys peace daily. May we learn from Jesus Christ, a peaceful leader and friend.
In Jesus' name. Amen.
5. Prayer for love to be restored in a broken marriage
God, Your word says in 1 Corinthians 13 that love never fails. Love is a choice that we are called to continue making even when we are hurt. The greatest commandment is love itself. Love of God and our neighbor. My husband is my neighbor and I know that love will restore our troubled marriage because God, You are love.
Teach me to practice love by enduring the storms of our marriage with my husband, being kind to him, being selfness, believing in him and having hope that our marriage can and will be restored again by You Lord. Help us heal and love again.
In Jesus' name. Amen.
6. Prayer for healing of a deeply troubled marriage
Heavenly Father, I've been hurt in my marriage and I've hurt my husband knowingly and unknowingly. I know that You can mend and heal our broken hearts Lord. We ask that the Holy Spirit may heal us and comfort us. We don't want to stay in this pain but we want to experience the abundant life that Jesus Christ died for.
We thank You for Your healing power, mercy and grace that will flow in us and through us. We can't heal each other Lord but we are trusting You to heal our troubled marriage so that peace, love and joy will be present again.
In Jesus' name. Amen.
7. Spiritual Warfare Prayer for marriage restoration
Thank you Lord Jesus for reconciling us to God through Your death on the Cross. Thank You for the ministry of reconciliation which we now have. Lord, we pray, total restoration and reconciliation of our marriage. We know that we don't wrestle against the flesh and blood but against spiritual forces of evil in the heavenly places.
I pray against any plan, plot and scheme of the devil to destroy my marriage. No weapon fashioned against my marriage shall prosper. If God is for us and our marriage, who can be against us? Thank you Lord for giving us the authority and power to fight against the devil. We pray today for marriage restoration and reconciliation and an end to broken marriages. May the love of God reign in our marriage.
In Jesus name we pray. Amen.
Are you in a troubled marriage? Do you know someone who is? I want to remind you that God can heal and restore a broken marriage. He is able to it. Just trust Him. Daily continue to read scriptures for marriage restoration and trust God to start the process of healing and restoring your marriage today.
Free Marriage Restoration Prayers Printable
I created a FREE Printable Download of all the prayers above for you to keep. Click below and download them today. God bless you and your marriage.