Mother's Day is the one day in the year that we all stop everything and get to celebrate and appreciate our mothers and be appreciated as mothers as well. While we can do this any other day, it's great to have one day specially dedicated for us moms. These 7 uplifting Mother's Day prayers will encourage you in the different seasons of motherhood you may find yourself in.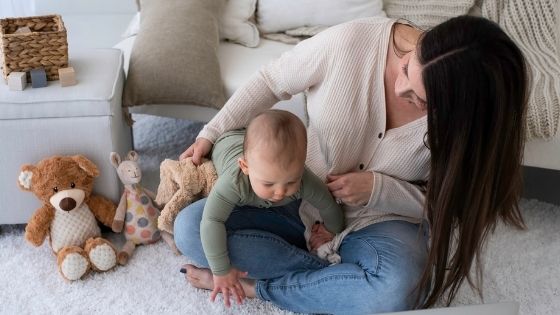 Mother's Day Bible Verses
The word of God is our compass and our hope for this journey of motherhood. These Mother's Day scriptures are a great reminder of what God says about mothers.
"For You formed my inward parts;
You covered me in my mother's womb.
I will praise You, for I am fearfully and wonderfully made;
Marvelous are Your works,
And that my soul knows very well."

Psalm 139:13-14
This is one of the most popular verses about mothers and I love it. It's a reminder that God uses us as vessels to carry our kids in our wombs. Ultimately, He is their Creator. Our kids are made in His image and so are we. And whatever God creates is good.
"She opens her mouth with wisdom,
And on her tongue is the law of kindness.

She watches over the ways of her household, And does not eat the bread of idleness.

Her children rise up and call her blessed;
Her husband also, and he praises her:"

Proverbs 31:26-28
We need God's wisdom as moms as we raise our kids in a way that pleases God. Our words and behavior must show that we are believers in God.
When we prioritize God as moms it will radiate in our homes and families. Our children and husbands will see it and benefit from the quiet times we spend with God in prayer and Bible study. As a Proverbs 31 woman and mom, know that you have an influence and impact on the lives of those around you.
"As one whom his mother comforts, So I will comfort you;

And you shall be comforted in Jerusalem."

Isaiah 66:13
"Behold, children are a heritage from the Lord,
The fruit of the womb is a reward."

Psalm 127:3
"Can a woman forget her nursing child,
And not have compassion on the son of her womb?
Surely they may forget,
Yet I will not forget you."

Isaiah 49:15
Our children are our gift and our heritage so we should praise God and be grateful for them. We are there to comfort them and help them as they grow. When we trust in and depend on God, He will help us become great moms to our wonderful kids.
7 Uplifting Mother's Day Prayers
Prayer is key to raising our kids well as Christian moms. Even on Mother's Day, we need to pray and ask God's grace to become wiser moms. These uplifting Mother's Day Prayers will encourage you on this important day and beyond.
Prayer for Mothers' Day
Mother's Day is a special day for us as we are honored as moms and also honor other moms in our lives. While our children bring us lots of joy, we can all agree that motherhood can be tough. That's why we need Jesus.
Being a praying mom will help you deal with the mom guilt, the insecurities and the overwhelm you may feel. God makes the journey much better and doable as we depend on Him to be with us and guide us.
Prayer helps you become a more patient mom who is more loving, and calmer. When you pray as a mom, it shows that you recognize that you simply can't do it all but you know the One who can.
Here's a special prayer for Mother's Day:
Lord Jesus, thank you for this day where we get celebrated and honored as mothers. This is one of the most important roles I get to play in my life. May I never take this gift for granted.
I'm so thankful for the kids that you've blessed me with. I know that you created them in my womb and you have a purpose and plan for them. Help me love them like You do Lord and to point them to the Cross. May I be a representative of Jesus Christ in their lives.
As a mom, remind me that I can't do this without You God. I need you to hold my hand and lead me as L seek to help my children grow spiritually. Teach me to pray daily to you and rely wholeheartedly on You Lord to help me become a better mom.
Give me wisdom, understanding, knowledge, patience, and love to give to each child. May I treat them and raise them uniquely and according to their needs.
Thank you again for this day. Amen.  
Happy Mother's Day Prayer for new mothers
If this is your first Mother's Day, I want to wish you a special Mother's Day Blessing. Welcome to the journey mama! Being a mother is so precious, so all-consuming and one of the best journeys you'll embark on as a woman. God has entrusted with this child and it's truly an honor and privilege.
One of the things I want to encourage you on is that you don't need to be a perfect mom. Even if you read all the books and implement all the advice you'll get, you won't get it right all the time.
Instead, try to be a better mom. Focus on learning and growing with your child. And most importantly, know that you should always depend on God to help you as well as the support of other moms. This is also a safe space for you to get weekly encouragement to grow spiritually alongside other imperfect moms.
You may not know what the future holds, but you know the God who holds Your future. Hold on to Him and His promises for you:
"For I know the thoughts that I think toward you, says the Lord, thoughts of peace and not of evil, to give you a future and a hope."

Jeremiah 29:11
This is a special Mother's Day blessing to all new mothers:
Lord Jesus, I'm so thankful for this bundle of joy you've given me. My heart is full of joy and love. Thank you that this child is a blessing and gift from you and you've entrusted me to be their mother on this earth.
Help me to never aim to be a perfect mom but rather to focus on You as the Perfect God and trust You to hold me and my baby in Your precious and loving arms. Strengthen me and give me the wisdom to be the best mom for this child.
I choose to trust in You Lord on this journey of motherhood. As a new mom, I get confused, overwhelmed, and exhausted. May I lean on you and other moms who have walked the walk to help me and guide me along the way. Amen.
Prayer for Mothers Strength
No matter what season of motherhood you're in, you most probably need God's strength. In the early days of motherhood with a baby or toddler, it's more the physical strength we need. But as our kids grow, we need mental and emotional strength to guide them through those tricky teenage years and into adulthood.
In every season, we need to pray for our kids and trust God to bless them, protect and guide them. If we're not strong ourselves, we will not be able to strengthen them and they rely on us so much for that.
So, my encouragement to you is to look unto God for strength in the hard times of motherhood. He will never let you down.
"And I will pray the Father, and He will give you another Helper, that He may abide with you forever—"

John 14:16
"And let us not grow weary while doing good, for in due season we shall reap if we do not lose heart. "

Galatians 6:9
My God, I thank you for the children you've given me. They're so precious to me and I know they're even more precious to you. As a mom, I need strength to guide them and to lead them in this wicked world.
There are times when I'm weak and think I can't do this anymore. But motherhood is a lifetime calling that you blessed me with. Strengthen me daily and help me never to give up on being a godly mom to my kids.
In every season of motherhood may I look to You Lord as my rock to strengthen me and guide me through all the challenges I face. Amen.
Prayer for Struggling mom
As moms, we struggle with balancing all the roles we have in our homes, marriages, church, and at work. Managing your time as a mom is one of the most important things you can do to help you enjoy motherhood.
We struggle with feelings of inadequacy and criticizing ourselves. The world judges us harshly, we have mom-guilt and we wonder if we're doing enough for our kids.
There's so much to worry and stress about as moms and we need to learn how to pursue the peace of God and choose the joy of the Lord which is our strength.
This Mother's Day, if you are struggling with any of the above or something else I want you to know that God is there for you. Pray to Him and learn to let go and let God do what only He can.  
 "casting all your care upon Him, for He cares for you."

1 Peter 5:7
If you are struggling as a mom, say this prayer with me:
Heavenly Father, I know that motherhood is a gift and blessing. But today I come to you because I'm struggling with ______, ________, _______ and _______. I cast my burdens onto you O Lord because I know you care for me and You are for me.
Help me to lean on you and rely on You. I need You to be the best mom You created me to be. Thank you for always being there for me so I can call upon You in my hour of need. Remind me of who I am in Christ and help me stand upon the promises in Your word.
I love You, Lord. Amen.
Mother's Day Prayer for someone who lost their mother
Losing a mother is like losing a part of yourself.  It's one of the hardest losses anyone can experience. Moms offer us comfort, love, and strength that we struggle to find anywhere else. This is a special prayer for you if you lost your mother.
Heavenly Father, thank you for loving me and being there for me. Losing my mother has been hard. Most times I feel lost without her. Please help me to heal and know that with you Father, I always belong and am always loved.
As I remember my mom on this Mother's Day, may I cherish the positive impact she left in my life and the wonderful lessons she taught me. I'm so grateful for the time that I had with her.
Holy Spirit, You are my Helper and Comforter. May I always seek comfort in You and remember that I'm never alone and never lost for You are always with me. Amen.
Prayer for single mothers
I was raised by a single mother so I have a deep appreciation for the strength single moms have. You have to navigate the absence of a father in your children's lives. Fathers provide financial, emotional, physical, and spiritual support to their families, and when you lack that it leaves you with a heavy burden.
This encouraging prayer for single moms is to remind you that you're not alone but that God is always with you. He will help you, protect and preserve you and your kids. You only need to do your best and God will do the rest.
"I will lift up my eyes to the hills—From whence comes my help?

My help comes from the Lord, who made heaven and earth."

Psalm 121:1-2
Lord, thank you for the children you've given me. They're a gift from you. As I navigate life as a single mom, I pray that your grace would strengthen me and be sufficient for me. So many times, I'm exhausted physically, emotionally, and spiritually.  Help me in those times to lean on You and depend on You to strengthen me.
I pray that I would hold on to Your promises for myself and my kids. The promise that You love us unconditionally, You are our ever-present help in times of trouble, and that your presence is always with us. Thank you for being my God, my Savior, and my friend. Amen.
A Prayer for Those Still Waiting to Be a mom
The road to motherhood looks different for all of us. While for some it's easy and quick, with some of us it started with the loss of an unborn baby and wondering if we will ever hold that bundle of joy in our loving arms.
But I'm here to remind you that God is faithful. Your hope and trust should remain in Him alone. Learn to wait well on God. When the right time comes, He will give you the child you desire. If you're waiting to be a mom, this prayer is for you.
"Delight yourself also in the Lord, and He shall give you the desires of your heart.

Commit your way to the Lord, trust also in Him, and He shall bring it to pass."

Psalm 37:4-5
Dear God, thank You for my life. I honor You today and praise Your Holy Name. I'm so grateful that You're my Father.  As I'm in this waiting season Lord help me to put my trust in You. I too want to become a mom and enjoy the blessing of children. But I want to do it in Your time and when it is Your will.
Help me to wait well and be patient during this time. It's not easy but I can do all things through Christ who strengthens me. May I use this time to grow spiritually and know You better as my heart and body prepare to one day hold my little bundle of joy.
Thank You Father that in You we can always hold on to hope because we know You are faithful. Amen
I hope and pray that these prayers will bless you, encourage and uplift you. Happy Mother's Day to you!
Free Bible Verse Cards for moms
As moms we get busy and need a reminder of God's word in our day. These beautiful Scripture Cards will help you do just that. They're absolutely Free and my gift to you for being an amazing mom.
Be sure to download your free printable today!