One of the best gifts we can give our kids is prayer. Leading and teaching our children to pray will make such a huge difference in their lives. Prayer doesn't have to be long especially with kids. So, these short prayers for children are a great way to start building the habit of prayer that our children can continue even on their own as they grow.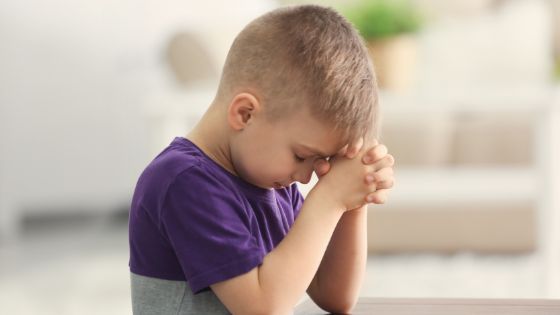 Short kids' prayers
The Bible says what we instill in our kids at a young age will carry them for years to come. Time spent in prayer is therefore a big and worthwhile investment into their future.
"Train up a child in the way he should go,
And when he is old he will not depart from it."

Proverbs 22:6
So how can you pray with and for your kids? A great guide to use is the ACTS prayer model. It is simple to keep in mind as you pray and you can teach your children to use it as a guide when they can grasp it as well.  
But where do you start? There is so much to pray for. The below 8 short prayers for children are a great place to start for you and your kids.
Short morning prayer for kids
Morning prayers help us get started with Jesus Christ and keep the first thing, the first thing. It's by God's grace and favor that we get to see a new day and we need to thank God for that and honor Him. We also use the morning to ask God to guide our children's steps throughout the day.
"This is the day the Lord has made.
We will rejoice and be glad in it."

Psalm 118:24
"Through the Lord's mercies we are not consumed,
Because His compassions fail not.
They are new every morning;
Great is Your faithfulness."

Lamentations 3:22-23
"Direct my steps by Your word,
And let no iniquity have dominion over me."

Psalm 119:133
Let's pray.
"Thank You, Lord, that we get to see this day. We appreciate the good night's rest. Our hearts are full of joy because You are a good Father to us. We appreciate Your love, kindness, and mercies which are new each morning. May you order our every step, so we are under your guidance and protection.
You are faithful to direct our steps today O God. May we walk as overcomers because in You we are victorious. Remind us of our identity in Christ so that we're never lost.
Help us not to sin against you but to only do what is right and what is according to Your word. In Jesus' name. Amen."
Simple prayers for kids
As parents, we need to teach our children age-appropriate prayers. The goal is to get them used to the habit of communicating with God. For our 3-year-old, we have taught her a simple prayer which she has now mastered and is proud to pray.
The prayer is:
"Thank you, Lord Jesus, for today. Amen. "
That is it. Very short and simple. Easy for toddlers to remember. It teaches them to have an attitude of gratitude and believe that God is our Provider, Source, and helper in all things.
A simple prayer for "older" kids from 4-5 years and above is:
"Heavenly Father, thank you for this day. We worship You and praise Your name. Thank you for this day. Thank you for my parents, teachers, friends, and family. Thank you for loving me and blessing me. Please Lord help me with____, ______, and ______. I trust You God and love you. In Jesus' name l pray. Amen"
Prayer for kids in school
Our children spend a considerable amount of time at school. They get influenced by their teachers and friends. That is why school prayers are important.
We can pray for wisdom, good friends, and God's protection at school. Getting into the habit of teaching our kids to say short morning prayers for school can only be for their benefit.
"If any of you lacks wisdom, let him ask of God, who gives to all liberally and without reproach, and it will be given to him. "

James 1:5
"'God is our refuge and strength,
A very present help in trouble."

Psalm 46:1
This is a short morning prayer for school that you can pray over your kids.
"Heavenly Father, we thank you for blessing us with our children. Thank you that they get to go to school and increase in knowledge as they learn something new each day. Father give them the wisdom to make the correct choices at school.
May you protect them against any forms of evil. Please help them with their schoolwork and after-school activities. Strengthen them to be able to cope with their school demands. May they be a blessing to their teachers, friends, and school. In Jesus' name. Amen."
Parents prayer for children
As parents, we have some short prayers for children that we can pray to show that we are trusting God who loves our children and is with them all the time. Praying according to scripture is one of the most effective ways to pray so that God listens and answers. That is because God is faithful to do what His word says.
Let's go through some daily prayers for your children.
"The Lord is my shepherd;
I shall not want."

Psalm 23:1
"Let your light so shine before men, that they may see your good works and glorify your Father in heaven."

Matthew 5:16
" Heavenly Father, we honor You and glorify Your name. Please watch over our children. May You be their Shepherd, leading, directing, and guiding them in the right ways that lead to eternity and not destruction. May You be their provider and may Your presence always be with them.  
We ask that they may shine before their friends and their community through great actions and words so that others may testify of Your goodness. Cover these children and keep them safe in the shadow of your wings. In Jesus Christ's name. Amen"
The Blessing is one of my favorite songs which made the scripture Numbers 6:24-26 popular. This in itself is a great daily prayer that I pray over my kids every night. Even when I'm sick my kids will wake me up and ask me to bless them. So, when kids get used to something, they sure need consistency.
"The Lord bless you and keep you;
The Lord make His face shine upon you,
And be gracious to you;
The Lord lift up His countenance upon you,
And give you peace."

Numbers 6:24-26
Children's bedtime prayer
It is great to start and end the day in prayer. But more than that we need to teach our children that God says in 1 Thessalonians 5:17 that we must "pray without ceasing." God is available any time, ready to connect with us and help us in our hour of need.
At night we can call on Him to give us peace and rest. As kids grow, they may struggle with nightmares so we need to ask God to give them sweet dreams.
"When you lie down, you will not be afraid;
Yes, you will lie down and your sleep will be sweet."

Proverbs 3:24
These are short prayers for kids before they sleep:
"Oh Lord, thank you for this wonderful day you have given us. Thank you for protecting and guiding us. You are our friend, Father, and strength. As we sleep, we ask that you may protect us and cover us in the blood of Jesus. May we sleep peacefully and wake up well-rested and ready for a fresh day. We trust in Your power. Thank you for listening to our prayer. In Jesus' name, we pray. Amen."
Another great area to focus on as we put our kids to sleep is reflecting on what they did and asking for God's forgiveness.  Let's pray:
"Thank You, God, for Your amazing love and grace. Thank You for blessing us and protecting us always. We are not perfect Lord but You are. Forgive us our sins today. Those that we committed while knowing and even those we committed without knowing.
Teach us to love Your word and obey Your word so that we may not sin against You. Help us to be kind and loving to others and ourselves. As we sleep, may we rest well and wake up refreshed and ready for the new day you will give us. In Jesus' name, we pray. Amen."
There is so much more to pray for as our children grow and we also grow spiritually and get to know the scriptures. These short prayers for children however are a good way to start teaching our kids to consistently connect with God.