There's one word that correctly describes patience- 'longsuffering'. The version of the Bible I use (NKJV) actually uses the term longsuffering instead of patience.
As a mom of littles below age 10, I would say patience has been one of the biggest challenges for me. Listen my kids are great and I love them but they're loud, carefree, energetic and definitely know how to push my buttons.
I guess they're just being kids but that logic sometimes escapes this mama.
Here's a typical morning scenario at my house:
I'm tired because, well, #momlife 2. I'm not a morning person.
My 6 year old daughter comes into our bedroom early in the morning and starts jumping on the bed. I tell her nicely to stop and she doesn't.
By the 5th time that I'm telling her to stop, I've lost all patience, my voice has been raised, mom guilt has taken over as well as the internal question "What kind of Christian mom are you?" . Then my daughter asks me, "Mama, why are you always angry?". Ah great! More mom guilt thank you very much.
All this because well, I failed to suffer long in that moment! So, I've been desperate for tips to help me become more patient and I'm sharing them with you here.
But what is a patient mom like?
A patient mom is one who has the ability to wait, but the ability to keep a good attitude while waiting. This is a mom who can tolerate delays without becoming frustrated or annoyed.
As a Christian mom, being patient means being able to operates from a place of love. It's accepting that our children will not react when we want them to or understand concepts when we think they should and being loving as we wait for them to have that desired behavior or reaction.
I believe that becoming a patient mom will help us to enjoy our roles as moms.
So what are the practical tips to becoming a patient mom?
9 Practical Tips to become a patient mom
1. Know your triggers for impatience
In my case, I've been learning that being tired in a definite trigger for being impatient. Because I know that, I'm trying to get as much rest as I can and my mood definitely has improved.
Another trigger for me is waking up and not praying and spending time in God's word. I find that when I do these two things or even just one of them, I'm a calmer mom.
So, it's important to know our triggers so we can deal with them head on.
2. Count to 10 out loud or in your head
"You must all be quick to listen, slow to speak, and slow to get angry."

James 1:9
The Bible tells us to be slow to speak and slow to get angry and say hurtful words. Counting to 10 out loud or in your head certainly helps here.
It gives you time to stop, breathe and think of what to say before you say it. When you're calm, usually you'll only say kind words.
3. Ask the God of patience
I came across this verse recently during my morning Bible study and I did a mental happy dance. I know God is the God of everything but I didn't know of an actual verse that said He was the God of patience.
"Now may the God of patience and comfort grant you to be like-minded toward one another, according to Christ Jesus,"

Romans 15:5
There we have it- God is the God of patience! Because of that reason, we can go to Him in prayer and ask Him for help to become more patient.
4. Spend time with the Holy Spirit
" But the fruit of the Spirit is love, joy, peace, longsuffering, kindness, goodness, faithfulness, gentleness, self-control. Against such there is no law."

Galatians 5:22-23
Patience is one of the fruit of the Holy Spirit. The more time we spend in God's word and in prayer, the more we produce the fruit of the Holy Spirit. As we grow in our faith and stay connected to the Holy Spirit, we will become more patient moms.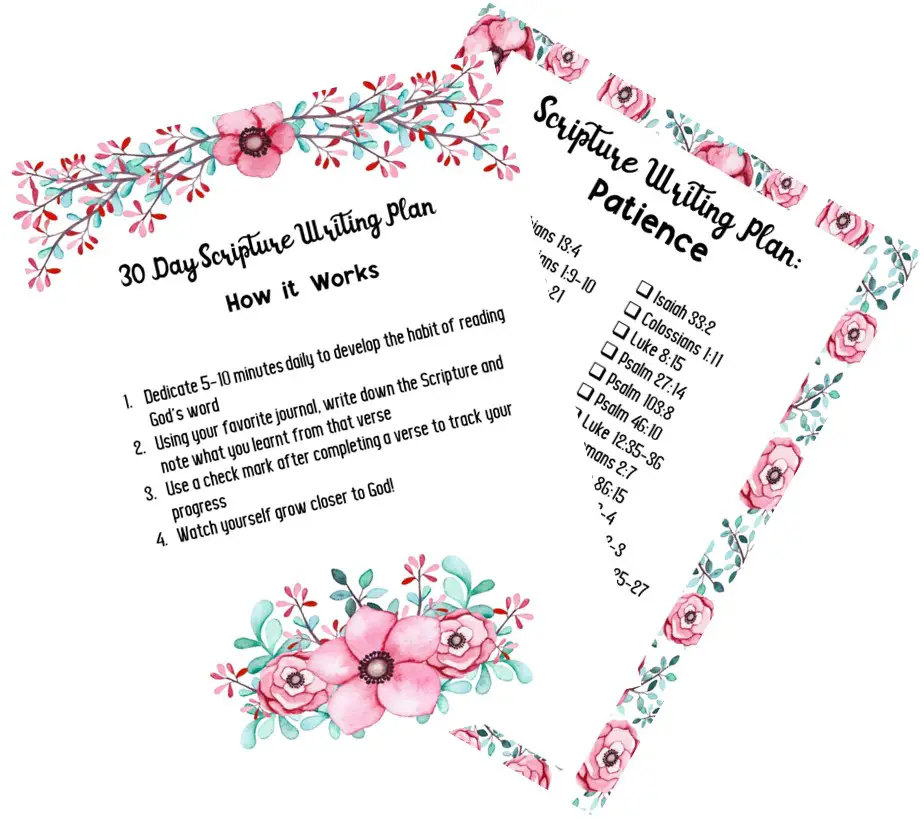 5. Remember God's patience with you
"The Lord is gracious and full of compassion,
Slow to anger and great in mercy"

Psalm 145:8
God loves us so much, He gives us His grace and shows us compassion. Even though we are sinners and He hates sin, He is slow to anger and His mercy for us is abounding.
When I remember God's patience with me- I'm at a loss of words. In fact, I'm humbled! There are many times when I've disobeyed Him, yet when I confess my sins, He forgives me and wraps me in His tender unconditional love.
It's when we remember God's patience with us that we know we are obliged to extend the same patience towards our children.
6. Understand the perspective of others
"Let each of you look out not only for his own interests, but also for the interests of others."

Philippians 4:2
In the case of my energetic daughter, she wakes up in the morning, excited for the day and seeing me. She doesn't mean to annoy me, she's just expressing her joy. I'm learning to see things from her perspective and it helps a ton!
Take a moment to put yourself in your children's shoes. They are young and not at the same level of physical, emotional and spiritual maturity that we're at yet but they'll get there.
7. Remember the greatest commandment is love and it is patient
"Love suffers long and is kind; love does not envy; love does not parade itself, is not puffed up;"

1 Corinthians 13:4
The greatest commandment is to love God and love others as we love ourselves. And 1 Corinthians 13 helps us understand in detail what is love in action. As Jesus is our role model, being patient help us to love like Jesus.
Love is patient- it suffers long. It takes it's time with people and tolerates people. When you operate from a place of love in everything you do, then you can start to become a patient mom.
8. Be patient with yourself
If you're an impatient person, you won't become patient overnight. But you'll need to take these tips and keep practicing them over and over again.
I've found that the more aware I am about an area I need to work on, the more the Lord brings it top of mind and the more He works in me to grow and get better. That's the power of the Holy Spirit. So, don't give up, keep practicing patience.
9. Start the 30 Day Patience Scripture Writing Plan
If you want to go deeper in the Bible with the subject of Patience, would you join me in the 30 Day Patience Scripture Writing Plan. Read and study a verse a day for 30 days and grow in becoming a more patient mom. Download your copy and start the journey, today!
My Encouragement to you
Becoming a calmer and more patient mom helps not only you but your children to become calm as well. It's a journey to become a patient person but one that we don't need to go on alone. The Holy Spirit is here, ready to help us become more loving and more long suffering.
Let's Pray
Heavenly Father, I come to you as the God of patience. This is an area where I need your grace and help to overcome. I lose my patience too often. I pray Lord that may you help me remember your patience towards me and extend that same patience to my children. You're a miracle working God. Transform me to be more like you, a calmer and more patient mom.
In Jesus' name I pray. Amen.