Motherhood is certainly a blessing. Yet also a rollercoaster ride with many ups and downs. No other relationship can be compared to motherhood. We're in it for the long haul. So it's important that we discover the best ways to enjoy motherhood.
"Your greatest contribution to the kingdom of God might not be something you do, but someone you raise. "

-Andy Stanley
Firstly, a little confession. Motherhood is one subject I don't have the most confidence talking about. That's because most times I feel like I'm far from getting it right (a lie from the devil that I'm fighting daily).
While I genuinely enjoy being a mom, my vulnerabilities and my weaknesses have been revealed (ka boom!). Motherhood has made me discover a lot about myself and I can't say I like everything I've learnt.
I'm super loving, fun and have so much resilience yet I'm so impatient. In one moment I can be shouting at my daughter (yes, I'm still a believer y'all) and the next moment we will be dancing to our favourite songs on Youtube.
I don't believe I'm doing it all perfectly but if there's one thing I've realized on this journey it's that I need God. I need His grace and His strength daily. With 2 littles needing so much attention, we're in the thick of it.
Motherhood is not easy
Motherhood is not an easy journey. It can be so frustrating, tiring and overwhelming. Sometimes I don't know if I'm coming or going.
There are times I lie in bed and dream of a time 5 or 10 years from today when I will be able to take a real vacation where no one will be crying for me to nurse them or calling me to come help them in the bathroom (the joys).
But is it possible to enjoy motherhood today? Even when our children are little? When we are in the messy middle? I took my Bible and discovered some answers.
I pray that God continues to help us discover more ways to enjoy motherhood daily through His word.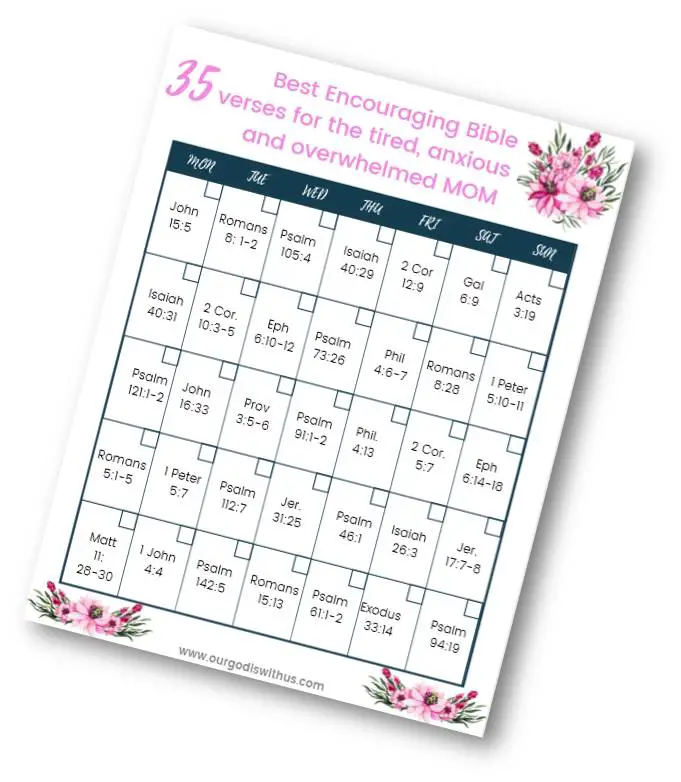 The Best ways to enjoy Motherhood
1. Remember everyday as a mom is a blessing
Children are a blessing from God. They are a gift and heritage.
No matter what we are going through, we've been given a chance to be here. With our children. To experience life together. Everyday is a gift from God that we can choose to enjoy.
Now does this mean we don't get frustrated, (dare I say angry?), overwhelmed or tired? No it doesn't. But we choose not to dwell on those feelings and emotions. And focus on the gift these children are to us.
"This is the day the Lord has made;
We will rejoice and be glad in it."

Psalm 118:24
2. Enjoy motherhood by leaning on Jesus
My husband is tall, dark and super strong. I can rely on him because he is dependable. I rely on him as a dad and husband. But he is human and falls short. Sometimes he wants to help me through some of the emotional struggles I go through as a mom but he can't (and that's not his fault).
But there is rock that we can rely on in all times. His name is Jesus Christ. He is strong, stable and steadfast. He is forever faithful. He can handle all our insecurities, struggles and frustrations as moms.
"From the end of the earth I will cry to You, When my heart is overwhelmed; Lead me to the rock that is higher than I. "

Psalm 61:2
When we are weak, He is always strong. I've discovered that when we lean on Jesus as moms, this is one of the best ways to enjoy motherhood because we know we have someone we can rely on at all times. It's not all on us.
Sometimes we can be going through some hard mom stuff in the middle of the night. And it can be too late to call our friends, moms or sisters. But Jesus is always there. His presence is constant. He always listens because He cares.
"casting all your care upon Him, for He cares for you."

1 Peter 5:7
3. Remember it will all be worth it
Disciplining our children will sometimes not be easy. It can honestly take all the joy from motherhood. Instilling Godly values will go against what our children are learning from the world.
Our children will say hurtful words that we don't feel we deserve. (I know l've been called a 'meanie' several times). We will cry at times because raising a whole human being and adulting all at once is not easy.
But God promises that it will be worth it. So you can enjoy being a mom today knowing this truth.
Our children will grow up one day and make us proud. And we will know that we did all the right things for them. As long as we don't give up during the hard times.
"And let us not grow weary while doing good, for in due season we shall reap if we do not lose heart. "

Galatians 6:9
4. Surrender your children to God and enjoy motherhood
When Hannah prayed for a child, she promised God she would give the child to Him when he was born. So when Samuel was born she took him to the high priest to live with him. (1 Samuel 1 & 2)
Now for most of us, God will not ask us to surrender our children to the church to serve Him as preachers or missionaries. But we still need to surrender them and their upbringing to the Lord.
It means we understand that He is their Creator. Our children are loaned to us but they actually belong to God
That's actually a good thing! Because God is all powerful. He can protect our children when we can't. We are limited in what we can do for our kids but God is not. So we give them to God.
When we surrender our children to God, knowing that He is with them at all times, this actually puts our hearts at ease and helps us focus on actually enjoying motherhood.
"For You formed my inward parts;
You covered me in my mother's womb.
I will praise You, for I am fearfully and wonderfully made;
Marvelous are Your works,
And that my soul knows very well."

Psalm 139:13-14
5. Believe God's promises for your children
"Mothering is the gospel lived out as you hold your child's heart in beauty, prayer, and patience. It's not the big decision, but the little ones, trusting God through it all."

-Elizabeth Hawn
It's so important to believe God's promises in His word over our children. When we pray, we ought to pray God's word over them.
Praying God's promises will make you see that your children's lives are secure in God, their futures are bright and they are loved more than you can ever truly know and understand.
Let us not be like Sarah, Abraham's wife, who was told that she would have a baby in her old age and she laughed at God's promises.
The promises of God require us to have faith to believe them.
Even when the situation around us is different we can believe God will do what He says, because He is faithful to fulfil all His promises to His children.
"For I know the thoughts that I think toward you, says the Lord, thoughts of peace and not of evil, to give you a future and a hope."

Jeremiah 29:11
6. Give yourself grace, please
"There is therefore now no condemnation to those who are in Christ Jesus, who do not walk according to the flesh, but according to the Spirit. For the law of the Spirit of life in Christ Jesus has made me free from the law of sin and death. "

Romans 8:1-2
Oh man, do I need to keep remembering this one. God doesn't condemn us so why should we do that to ourselves? We are in Christ Jesus, He has set us free.
Even when we sin as children of God we're forgiven. God's grace covers us. His love on the cross covers our multitude of sins.
We're free to enjoy motherhood in God. We know who we are and who made us. Giving ourselves grace as moms is one of the best ways to enjoy motherhood. Knowing that we're not perfect but the One who is perfect loves and forgives us truly sets us free to be joyful moms.
My encouragement to you
Motherhood is such a blessing. Our children are a gift from God. While motherhood is full of ups and downs, struggles and joys, highs and lows we can discover the best ways to enjoy it.
It will not be easy but it will be worth it. Once we lean on God, surrender our children to Him, pray and give ourselves grace we then realize that we will not only survive but thrive as moms.
Let's Pray
Lord, thank you that in Your mighty wisdom, you chose me, an imperfect woman to be a mother to your precious children. Thank you that my children are a gift to me. Help me to enjoy motherhood and love my children diligently. I surrender them to you Lord. Teach me to be gracious to myself as a mother.
In Jesus name I pray. Amen
Have you discovered other ways to enjoy motherhood. Share them with us in the comments below.