Motherhood is an amazing journey. While there is so much pressure to be a perfect mom, this can make motherhood more frustrating. You'd rather become better as a mom than you were yesterday and make progress by learning and growing. Learning how to be a better mom will bring you the freedom you need to enjoy motherhood.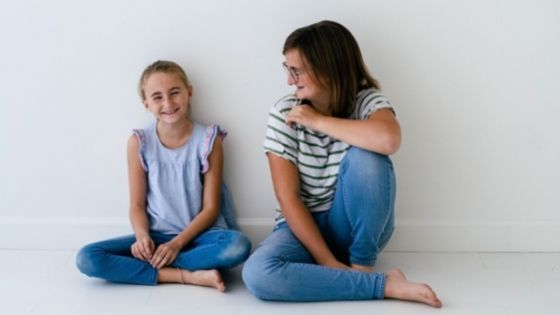 Motherhood is a blessing quotes
As a woman, one of the biggest blessings you'll ever experience is being a mother. This can be to your biological children, adopted children, or any children you've chosen to care for. One of the ways we learn how to be a better mom is by embracing the blessing of motherhood.
These are great motherhood quotes that show that being a mom is truly one of God's blessings to us.
"Your greatest contribution to the kingdom of God might not be something you do, but someone you raise. "

Andy Stanley
"To be a mother is by no means second class. Men may have the authority in the home, but the women have the influence. The mother, more than the father, is the one who molds and shapes those little lives from day one. "

John MacArthur
"Motherhood is a million little moments that God weaves together with grace, redemption, laughter, tears, and most of all, love."

Lysa TerKeurst
"No calling is greater, nobler, or more fulfilling than that of motherhood."

Sally Clarkson
"The joy of motherhood comes in moments. There will be hard times and frustrating times. But amid the challenges, there are shining moments of joy and satisfaction."

M. Russell Ballard
"A miracle is really the only way to describe motherhood and giving birth. It's unbelievable how God has made us women and babies to endure and be able to do so much. A miracle indeed. Such an incredible blessing."

Jennie Finch
"I remember my mother's prayers and they have followed me. They have clung to me my entire life."

Abraham Lincoln
"A mother's relationship with her child is one that will encompass a lifetime. How blessed is a child who has that anchor of strength and support."

Sally Clarkson
"There is eternal influence and power in motherhood."

Julie B. Beck
"Motherhood is not a hobby, it is a calling. It is not something to do if you can squeeze the time in, it is what God gave you time for."

Rachel JanKovic
Why is motherhood so hard?
On one hand, while we agree that motherhood is a blessing and as Christian moms, we need to view it as such, we also can't ignore the fact that it's not easy. There are a few reasons why motherhood is hard:
It comes with lots of changes all at once
Once your baby is born your body, priorities, marriage, and relationships change. It's not over time- it's all at once from the moment the child comes into your life.
We try our level best to prepare for the changes but some of the things will take us by surprise and will be unexpected.
Motherhood is hard because it's a big responsibility
Raising a human is a very big responsibility. You're having to manage more than your own life. When you get married, you don't need to make decisions for your husband because he can do that himself.
But a child needs you to make decisions for them, guide them and protect them. After spending so much of your life alone and only concerned about your own needs, it becomes a challenge to care for another.
You are tired most times
Especially with infants and toddlers, the first stages of motherhood are quite tiring. I'm still at this stage but my mom also tells me that even when kids are older, you're tired because you're often worried about them.
That's why it's important to learn early on how to take steps to stop worrying about everything as a mother. The more we grow in faith and trust God, the more we can enjoy motherhood.
How to be a better mom
These 8 tips on being a better mom are all about making progress in your motherhood journey. It's about accepting that you'll grow in motherhood as your kids grow as well and you have more experiences and hindsight.
1. Learn to lean on God
My husband is tall, dark, and super strong. I can rely on him as a dad and husband but he is human and falls short. Sometimes he wants to help me through some of the emotional struggles I go through as a mom but he can't (and that's not his fault).
But there is a rock that we can rely on at all times. His name is Jesus Christ. He is strong, stable, and steadfast. Jesus is forever faithful and He can handle all our insecurities, struggles, and frustrations as moms.
"From the end of the earth I will cry to You. When my heart is overwhelmed; Lead me to the rock that is higher than I. "

Psalm 61:2
When we are weak, He is always strong. I've discovered that when we lean on Jesus as moms, this is one of the best ways to enjoy motherhood because we know we have someone we can rely on at all times. It's not all on us.
Sometimes we can be going through some hard mom stuff in the middle of the night. And it can be too late to call our friends, moms, or sisters. God is always there for us as moms and His presence is constant. He always listens because He cares.  
It's God who helps us become better moms.  Make it a habit to constantly pray for yourself as a mom and pray for your kids.
"casting all your care upon Him, for He cares for you."

1 Peter 5:7
2. Remember every day as a mom is a blessing
Children are a blessing from God, a gift and heritage.
No matter what we are going through, we've been given a chance to be here with our children and to experience life together. Every day is a gift from God that we can choose to enjoy.
Now does this mean we don't get frustrated, (dare I say angry?), overwhelmed, or tired? No, it doesn't. But we choose not to dwell on those feelings and emotions but rather focus on the truth that these children are a gift to us.
"This is the day the Lord has made;
We will rejoice and be glad in it."

Psalm 118:24
3. Understand that it will all be worth it
Disciplining our children will sometimes not be easy. It can honestly take all the joy from motherhood. Instilling Godly values will go against what our children are learning from the world.
Our children will say hurtful words that we don't feel we deserve. (I know I've been called a 'meanie' several times). We will cry at times because raising a whole human being and adulting all at once is not easy.
But a better mom holds onto God's promises that it will all be worth it. Our children will grow up one day and make us proud. And we will know that we did all the right things for them as long as we don't give up during the hard times.
"And let us not grow weary while doing good, for in due season we shall reap if we do not lose heart. "

Galatians 6:9
4. Surrendering helps you become a better mom
In 1 Samuel 1 & 2 when Hannah prayed for a child, she promised God she would give the child to Him when he was born. So, when Samuel was born, she took him to the high priest to live there.
Now for most of us, God will not ask us to surrender our children to the church to serve Him as preachers or missionaries. But we still need to surrender them and their upbringing to the Lord.
Becoming a better mom means we understand that God is their Ultimate Creator. He is the One that weaved them together in our wombs and we are a vessel that carried them. Our children are loaned to us but they actually belong to God.
"For You formed my inward parts;
You covered me in my mother's womb.
I will praise You, for I am fearfully and wonderfully made;
Marvelous are Your works,
And that my soul knows very well."

Psalm 139:13-14
That's a good thing! Because God is all-powerful and all-knowing. He can protect our children when we can't. We are limited in what we can do for our kids but God is not. So, we give them to God.
When we surrender our children to God, knowing that He is with them at all times, puts our hearts at ease and helps us focus on actually enjoying motherhood. One of the most important lessons a mom can learn is to let go and let God guide her children.
That doesn't mean we leave them to the wolves and we become irresponsible moms. But it means we learn to trust God to do what only He can do and we understand that we are only humans and do what we can.
5. Believe God's promises for your children
"For I know the thoughts that I think toward you, says the Lord, thoughts of peace and not of evil, to give you a future and a hope."

Jeremiah 29:11
It's so important to believe God's promises in His word over our children. When we pray, we ought to pray God's word over them. God is for us, within us, and all around us. His plans for us are good.
Praying God's promises will make you see that your children's lives are secure in God, their futures are bright and they are loved more than you can ever truly know and understand.
One of the most important habits I started a few months ago as I grow to be a better mom is praying one Bible verse over my kids before they sleep. I lay my hands over them and recite Numbers 6:24-26.
While my older daughter looks forward to this, my toddler will be running around the room so I pray over her when she's asleep.
"The Lord bless you and keep you;
The Lord make His face shine upon you,
And be gracious to you;
The Lord lift up His countenance upon you,
And give you peace."

Numbers 6:24-26
Let us not be like Sarah, Abraham's wife, who was told that she would have a baby in her old age and she laughed at God's promises.
The promises of God require us to have faith to believe them.
Even when the situation around us is different we can believe God will do what He says, because He is faithful to fulfill all His promises to His children.
6. Give yourself grace
"There is therefore now no condemnation to those who are in Christ Jesus, who do not walk according to the flesh, but according to the Spirit. For the law of the Spirit of life in Christ Jesus has made me free from the law of sin and death. "

Romans 8:1-2
Oh man, do I need to keep remembering this one. God doesn't condemn us so why should we do that to ourselves? We are in Christ Jesus and He has set us free. No more mom guilt, okay?
Even when we sin as children of God we're forgiven. God's grace covers us. His love on the cross covers our multitude of sins.
Giving ourselves grace as moms is one of the secrets to becoming a better mom. Knowing that you're not perfect but the One who is perfect loves and forgives you truly sets you free to choose joy as a mom.
"There will be so many times you feel like you've failed, but in the eyes, heart, and mind of your child, you are super mom."

Stephanie Precourt
7. Self-care is essential to be a better mom
I know this is certainly easier said than done. Motherhood means we sacrifice so much of ourselves and end up depleted emotionally, physically, mentally, and even spiritually. But you can't give what you don't have. How can you be a calmer and more peaceful mom when you're tired and not resting yourself?
Sometimes resting will mean asking someone to babysit your kids while you take a nap. Accepting help doesn't mean you're failing as a mom but it means you love your kids so much and don't want to burn out and not be able to take care of them.  
You become a better mom when you make time for self-care and rest. This is so important because when you're refreshed, you're able to give your kids the best version of yourself.
8. Becoming a better mom is embracing your identity
While motherhood can be overwhelming and consuming in different seasons, God wants us moms to remember who we are. Being a wife and mom are roles that God has given you but at the core of it,  God wants you to remember who you are.
You are created in God's image and you are who God says you are. Becoming a better mom is knowing and embracing your identity in Christ. It's so easy to become lost in our roles yet forget who we are.
Thank God, we don't need to guess who God says we are but we can go to His word and learn our true identity in Christ. You navigate life better, prioritize better, and are more fulfilled when you hold on to who you are in God.
Be sure to also read