Life as a Christian mom is busy. There're so many tasks, responsibilities, and people needing your attention. In the midst of all that you still want to grow spiritually. So how do you draw near to God as a busy mom? It takes time, effort, encouragement, and practical tips to get close to God.
What does it mean to draw near to God?
When we draw near to God as moms, we connect with God daily. Connection means communication. We connect with our close friends by calling, texting, meeting up for coffee, having playdates, and maybe even going away for a girl's weekend retreat.
It's the same with God. When we meet with God through His word, listen to sermons, go to church and pray we draw near to Him. We need to be intentional about meeting with God, the same way we're with our friends.
Christianity is having a personal relationship with God. We build a close relationship with God when we talk to Him and He talks to us. When we start getting closer to God, we learn to listen and obey the still, calm voice of the Holy Spirit.
Drawing near to God daily results in growing deeper spiritually. You start applying the words of the Bible in your daily life. You no longer just hear the word and think it's meant for someone else; you know it's for you and seek to act on it.
That's when the Fruit of the Spirit becomes clear and visible in your life.
" But the fruit of the Spirit is love, joy, peace, longsuffering, kindness, goodness, faithfulness, gentleness, self-control. Against such there is no law."

Galatians 5:22-23 (NKJV)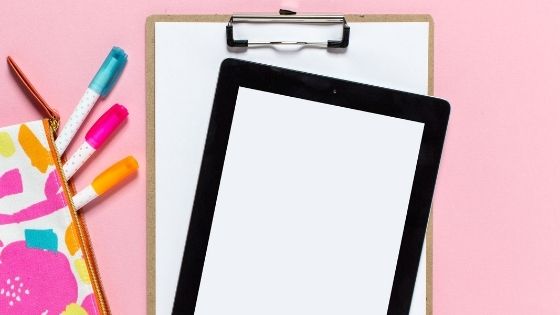 Draw near to God Verses
The Bible itself is one of the keys to getting closer with God as a busy mom. The Bible is Jesus himself and His word is powerful, alive, and active. These connecting with God bible verses will inspire, guide, encourage and support you to grow in your relationship with God.
"Draw near to God and He will draw near to you. Cleanse your hands, you sinners; and purify your hearts, you double-minded."

James 4:8
I love the wonderful promise in this scripture. God reciprocates our actions and affection to Him. When you draw near to God, He will draw near to you. Because God is Holy, when we connect with Him, we seek to be holy just as He is.
We ask Him to purify us and cleanse us through His Word and the blood of His Son Jesus Christ so we can serve and love Him with pure hearts, bodies, and minds.
"The Lord is near to all who call upon Him,
To all who call upon Him in truth."

Psalm 145:18
"let us draw near with a true heart in full assurance of faith, having our hearts sprinkled from an evil conscience and our bodies washed with pure water."

Hebrews 10:22
When we get close to God wholeheartedly, He will see it. It can't be something we do when forced. Connecting with God has to happen wholeheartedly, out of our love for Him.
"But without faith, it is impossible to please Him, for he who comes to God must believe that He is and that He is a rewarder of those who diligently seek Him."

Hebrews 11:6
"Let us, therefore, come boldly to the throne of grace, that we may obtain mercy and find grace to help in time of need."

Hebrews 4:16
"Therefore He is also able to save to the uttermost those who come to God through Him since He always lives to make intercession for them."

Hebrews 7:25
These 3 drawing near to God verses in Hebrews remind us of God's promises to us. He saves us when we draw close to Him through Jesus Christ.  When we have a connection with God, we receive mercy and grace to carry us when we're weak. And God rewards us when we seek Him.
How to draw near to God as a busy mom
As moms, so many things pull us away from the things of God and lure us into the physical world. There's this ongoing battle between flesh and Spirit which makes getting closer with God daily a struggle.
The question is "as a busy mom is it a matter of either you're doing spiritual things or physical?" If we separate these 2, we will struggle to draw near to God. The demands of being a mom (especially with small kids) will make it nearly impossible to spend hours focusing only on the spiritual things.
That's why it's important to know how to practically connect to God and grow your relationship with Him through the daily demands of motherhood.
1. Identify what's hindering you
"Therefore we also, since we are surrounded by so great a cloud of witnesses, let us lay aside every weight and the sin which so easily ensnares us, and let us run with endurance the race that is set before us,"

Hebrews 12:1
We need to be able to identify what is stopping us from drawing closer to God daily. Is it too much time on social media, not prioritizing God's word, just being bored with the things of God?
We also have a real enemy. The enemy is roaming around like a lion, seeking people to devour. He doesn't want us to get close to God. He wants us either stagnant in our faith or even going backward and growing weaker spiritually and discouraged.
So, we need to be alert and observant to see where the struggles and challenges are.
At times we just need to ask God for a fresh revelation of His word. Other times we just need to consciously decide to switch off our phones and read the Bible or listen to the latest church sermon or Christian podcast.
2. Have a Plan to draw near to God
You know the saying 'when you fail to plan, you plan to fail'. It's a very true statement. I've learned that when I wake up without a plan to connect with God, I kind of feel lost. I start reading the Bible randomly and am not sure where I'm going with it.
That's where Devotionals and Writing plans come in!
a) Devotionals
Always have a devotional that you're working through to help you cultivate your faith in God daily. These can be actual physical devotionals or even daily devotionals from the You version app. I've done a few and love them. They're usually short-about 5-7 days.
b) Follow a Scripture Writing plan
As a mom of young littles, myself, I've found Scripture Writing plans immensely helpful. They focus on a certain topic, have a Bible verse to study daily, and are usually a month long. This gives me time to focus on one area of my faith that I need to grow in.
To help you in your desire to draw near to God, I developed the FREE 12 Month Scripture Writing Plan which you can download below. This will help you focus on reading, writing, and studying a Scripture a day on a specific topic and grow in the Lord.
There's 12 Topics to choose from with 30 verses per topic and you can start in January and go through a plan each month for a year. Or you can start anytime of the year as well.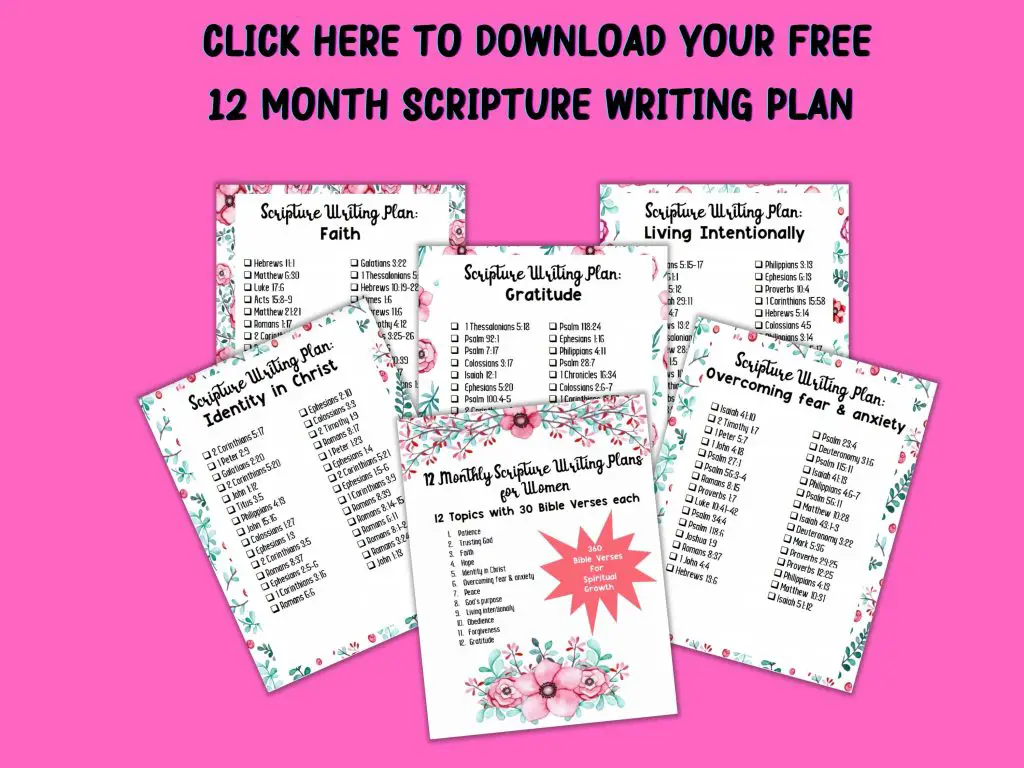 3. Prayer helps you build a connection with God
The Bible encourages us to pray without stopping. God invites us to come and talk to Him anytime. No other human being can promise us that. The truth is no one is actually available 24/7 but God is.
Prayer grows our faith because it brings us closer to God. It also teaches us to rely heavily on God and not our own strength and abilities.
But sometimes there are prayer myths we need to bust that are hindering us from having active prayer lives as moms. Once we know the truth, it will set us free to connect with God in prayer.
4.  Draw near to God with a mentor or accountability partner
Having an accountability partner can help to grow in the Lord. When you know someone will be there to follow up on the steps and actions you committed to taking to grow in faith, it helps you do it.
An accountability partner can just be a friend with who you can share your goals and plans and help you accomplish them. It can be as simple as them calling you at a certain time daily to check if you've prayed, studied the Bible, or listened to a sermon or podcast that day.
A mentor could be someone more spiritually mature than you are. This is someone who's been there, done that, and got the t-shirt. Mentors have the amazing privilege of hindsight and their lessons learned from their own mistakes and successes can grow your faith in a deeper way.
5. Faith comes by hearing
When I was working in the corporate world, I would always listen to Christian podcasts and sermons on my way to work. Even on my desk, when I needed to focus on a project, I would put my earphones on and listen to God's word as I worked.
I worked in a place where cursing was the order of the day and I could count the number of Christians on my hands. But I had a desire to get closer to God. So, I learned to seek God's word whenever I had a chance since I spent most of my day at work.
With a newborn, I found myself nursing for hours or trying to put my baby to sleep. And again, I had my earphones on and listened to God's word, podcasts, and worship songs in the middle of the night.
What about you mama? Could you listen to God's word while doing laundry? While cooking? While in the grocery store (that's another good one).
When we spend more time in this physical world doing spiritual activities, we will grow our connection with God because we are listening to His word and it will guide us throughout the day.
6. Fellowship helps you draw closer to God
Meeting other fellow believers in small Bible study groups will help to grow your faith. When you interact with those who share the same beliefs and values as you- that will inspire and encourage you to grow as well.
At times it's impossible to go to meet others because of the demands you have as a mom. But you can also use Facebook groups as a great way to connect with others and learn God's word together.
7. It takes discipline not only motivation
Here's the thing- drawing near to God will take discipline. We will not always feel like reading the Bible, meeting other Christians, or listening to the sermon or podcast.
But the same way we tell our children to wake up and go to school whether they feel like it or not is how it should be even for us and our faith.
I'm learning discipline with my daily quiet time. At times after a rough night with my baby, I just want to be lazy all day and do things that don't even engage my brain (hello Netflix and Youtube).
But God has been reminding me of all the times I went to work when I didn't feel like it. So, I sit and study my Bible every day, whether I feel like it or not. And guess what, God's word is alive and active. I have a better day whenever I start it with God!
A great discipline to build as well is memorizing scriptures. And again, start small with short bible verses to build momentum and confidence in God's Word.
8. Rely on the Holy Spirit to get closer with God
"And I will pray the Father, and He will give you another Helper, that He may abide with you forever— the Spirit of truth, whom the world cannot receive, because it neither sees Him nor knows Him; but you know Him, for He dwells with you and will be in you"

John 14:16-17
The amazing thing about being God's child is He never leaves us alone. He is always with us and lives within us. The Holy Spirit is our ultimate helper to continue growing in the Lord.
He will remind us of God's word so we can apply it. We cannot rely on our power. The Holy Spirit is there to guide us as we seek to grow in connecting with God.
9. Use your phone to draw closer to God daily
Most of us are holding our phones 50% of the day. Okay, maybe more like 80%? So how about using the phone wallpaper and lock screen to have Bible verses that you can read, meditate on and memorize throughout the day?
10. Connecting with God means progress over perfection
Drawing closer to God happens bit by bit, day by day, sermon by sermon.
Like anything big worth doing and building, we remember that:
Writing a best-selling novel starts with a single sentence.
Planting a forest starts with a single tree.
Building a mansion starts with a single brick.
Drawing near to God in His word starts with a single scripture.
Everything will build on top of each other. And most times we're growing and don't even realize it. One verse a day from the FREE 12 Month Scripture Plan will help you in making progress in growing closer to God.
Remember God looks at the heart. God knows you don't have 3 hours for prayer and quiet time. Sometimes you need to fight for the time to grow as a Christian.
But if all you can do is 10 minutes of being still before Him (even in the bathroom) and practicing some of the tips above, those will be the best 10 minutes of your day and God will use them to strengthen and build you.
Because the truth is we will never truly 'get there' on this side of the earth. We will continue to be built up according to God's word, to become more like Jesus Christ. All God asks is our hearts and a desire to draw near to Him daily.
Prayer for a closer relationship with God
Heavenly Father, thank you for being my God, my Keeper, and my Savior. Show me all that is hindering me from growing in my faith. Help me to be intentional with the time I have, people around me, and resources I have to draw near to you God, connect deeper, and build a closer relationship with You.
I want to be still and listen more and more to the Holy Spirit as He guides me in this area.
In Jesus' name, I pray. Amen.
Free 12 Month Bible Reading Plan
If you need a done-for-you plan to get closer to God, I have the perfect resource for you. And it's absolutely FREE.
This 12-month Bible reading Plan comes with 12 topics and 30 scriptures per topic. That's more than 360 scriptures to read and study all year long. Download your copy, today!