When we're feeling weak, overwhelmed, and going through tough times, our loved ones often tell us to "Let go and let God". It's a famous Christian saying that we tell each other when the pressures of life take over our thoughts. We need to understand the practical steps we need to take to be able to truly let go and let God.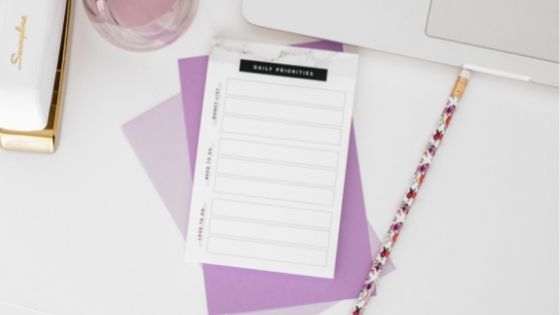 What does it mean to let go and let God?
Letting go means trusting God. It's giving up control and surrendering to God's power and His ways. It's allowing God to take over our lives and letting God be God.
We need to be able to acknowledge God as the Potter and us as the clay (Isaiah 64:8). He can shape us into any form He wants for His glory. He will use whatever situations He pleases to achieve the product He wants in us. We just need to let go and let the Potter do His job.
When we say like Jesus said when it was time to go on the Cross 'Not my will, but Your will be done (Luke 22:42), we are letting go and letting God. We are acknowledging that it is God's plan which needs to prevail not ours. It means we surrender our plans to God.
When we surrender to God we submit to Him. We yield to His power and hand over control to Him. We let go of our burdens, worries, fears, finances, and relationships when we understand that God's thoughts and ways are higher than ours.  When we allow Him to be God.
We let go of our timelines for when certain things in our lives need to happen. We let go of the way we need situations to unfold. We let it all go.
Bible verses about surrendering to God
What does the Bible say about surrendering to God? These 5 Bible verses about letting God take control will encourage us and help us understand what it means to allow God to do His will in us.
"Then Jesus said to His disciples, "If anyone desires to come after Me, let him deny himself, and take up his cross, and follow Me. For whoever desires to save his life will lose it, but whoever loses his life for My sake will find it"

Matthew 16:24-25
There's a cost to being a disciple of Jesus Christ that we tend to shy away from as believers. Jesus said we need to deny ourselves of our desires, will, wants, plans, dreams, and needs and take up our cross and follow Him.
The cross in ancient times had to be carried to the place of crucifixion. This was not by choice but it was denying your rights and privileges and giving the rulers of the time control over your life and ultimately your death.
Surrendering everything to Jesus comes as part and parcel of being His disciple. When we want to rather hold on to our lives we will end up losing them but when we deny ourselves and allow Jesus to take control, we are saved and gain eternal life.
"But He gives more grace. Therefore He says:

"God resists the proud,
But gives grace to the humble."

Therefore submit to God. Resist the devil and he will flee from you."

James 4:6-7
This Bible verse shows us the power of letting God take control. We submit to Him because not surrendering to God means we're proud. It's saying we can handle life's pressures by ourselves. That we don't need God.
And God resists and opposes us when we do that.
Instead, when we submit to God, we show that we're humble and God gives us His grace which is sufficient for us. Pride is also a sin from the devil and his pride is what led to his fall.
So, when we let go and let God, we're resisting the devil and he, in turn, will leave us alone.
"I have been crucified with Christ; it is no longer I who live, but Christ lives in me; and the life which I now live in the flesh I live by faith in the Son of God, who loved me and gave Himself for me."

Galatians 2:20
What a powerful Bible verse that encourages us to surrender everything to God. When we become born-again, our sinful lives die on the Cross with Jesus Christ. The past and its sins no longer have power in our lives.
We've still in the body and living by faith in Jesus Christ.  Truly, we've let go and let God take control. He directs our lives, emotions, dreams, and plans.
"He must increase, but I must decrease."

John 3:30
I love this short and powerful scripture which is easy to remember. It's important to memorize Bible verses about surrendering to God and this is a good one.
When we allow Jesus Christ to increase in our lives we exalt Him and we humble ourselves. We show that He is the King and ruler and we're His servants. Learning to give Jesus His rightful place in our lives and hearts is one of the most important disciplines for us as His disciples.
"I beseech you therefore, brethren, by the mercies of God, that you present your bodies a living sacrifice, holy, acceptable to God, which is your reasonable service."

Romans 12:1
Our bodies are presented to God as a living sacrifice to do with them as He pleases. That means our minds, our hearts, our words, where we go, our work- everything that we do with our bodies is given for God's will.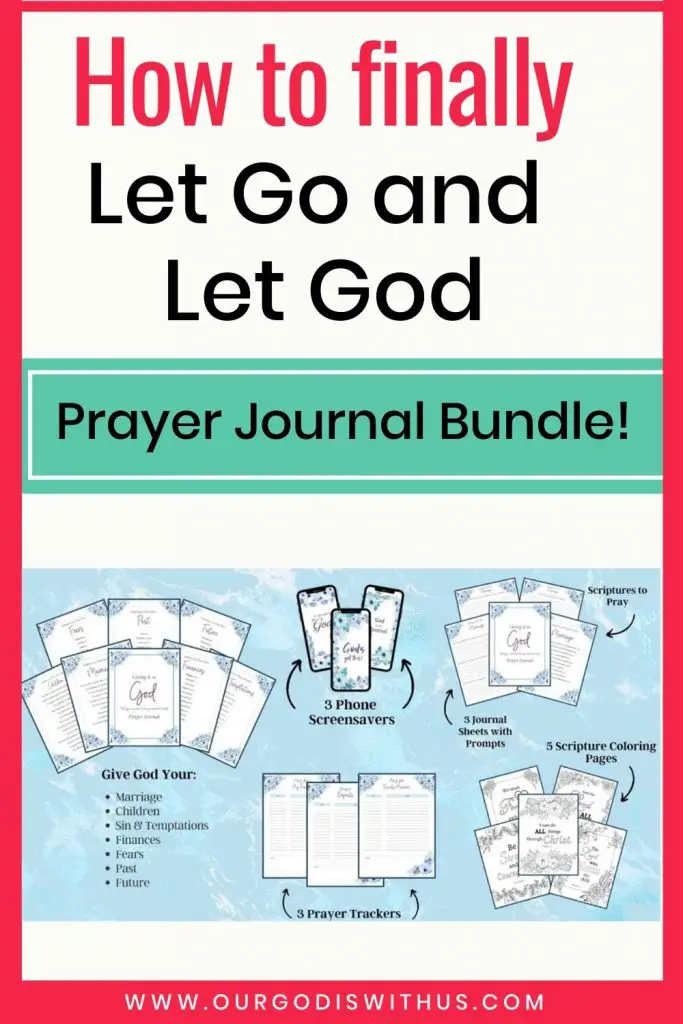 4 Bible stories about surrendering to God
Jesus is the ultimate example of surrendering to God. Up until His death, He said "not my will, but your will" to God.  He is our teacher. There are other men and women of faith that we can also look up to because of their total surrender to God.
1. Abraham surrendered his will to God
In Genesis 22:1-18, we read about one of the most inspiring stories about letting go and letting God. To be told by God to give up your one and only son who you've waited for years to have and do it without hesitation is trusting God.
The fact that Abraham was willing to sacrifice his son Isaac shows that he didn't idolize Isaac and He trusted God 100%. We can learn from the Father of faith here.
One of the hardest things for any parent is to be told to give up their child for any reason. But here we find that Abraham surrendered to God's plan wholeheartedly. In the end, He was blessed abundantly because he obeyed God.
2. The inspiring widow of Zarephath
We meet the inspiring widow who decided to surrender to God even when she had very little to give in 1 Kings 17:7-16. There was a drought in Zarephath and a particular widow saw that the situation was hopeless. So, like any mom, she had a plan: collect sticks-prepare bread for her and her son-die peacefully.
While she was collecting her sticks and preparing for her death, she met Prophet Elijah who asked her for a piece of bread.
If it was me, I would have said to Prophet Elijah "Say what?? Are you kidding me? What kind of man of God are you? Now we need to share the small portion of two amongst us three? "
But this woman chose to let go and let God take control of her plans. After Elijah assured her that all would be well, she listened, made the bread and indeed the bread and oil never dried up for years to come.
She didn't die after all and her hope (and faith in God) was restored! What an encouraging Bible story about surrendering to God.
3. Hannah's key to surrender your worries to God
Hannah is a great example of surrendering to God. She was a barren woman whose sister-wife Peninnah who had children used to provoke her about not having a baby. And whenever they went to the house of God annually, Hannah wept and refused to eat.
One year, Hannah decided to go and cry before God and prayed to God for a child whom she would give back to God after she gave birth.
After Hannah prayed earnestly to God, she went her way, ate, and was no longer sad. She wasn't pregnant but she had prayed. She had let go of her burden to God. So she could let God now act. Her part was done.
God sure did answer her prayer and gave her more than the one-child she had prayed for. That's the powerful benefit of letting go and letting God! Abundant blessings.
4. Joseph, a great example
The story of Joseph is one of the most inspiring for me in the Bible. While Joseph knew he would be a leader one day because of the dreams he had, he had no idea when or how. But he surrendered all those details to God.
We don't see him complaining or crying out to God about when things would turn around for him. Even when he sat in jail for a crime he didn't commit, when he was forgotten by those he helped, he continued to wait upon God and trust God's plan.
And God- won't He do it? He sure will. Because in the end Joseph rose from prisoner to Prime Minister and helped his family in a big way no one would have expected. That's what happens when we surrender everything to God.
12 Ways to Let Go and Let God
Now that we know more about the power of letting go and letting God, the question you might still ask yourself is "how do I completely surrender to God?". We all need some practical steps to help us apply new disciplines in our lives.
Learning how to let go and let God takes time and practice but the key is to be committed and start today. The Holy Spirit will reveal more areas that you need to surrender to God. I pray that these 12 practical strategies for surrendering control to God help you get started.
1. Identify and Confess Your Need for Control
"If we confess our sins, He is faithful and just to forgive us our sins and to cleanse us from all unrighteousness."

1 John 1:9
Holding on to things and refusing to give control results in idolatry which is a sin. Sometimes it's difficult for us to comprehend that truth but anything that we can't give to God we end up idolizing.
We need to be able to confess to God when we're not able to let go of our burdens, worries, fears, finances, or relationships to Him. Nothing is a surprise to Him. He wants us to be free to tell Him when we're struggling.
So be able to identify what you're struggling to surrender to God, confess it to Him, and ask for His forgiveness and strength to let go.
2. Surrender to God through Prayer
"Prayer relieves the stress of perceived inactivity. Now that God has been given the task, you don't have to worry about it any longer. God has his people on it. With less stress comes more strength."

Max Lucado, The Greatest Gift
Like Hannah, when we earnestly pray about our burdens to God, we need to trust that He heard us and rest in the beauty of letting go and letting God take control. It's a decision we need to make. This is very important. When we make that decision, life becomes better.
Holding on to our challenges or worries doesn't achieve much. Worrying doesn't take the problem away. Holding on to fear doesn't make us more courageous.  
"Which of you by worrying can add one cubit to his stature? "

Matthew 6:27
Putting all these and more in the hands of an all-powerful God produces results. When you surrender to God, it sets you free from worry, stress, and burdens. To pray is to let go and let God take over.
3. Be Still and Know that He is God
"And Moses said to the people, "Do not be afraid. Stand still, and see the salvation of the Lord, which He will accomplish for you today. For the Egyptians whom you see today, you shall see again no more forever. The Lord will fight for you, and you shall hold your peace."

Exodus 14:13-14
As the Egyptians were pursuing the Israelites, they grew afraid. God fought for them and gave them victory. He did it for them and will do it for us. Because He is a faithful God who doesn't change.
When we let go and become still knowing that God will fight for us, He will not disappoint us. The key is total surrender to God and giving Him all your worries and burdens.
4. Surrendering to God requires trusting Him
The moment we hold on and refuse to give them to God, we show that we don't trust God. He is faithful and can be trusted.  There are 4 Proven reasons why God is credible and can be trusted.
There is reward and blessing in trusting God. He is our Creator and Father. The only reliable person in our lives. He is for us, with us, and within us, so we can trust Him.
5.  Gratitude empowers us to let go and let God
When we prayerfully reflect and remember God's goodness in our lives, we will realize that God has brought us through so much as His children.
He is the same good God yesterday, today, and forever. When we focus on the blessings He has given us and the answered prayers, we will be able to let go and surrender to God.
One way to remember God's goodness is to make a gratitude list daily and thank God for all He has done. These unique gratitude prompts will also help you get started in your Gratitude Journal.
6. Surrendering to God is about focus
In most cases, the things we can't let go of are the things that are bigger than us. It's what we have no control over. Like trying to change a friend who's become an alcoholic or drug addict. Trying to change a husband who's not saved. Worrying about the future of our children.
The truth is we have no power over all this. But we have power over our thoughts and attitudes. We can choose to meditate on God's word, say kind words of life to our loved ones, pray for them, support them and point them to God (without forcing anything on anyone).
We can focus on what we can control and let God handle what we can't control.
7. Let go and let God renew your mind
We need to be able to replace our worry with worship and God's word. When we let go of our burdens, we need to avoid dwelling on them but rather dwell on God's word.
When you surrender to God, you let His promises take over your mind and life. Reflect on God's power. Read stories of people who surrendered to God in the Bible over and over again. Watch the word of God transform your thoughts and your focus.
8.  The Cross is about surrendering to God
The truth is when Jesus died, He took away our burdens. He said, "It is finished". All striving and working on our part is done.
We should no longer be consumed by fears and worries. Rather, the cross is where we lay down all our heavy burdens. Jesus Christ has overcome the world, even death. He can overcome our problems. He is able and He will do it. Just trust Him.
9. Embrace God as a Father
If I would see my 7-year-old daughter stressing about how she will be able to afford to go to college one day, it would break my heart. That's not her problem to deal with because that's something I need to figure out as her parent.
So, we need to know that God loves us so much, He doesn't want to see us stressing about things He should be handling. He is our Heavenly Father and our Creator. He knows what we need. He loves us and will take care of us.
As His child, you need to surrender all your worries to God and trust that He'll make a way for you and solve them for you.
10. Remember F.R.O.G
F.R.O.G means Fully Rely On God.
When you're learning how to let go and let God this is a great acronym to keep in mind. Totally surrender to God and trust in Him with all situations.
11. Rinse and repeat surrendering to God
Letting go and letting God will be a lesson we will learn and re-learn for most of our lives as Christians. The more we practice total surrender to God, the more it will become easier for us to do so in all areas of our lives.
12. Get the Let Go and Let God Prayer Bundle!
If you are battling with surrendering everything to God and looking for a practical resource to guide you on the journey, I found one for you! This 37-page bundle inspired by God's word will help you with the tools, inspiration, and ideas to fully surrender to God.
It includes Journal workbooks, coloring pages, phone screensavers, wall art, and prayer trackers. You can finally "Give it to God and go to sleep!"
These are all the goodies you'll get when you buy the bundle:
These are all the goodies you'll get in the bundle: 
7 Scripture Lists
3 Page Journaling Workbook w/prompts
3 Prayer Trackers
5 Scripture Coloring Pages
3 Phone Screensavers
Give it to God Wall Art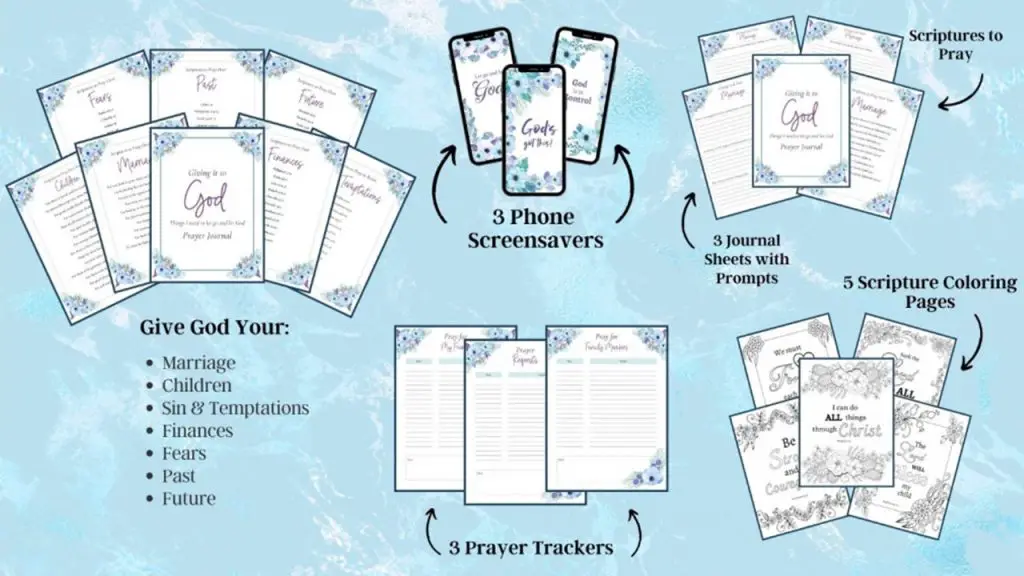 Benefits of surrendering to God
This is reminder that that there's power and beauty in letting go and letting God take control. All the practical steps l shared above will help you take the first step on this journey. There's many more benefits to letting go and letting God handle our burdens and relationships than holding on to them.
The benefits of letting God take control are:
Freedom from worry, anxiety, stress and burdens
Obedience to God which He rewards
A closer relationship with God as you learn to rely on Him
More of God's grace
A humble heart which God rewards
Spiritual growth and you learn to trust God more with everything.
A renewed mind
Surrender to God quotes
These inspiring and empowering quotes will help you get started on learning to give all your problems to God.
"Let go of all your fears and worries and let God take over. Giving up control can be difficult but the changes you see in your life with be worth it. "

Lisa Rusczyk Ed.D., 50 Things to Know About Prayer
"When your will is God's will, you will have your will."

Charles Spurgeon
"Faith, as Paul saw it, was a living, flaming thing leading to surrender and obedience to the commandments of Christ."

A. W. Tozer
 "God always has and always will look for men and women who say to Him, 'I trust you so much, I'm all in. I want your way not mine. I am willing to live by faith!'"

Chip Ingram
 "God owns all; He owns me; He owns my home; He owns my children; He owns my property. I have called your attention before to the fact that the modern idea of ownership is pagan. The Christian idea is this: that God is the absolute owner of all things."

Clovis G. Chappell
"Taking up my "cross" means a life voluntarily surrendered to God."

A. W. Pink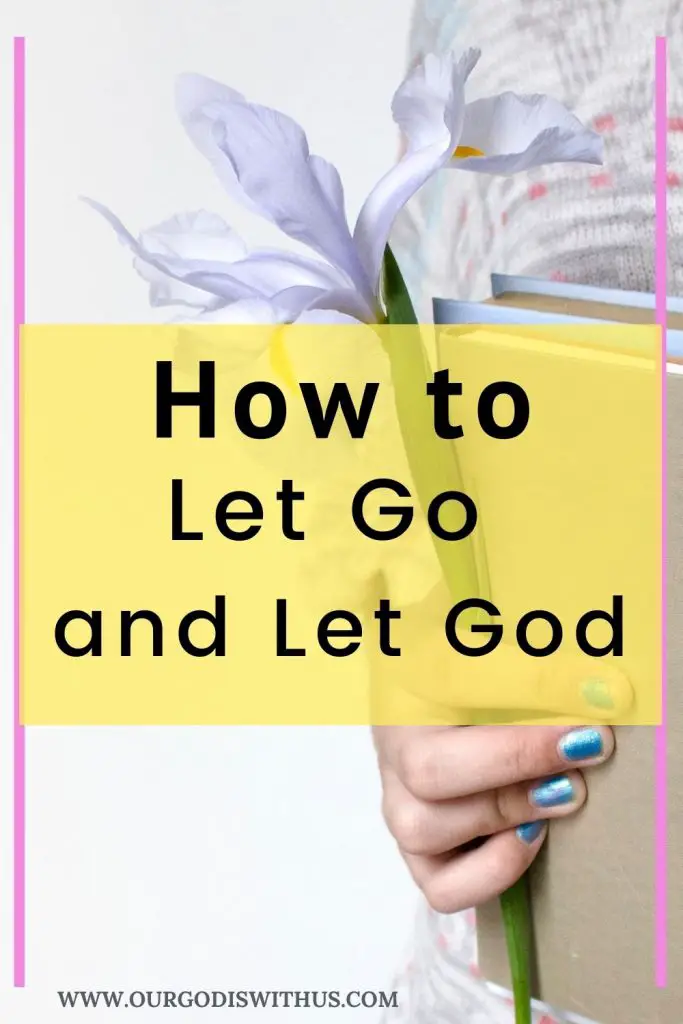 This post contains affiliate links. Using these links means we may earn a percentage of the purchase at no extra cost to you. View our disclosure policy here. Thank you for supporting our blog!