Loving God and loving others is the key commandment Jesus gave us in the New Testament. It's no surprise then that Jesus himself practiced this very commandment. As His disciples we learn how to love people like Jesus by observing and practicing what He showed us.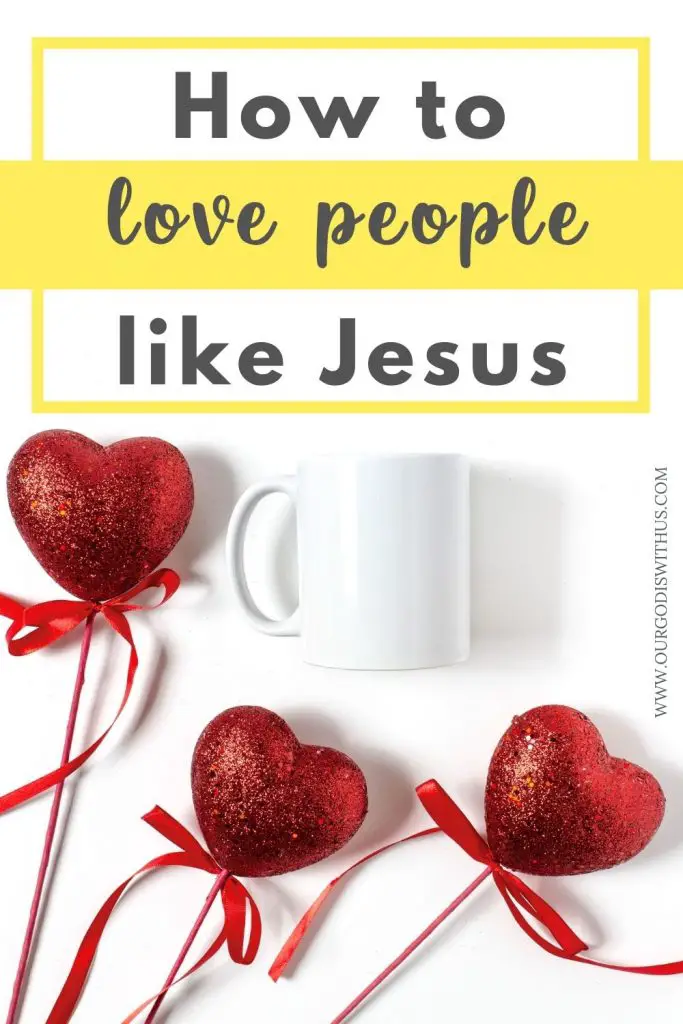 What does it mean to love people like Jesus?
One thing that's very clear, loving like Jesus doesn't make us weak Christians who people can just trample on. This is not the way Jesus was. In fact Jesus was strong, bold and respected. He was truthful. And while He had haters, He sure had many followers who loved Him and His teaching.
"Don't just pretend to love others. Really love them. Hate what is wrong. Hold tightly to what is good. Love each other with genuine affection, and take delight in honoring each other."

Romans 12:9-10 9NLT)
Loving like Jesus does not involve pretense. It's genuine love. It's choosing to see the good in people while hating the sin not the sinner. The world cannot show us this kind of love. Only Jesus can. This way of loving is not always easy but it's worth it because it's obedience to God.
How to love people like Jesus
1. Be a servant
In John 13:1-17 we read how Jesus washed His disciples feet. This act was motivated by love. The King of kings, the Lord of lords, the Beginning and the end- He served. He loved, so He served.
Sometimes the people we need to serve are not 'out there' , but they are our families. As moms we serve our husbands and children. We serve our in-laws, parents, cousins, extended family, friends and our church.
When we think of serving as a way of loving others like Jesus did, it puts things into perspective. Jesus served with no reward from man, only from God. We can too.
We continue to serve even with no appreciation because there's a heavenly reward to those who serve diligently.
"So let's not get tired of doing what is good. At just the right time we will reap a harvest of blessing if we don't give up."

Galatians 6:9
Jesus was a great teacher. He was found teaching in the temple at the tender age of 12 (Luke 2:41-47). He taught the disciples how to pray and many important life lessons through parables. Moreover, He also taught people in the streets and in their homes. He was pouring out the word of God into their lives all the time.
In the same way, as moms our children are learning from us. Young women in our churches are learning from us how to be God's servants and godly wives and moms.
We have 'secret disciples' that are watching us. We need to be careful how we live and talk.  We need to teach those around us love and godly principles like Jesus did though words and action.
So many times, we let the fear of what we don't know stop us from sharing what we do know. We have experiences, life lessons and hindsight that others can learn from us if we just shared it. The reality is we can be confident in our faith even when we don't know everything.
3. Don't be judgemental
John 8:1-11 highlights a very powerful story of the woman caught in adultery. While her accusers wanted to stone her as per the law at the time, Jesus asked for the one without sin to cast the first stone. And of course, none of the people was without sin so they all dropped their stones and left the scene.
Jesus did not judge sinners. He loved them. What He wanted was for them to be saved that's why He went on the Cross. All of us have sinned and it's because of the blood of Jesus that we are redeemed. So we love like Jesus when we extend grace and not judgement to those living in sin.
4. Be present
'and lo, I am with you always, even to the end of the age. Amen.'

Matthew 28:20b
Jesus loves us and is with us always. He doesn't leave us by ourselves to face this life alone, ever. He is always present. Now that's a promise we can't make. We can't always be present with our loved ones.
But we can still choose to be present. To turn off notifications on our phones, stop checking the latest updates on social media and emails and focus on our spouse and kids when we're with them. To spend quality time with them.  
We need to be there for those we know that are going through difficult times. Stay with them, encourage them and pray with them. That's how we love like Jesus loved.
My encouragement to you
Jesus is our standard when it comes to love. He has shown us in word and deed how to love like Him. We need to follow His teachings and His ways. He will guide us and show us how. And like anything, this is a journey. It will take time for us to learn how to love like Jesus. But everything we do in God and for God is so worth it, always.
Let's Pray
Lord Jesus, thank you for loving me. You are worthy of all the honor, glory and praise. Teach me daily how to love those around me just like You. I'm an ambassador of Christ wherever I am, continue to guide me as I represent Your Kingdom in this world.
In Jesus' name I pray. Amen.