Death is a reality we always think will come years from now, and by then we might be prepared to welcome it. But lately with the pandemic, we've been more scared of death, a topic we prefer not to even think about.  It's important that we know how to overcome the fear of death so that we can enjoy the life we've been given.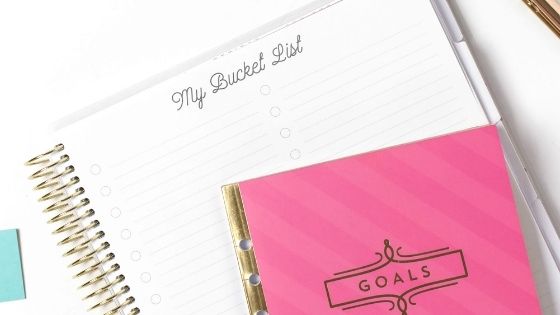 Why are we scared of death?
There are various reasons why we are afraid of dying. For the most part, it's because death is unplanned and sudden yet so tragic that it turns our whole world upside down.
1. Fear of the unknown causes fear of dying
We don't know what awaits us after this life because we've never seen it with our physical eyes. And as humans, we fear the unknown.
A first-time pregnant woman fears childbirth because she's never experienced it.  The first day of school- whether kindergarten, high school or college is scary for our children because they don't know what to expect.
What we don't know, we fear.
2. We're not sure we will go to heaven
We try to be good Christians but we're not perfect. We might have had a strong relationship with God when we got saved, but along the way we lost that connection.
Life got busy. We entertained sin a little longer than we should have and it became normal to live in it. It's possible that we stopped praying and don't read the Bible as much. If we die today, we're not sure we will go to heaven. And the alternative to heaven is a thought which is too much to bear and makes us scared of death.
3. We're too attached to the world
It's so easy to be attached to this world. It's all we can physically see. It feels familiar. Comfortable. Popular
The idea of leaving the world and going to a place we don't know makes us scared. What awaits us on the other side of this life?
4. We haven't achieved what we want in life
We have dreams and goals. And we always think we'll have time to achieve them.
Maybe when we retire. Or when we've finished paying off the house. Then we will live our dream life. We may think when the children grow up or when they leave the house is the time we will start enjoying life.
But what happens if that future event doesn't happen? We are scared of dying because we are not ready to leave this world without achieving our goals and dreams.
5. Fear of what will happen to those we love
We're scared of dying and leaving our families. As a mom, the fear of death is heightened when we think of our children, parents, spouses and how they will manage in life alone, without us.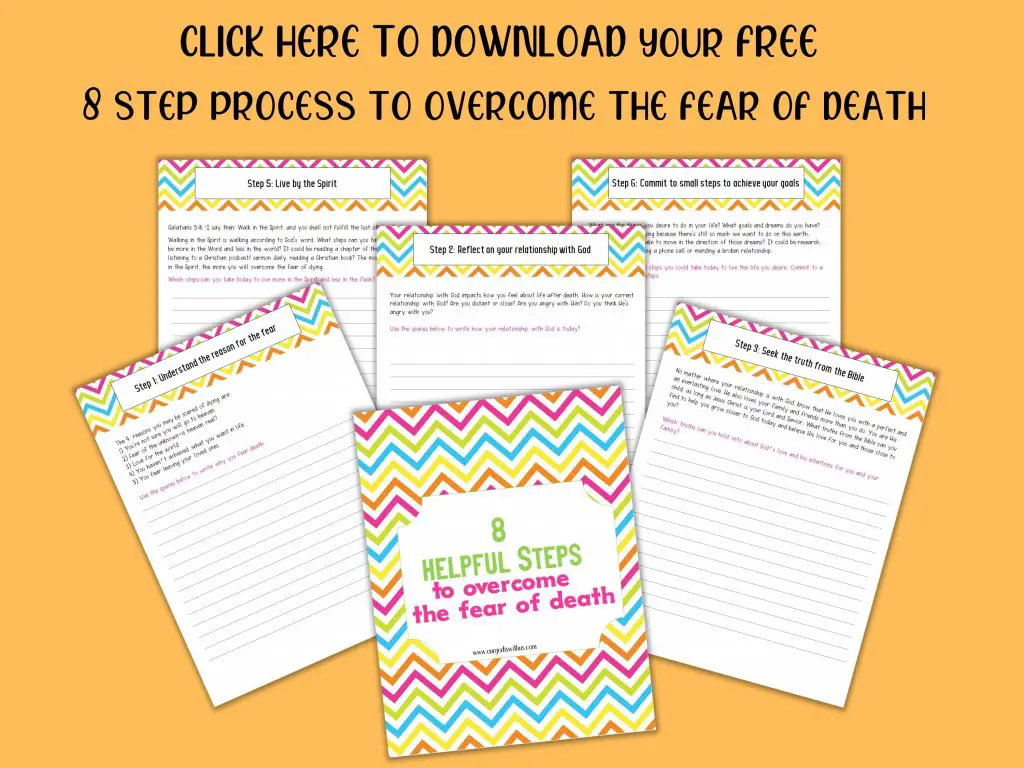 7 Ways to Overcome the fear of death
Fear of death is normal and natural. But it can consume our thoughts and interfere with our daily lives when it takes root in our hearts. Because of that, we need to know how to stop worrying about death and how to beat the fear of death.
1. Repent, Confess and receive Jesus Christ
If you are afraid of death, it could be because you're not yet born again and haven't received Jesus Christ as your Lord and Savior. You can receive the gift of God which is eternal life in Christ Jesus. Knowing that your future is secure will help you overcome the fear of death.
 "For the wages of sin is death, but the gift of God is eternal life in Christ Jesus our Lord."

Romans 6:23
 "That if you confess with your mouth the Lord Jesus and believe in your heart that God has raised Him from the dead, you will be saved. For with the heart one believes unto righteousness, and with the mouth confession is made unto salvation."

Romans 10:9-10
If you're not born again, I encourage you to repent, confess that you have sinned against God, receive Jesus Christ as Lord so you can be saved.  Those who are saved will see heaven and that's a promise from God.
The Bible helps us to overcome the fear of death. We need to believe it, believe in God and His Son Jesus Christ so we may be guaranteed eternal life.
2. Don't believe the lie that it's too late for you
Luke 15 is power-packed with parables of the lost coin, lost sheep and lost son. The moral of the story is the same. God's arms are open to those who have become lost in the world and want to find their way back to Him.
He is ready to receive us. It's never too late.
"I say to you that likewise there will be more joy in heaven over one sinner who repents than over ninety-nine just persons who need no repentance."

Luke 15:7
Remember the thief who was hung on the cross next to Jesus? He repented in the final moments of his life on earth. And Jesus assured him that his place in heaven was guaranteed.
"Then he said to Jesus, "Lord, remember me when You come into Your kingdom." And Jesus said to him, "Assuredly, I say to you, today you will be with Me in Paradise."

Luke 23: 42-43
It's never too late to find your way back to God, no matter how far away you have strayed from Him.
3. Focus on spiritual matters and don't worry about death
The Bible says we're in the world but we are not of this world. We need to live our lives differently.
"And the world is passing away, and the lust of it; but he who does the will of God abides forever."

1 John 2:17
While being in the world can be familiar and popular, it's temporary. Nothing in this world lasts forever. That's why we can't be too attached to the world. We need to focus our minds on the spiritual, the things above and not the things of this world.
"For he who sows to his flesh will of the flesh reap corruption, but he who sows to the Spirit will of the Spirit reap everlasting life."

Galatians 6:8
 "Set your mind on things above, not on things on the earth."

Colossians 3:2
4. God's love helps us get rid of the fear of death
The reality is God loved us so much that He wanted us with Him in heaven. He loved us while we were yet sinners. His love is amazing.
What makes us fear death is that we haven't accepted fully God's amazing love. We don't understand the extent of it. Once you accept and believe that nothing, even death can separate you from God's love, you won't be scared of dying.
"Yet in all these things we are more than conquerors through Him who loved us. For I am persuaded that neither death nor life, nor angels nor principalities nor powers, nor things present nor things to come, nor height nor depth, nor any other created thing, shall be able to separate us from the love of God which is in Christ Jesus our Lord."

Romans 8:37-39
This Bible verse assures me that even if I die today, God will still take care of my husband, children and my family. He loves them more than I do. God has good plans for them, a future and hope for a better life. Yes, they would be devastated by my loss, but God will be with them always.
5. Live by faith and beat the fear of death
From the beginning, God doesn't save us because we are good. He saved us while we were in sin. What saves us is His grace which is His power and unmerited favor.
This grace saves us by faith. We believe what we have not seen with our own eyes. We believe by faith in God who we have not seen.
 "For by grace you have been saved through faith, and that not of yourselves; it is the gift of God, not of works, lest anyone should boast."

Ephesians 2:8-9
Works like going to church every Sunday, reading the Bible daily, witnessing to unbelievers cannot in and of themselves save us.
We do those works out of love for God, to get close to Him and build a relationship with Him. We don't it because it gets us into heaven. God's grace saves us and our faith in God gets us into heaven.
6. Overcome the fear of death by living an intentional life
I'm a recovering procrastinator and perfectionist. So, I know what it's like to wait until things are perfect to go after what I want. But if anything, we've all realized, tomorrow is not guaranteed. We should live an intentional life.
It's important to get rid of perfectionism and make plans to live the life we desire today. When we live an intentional life, focused on achieving our goals and dreams and being good stewards of the life God gave us, it helps us to stop worrying about death.
7. Look forward to heaven
The reality is while this world can seem 'comfortable' it's not. There's so much that's wrong with our world. Violence, war, injustice, abuse- just to name a few. It would be sad if this was it. If this was forever.
But thank God this is not the end of our story. When we die, we can look forward to an amazing life with God. And looking forward to heaven helps us overcome the fear of dying.
What will heaven be like?
The way the Bible describes heaven in Revelations 21-22 is something we can all look forward to, long for and use to help us overcome being afraid of death.
No more crying and weeping
No more pain and sorrow, no more death
Streets of gold (no money problems there)
No need for the sun or moon- light everywhere, no night, no darkness
No more curses
Healing
A reward for serving God faithfully
Seeing and being with God forever and ever
This is the place I want to go to, don't you? Having this mental picture of heaven helps us beat the fear of death.
Do not fear Death quotes
These are great quotes to remember when we start worrying about death. In itself, death is the end of life on earth and the beginning of our life with God in heaven.
"He whose head is in heaven need not fear to put his feet into the grave."

Matthew Henry
"When the time comes for you to die, you need not be afraid, because death cannot separate you from God's love."

Charles H. Spurgeon
"Let your hope of heaven master your fear of death."

William Gurnall
What does the Bible say about fear of death?
These Bible verses will help us let go of the fear of death and walk in faith that God will give us a better life after death.
Apostle Paul is such a profound example for us believers. The man was not scared of dying. In fact, he preferred it. This is what he says:
"For to me, to live is Christ, and to die is gain. But if I live on in the flesh, this will mean fruit from my labor; yet what I shall choose I cannot tell. For I am hard-pressed between the two, having a desire to depart and be with Christ, which is far better."

Philippians 1:22-23
"For I consider that the sufferings of this present time are not worthy to be compared with the glory which shall be revealed in us."

Romans 8:18
Jesus overcame death through His resurrection. He also helps us to not fear death. We only need to believe in Him.
"Inasmuch then as the children have partaken of flesh and blood, He Himself likewise shared in the same, that through death He might destroy him who had the power of death, that is, the devil, and release those who through fear of death were all their lifetime subject to bondage. "

Hebrews 2:14-15
"He who believes in the Son has everlasting life; and he who does not believe the Son shall not see life, but the wrath of God abides on him. "

John 3:36
"These things I have written to you who believe in the name of the Son of God, that you may know that you have eternal life, and that you may continue to believe in the name of the Son of God"

1 John 5:13
Prayer for fear of death
Heavenly Father, thank you for your amazing, perfect love and for sending your Son Jesus Christ to die for my sins on the cross. Thank you for saving me by your grace. Help me daily to overcome the fear of death by holding onto faith that death will reunite me forever with you. May I believe in Jesus so I may receive eternal life. He overcame death and has set me free from the fear of death. Help me not to love this world but to keep my mind focused on the spiritual, the things of God.
In Jesus' name I pray. Amen