Are you currently in a season of waiting on God? Have you ever been in a situation where you pray, pray and pray for some more for a situation to change yet it doesn't. You ask God why and don't get an answer?
It could be a disease that you need God's healing.
It could be your marriage.
It could be a friend or child who you desperately want for them to become a Christian but it's not happening.
I've been there. I've longed for healing for a close relative.
Here's a few words of wisdom and encouragement of what to do if you find yourself in a season of waiting on God.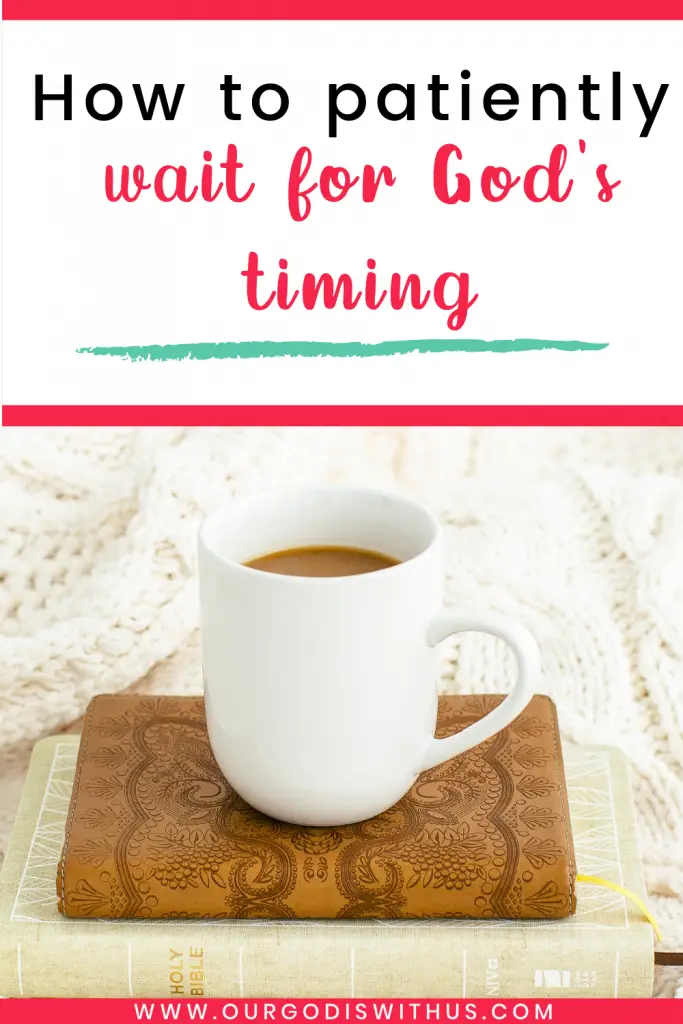 How to patiently wait on God's waiting
1. Be thankful while you wait
I know this seems like the last thing you may feel like doing. But believe me it helps. Having an attitude of gratitude is key while waiting on God. Right now we're going through a phase where we haven't had our personal belongings for 4 long months. We've in the middle of a relocation.
Our personal belongings have been delayed due to lockdowns and restrictions of movement. We don't have a lot of what we need- kids toys, TV, clothes, fridge, microwave just to mention a few.
But in the past few months we've been home with family. And I've been so grateful. For the love we've received. For the true African hospitality that we felt- every house we visit someone gives us something to take home- vegetables, meat, fruits. Even the little that we have as Africans we share.
I'm soo grateful that we found an amazing school for our daughter and we live in a great (though somewhat empty) house where our kids are happy to be outdoors playing. This move has been frustrating but being grateful and noticing the good that's happened helps.
What about you? What could you be grateful for?
If you're ill, be grateful that you're alive and get to experience life with your loved ones. If you're struggling in your marriage, be grateful for your husband and his good qualities. If your child is resisting God, still be grateful that they're a blessing from God.
Gratitude has such a snowball effect. If you sit down and start writing all the things that are good around you, what you still have, you'll start to realize that God has given you so many blessings even in the wait.
2. Ask God for patience
When you pray, ask God to give you the patience you need to keep waiting for His prayer. The Bible says God is the God of patience.
"Now may the God of patience and comfort grant you to be like-minded toward one another, according to Christ Jesus,"

Romans 15:5 (NKJV)
Being patient is keeping a good attitude while in the wait. It's not getting frustrated or annoyed. That is easier said than done. That's why you need to ask God to help you in the wait. To be patient while you wait for Him to move and act in His time.
Patience is a fruit of the Spirit mentioned in Galatians 5:22-23. The more time you spend in God's word and grow closer to Him, the more patient you'll come.
3. Hold on to God's promises
Paul was praying for God to remove a "thorn in his flesh" . This was the hardships and persecution he faced during his preaching. And he prayed about it.
"Concerning this thing I pleaded with the Lord three times that it might depart from me. And He said to me, "My grace is sufficient for you, for My strength is made perfect in weakness." Therefore most gladly I will rather boast in my infirmities, that the power of Christ may rest upon me. Therefore I take pleasure in infirmities, in reproaches, in needs, in persecutions, in distresses, for Christ's sake. For when I am weak, then I am strong."

2 Corinthians 12:8-10
What a powerful and encouraging verse. God's supernatural grace is sufficient for you especially in times of trouble. He will strengthen and sustain you in hard times especially when you need to wait on Him. His power works the most when we rely on Him fully.
4. Remember that the waiting has a purpose
"And not only that, but we also glory in tribulations, knowing that tribulation produces perseverance; and perseverance character; and character, hope. Now hope does not disappoint, because the love of God has been poured out in our hearts by the Holy Spirit who was given to us."

Romans 5:3-5
As we wait on God, He is molding our character. He is perfecting us for His Glory. When we continue to put our hope in God, we will not be disappointed. So we wait on God, knowing that the wait is not aimless. It has a purpose.
5. Let go and Let God
Surrender the situation to God. Submit to Him. Pray for Him to help you let go and give it to Him. He is all-knowing and all-powerful. He will act when the time is right. He knows what's best for His children. And sometimes we need to go through that temporary pain in order to reap the results He desires for us.
We do it for our own children. My 6 year old usually asks me for juice or sweets at night. I tell her to wait for the next day to have it during the day. It's not the right time for her to have it. I'm not saying no, but I'm saying wait. She may get frustrated and throw tantrums but she will still wait. I'm her parent. I know what's best for her.
And so my friend, know and trust that Your heavenly Father also knows what's best for you. Let go and let God.
6. Re-focus your thoughts
"Finally, brethren, whatever things are true, whatever things are noble, whatever things are just, whatever things are pure, whatever things are lovely, whatever things are of good report, if there is any virtue and if there is anything praiseworthy—meditate on these things."

Philippians 4:8
Don't meditate on the unanswered prayer. Focus on what is true about God, pure lovely thoughts such as:
God is always faithful
God loves me unconditionally that's why He sent His Son to die for ME on the Cross
God knows what's best for me and my family
When your mind dwells on these truths from the Bible, you develop a good attitude in the wait.
7. Remember who you're waiting on
"For My thoughts are not your thoughts,
Nor are your ways My ways," says the Lord.
"For as the heavens are higher than the earth,
So are My ways higher than your ways,
And My thoughts than your thoughts"

Isaiah 55:8-9
God's thoughts and ways are not similar to ours. He is the Father in Heaven. He is the creator of the Heavens and Earth. He is the beginning and the end. His ways are not human because He is supernatural. So while we wait, we remember that it is God who is in control and in charge.
Waiting on God will not leave you disappointed because this is His promise in Isaiah 40:31
But those who wait on the Lord
Shall renew their strength;
They shall mount up with wings like eagles,
They shall run and not be weary,
They shall walk and not faint.

Isaiah 40:31
My Encouragement to You
My sister in Christ, I know that waiting on God is not easy. But God is faithful. He is our Heavenly Father and He will only do what's best for us. Sometimes waiting and holding on to His promises is what's best for us. We need to continue trusting Him. He is our Creator after all.
Let's Pray
Heavenly Father, while I'm in a season of waiting, help me to be patient. I know that the waiting has a purpose and I choose to trust You and hold on to Your promises through this season. I'm grateful for the many blessings you've given me as Your child. May your grace be sufficient for me as I wait on You my Lord.
In Jesus' name I pray. Amen.