Prayer is one of the most important spiritual disciplines which helps us draw closer to God. Knowing how to pray to God is key because it grows our faith in Him. God wants us to make prayer a habit so that we can be connected to Him always.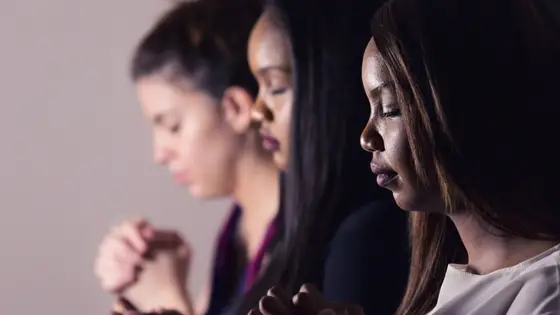 Learning how to pray for beginners
If you're a beginner there are some prayer myths that you'll have to dispel so you can have an effective prayer life. Then there are certain truths about prayer that you need to know:
Prayer is personal. It's based on your relationship with God.
There is no right or wrong way to pray. But there are effective ways to pray so that God hears you.
While God knows everything, He still values our prayers. It's not only important to know how to pray but also to understand why we pray to God.
Just like any journey you take, when it comes to praying you have to start slowly and build yourself up. Rather be consistent in prayer than aim for perfection. It's more important that you grow in prayer.
Finding a prayer partner is a great way to build an effective prayer life.
How to pray according to the Bible
One of the best people from the Bible that teaches us to pray is Jesus Christ. From what Jesus said and His actions we learn that:
Jesus encouraged us to pray to overcome temptation. He knew that we wouldn't be able to resist temptation in your own strength. We need help from above, from our God to help us in our time of need.
"Watch and pray, lest you enter into temptation. The spirit indeed is willing, but the flesh is weak."

Matthew 26:41
We pray according to the Bible when we don't doubt God but believe that God will answer us.
"And whatever things you ask in prayer, believing, you will receive."

Matthew 21:22
Jesus made time for prayer. You pray effectively when you set an appointment with God and meet Him there for prayer. It helps to pray alone and in a quiet place. Jesus also shows us that praying can take a few minutes and it can also take all night because prayer is personal between you and God.  
"Now in the morning, having risen a long while before daylight, He went out and departed to a solitary place; and there He prayed."

Mark 1:35
"Now it came to pass in those days that He went out to the mountain to pray and continued all night in prayer to God."

Luke 6:12
Because Jesus is our mediator and the way to the Father, we pray in His name. This is also what He taught us.
"And in that day you will ask Me nothing. Most assuredly, I say to you, whatever you ask the Father in My name He will give you. Until now you have asked nothing in My name. Ask, and you will receive, that your joy may be full."

John 16:23-24
Jesus gave us a model prayer which we call "The Lord's prayer". This is a great prayer to use at the start or end of a prayer. It's also a great one to start using when you're teaching your children to pray to God
More tips on how to pray effectively
There are more guidelines on praying effectively that we find in the Bible. The following tips were not given by Jesus directly but because they're in the Bible we can still apply them as we pray.
Confess your sins to God when you pray
We worship a Holy and perfect God. He wants us to be holy just as He is. So, when we go before God we need to acknowledge our sins before Him. God is faithful to forgive us our sins. He cleanses us and gives us a fresh start when we do.
"If we confess our sins, He is faithful and just to forgive us our sins and to cleanse us from all unrighteousness."

1 John 1:9
Give thanks to God
Gratitude is key in prayer. At times when I'm stressed and worried about something, I remember everything God brought me through, and l begin to be grateful. The blessings and favor God shows us as His children are unbelievable.
In those times, offering God thankful prayers really helps to bring me peace and comfort. I know that the same God who brought me out of hard times before will do it again today. It also helps me trust in God and His power.
Powerful prayers of gratitude are an amazing way to pray according to the Bible.
"Be anxious for nothing, but in everything by prayer and supplication, with thanksgiving, let your requests be made known to God and the peace of God, which surpasses all understanding, will guard your hearts and minds through Christ Jesus."

Philippians 4:6-7
Pray scriptures
One of the most effective ways to pray is to pray scriptures. God honors His word, and He wants us to know the importance of His word. When we repeat scriptures to God, He will hear us from heaven and answer our prayers.
When the pandemic started, our Pastor used to tell us to recite Psalms 91. We were heartbroken, confused, and desperate because we didn't understand the new normal that the pandemic bought.
The words to pray would not come out and we leaned on God's word. So, we prayed Psalms 91 which is a Psalm of protection and finding safety in God.
There are times when praying scriptures and passages are more than enough. Prayers of worship and thanksgiving from Psalms 100, and Psalm 95 are also great ones to recite.
Listen to God
While we may believe prayer is just about talking to God, this is also a chance for us to listen to God. He may deposit some important messages in our minds, confirm certain things, and show us His will in prayer.
We need to be positioned right and be ready to hear from Him in prayer. When we become still and give Him His place as God, He will reveal Himself to us as His children.
Pray without ceasing
While it's important to set aside a time and place to talk to God, the Bible also encourages us to pray continuously throughout the day.
"pray without ceasing,"

1 Thessalonians 5:17
This means sometimes prayer is just a sentence or a few words. "Help me God. In Jesus' name. Amen" is a complete prayer. If that's all you have time for, it's okay. Because ultimately God looks at the heart and how honest you are, and not how long you're praying. If you pray and believe, God will answer.
Praying without ceasing means we keep connecting with God throughout the day. As a new mom, sometimes the only place I could pray was in the shower. When I was working full- time, I prayed a lot during my drive to work.
Talking to God has to be constant throughout the day and as the need arises.  
Praying without ceasing also means we do not lose heart when we pray. We persist in praying day and night until God hears us and answers. Jesus encouraged us to do this in the Parable of the Persistent widow.
Use the ACTS Prayer method
One of the key ways to help you start praying as a beginner or praying effectively as a mature Christian is to use a prayer method. This is a great guide to keep prayers structured and avoid forgetting something or rambling on and on about the same thing.
The ACTS prayer method is one of the favorites that I use. It's a great way to pray according to the Bible. While it's not related to the Book of ACTS in the Bible, it's a simple acronym to remember and use. Try it yourself if you haven't already.
As you grow in how to pray to God effectively, you'll find that your relationship with God becomes deeper and sweeter. Talking to God should never become a chore or something you have to do. Rather it becomes something you want to do to build a deep bond with the Heavenly Father who loves you.