When you accept Jesus Christ as your Lord and Savior, the Bible becomes a key part of your life and your relationship with God. But reading and studying the Bible can seem overwhelming and daunting. These practical tips on how to read the Bible for beginners will encourage you to take it one step at a time and aim for progress, not perfection.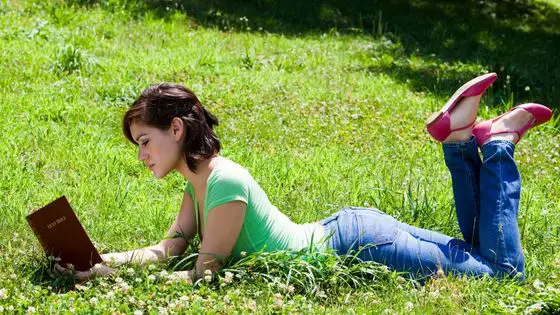 What happens when you read the Bible every day?
Before we understand how to read the Bible, we need to know the benefits of doing it. When we know the why behind something, the how becomes easier to accept and act on.
Firstly, it's good to realize the importance of God's word. God speaks to us and shows us who He is in His word. We know God's character, His will, and His ways from the Bible. It's the one sure way to build a closer relationship with God because we know more about Him through it.
Even though humans wrote the Bible, they were inspired and directed by God to do it. So don't doubt the authenticity of it.
"All Scripture is given by inspiration of God, and is profitable for doctrine, for reproof, for correction, for instruction in righteousness, that the man of God may be complete, thoroughly equipped for every good work."

2 Timothy 3:16-17 (NKJV)
The Bible shows us who we are. Not what we do. But we get to know our identity from the Bible. When you understand who you are and whose you are, you have direction, and confidence and are empowered.
We know what God expects of us from His word. When we put into practice what God tells us, we start to grow spiritually and see transformation in our lives.  
"as newborn babes, desire the pure milk of the word, that you may grow thereby,"

1 Peter 2:2
When you read the Bible every day you start to change from the inside out. Your priorities begin to change, your view of the world changes, and you start to become who God truly created you to be. The Bible comes alive when we read it and apply it in our lives.
You experience God's peace that surpasses human understanding and become joyful even during difficult circumstances because you know Your God and that He loves you and is for you no matter what happens. This empowers you.
How to read the Bible for beginners
Now that we know the benefits of reading the Bible, we can explore how to read the Bible daily as a beginner. This is the most powerful and impactful book in the world. With 66 Books and 1189 chapters, all in all, the Bible can be intimidating.
But don't worry. This is not a novel. It's the word of God. Take your time and learn from it because it's a manual for life. You'll read a verse today and read it again next year and get a fresh view of it. Because God continues to renew our minds through His word.
No one can ever say they are done reading the Bible. Because we are a work in progress on this earth. We take steps to grow our relationship with God and over time we are transformed to be like Him.
Now for some practical tips on reading the Bible as a beginner!
1. Plan for Bible reading
"It takes as much energy to wish as it does to plan." 

― Eleanor Roosevelt, former first lady of the United States
When you don't plan for something, usually it doesn't get done. Specific details are important during planning. It's important to decide when you will do the Bible study, the specific time and place.
If you want to go jogging in the morning, ideally everything should be set out the night before. Running shoes and exercise gear should be visible when you wake up so that your brain is geared up for the run.
The same goes for your Bible study. Having your Bible set up in advance with your notebook, highlighters, and everything else to help you get ready will put your brain into gear to start the Bible reading.
Our God loves planning and doesn't leave anything to chance. So, it's Biblical to plan reading especially as a beginner, and be intentional about it.
2. Choose a translation
The Bible was first written in 3 languages- Hebrew, Aramaic, and Greek. And then translated into English. So some of the original meanings have been lost along the way because of translations.
Most Bible scholars recommend the King James Version (KJV) as the best version which is close to the original meaning and has correct translations. It's a bit hard to read for a beginner so I use the New King James Version (NKJV).  
You can start with the NLT or NIV as a beginner but my recommendation is to switch to NKJV or KJV later on. When you're starting choose a translation then start reading. Don't let deciding and choosing a translation deter you from studying God's word.
3. Pray and ask God to speak to you
When you read the Bible, it's not a novel or any other book you may read. The Bible is an active book because it's the word of God being spoken directly to us.
"For the word of God is living and powerful, and sharper than any two-edged sword, piercing even to the division of soul and spirit, and of joints and marrow, and is a discerner of the thoughts and intents of the heart."

Hebrews 4:12
So it's important to ask God to speak to you through His word so you can get the deeper message of the word. The Holy Spirit will also help you understand how to remember and apply the word of God.
"But the Helper, the Holy Spirit, whom the Father will send in My name, He will teach you all things, and bring to your remembrance all things that I said to you."

John 14:26
If you get confused during Bible reading, you can also pray and ask God to help you. Then after reading the Bible, give God a prayer of thanks for His word.
4. Best order to read the Bible for the first time
How do you read the Bible effectively as a beginner? These are some options for you to consider.
a) Start with a topic
My first recommendation is to start by reading the Bible based on a topic you'd like to focus on. You could take 30 days to read a verse or 2 a day on a certain topic such as gratitude, obedience, or overcoming fear.
This way, you get to quickly know more about how God's word changes your thinking, character, and actions. That will help you believe that God's word really comes to life when we put it into practice.
Using a check mark to keep track of the verses you've read, gives you the momentum you need to keep going and see progress as you learn how to read the Bible as a beginner.
The 12-Month Bible Reading Plan for beginners which you get for FREE at the end of this post is a great resource to start with. You don't just get to read the Bible but I also encourage you to write down your thoughts, what God speaks to you as you read, anything that stands out, and how you will apply the scripture in your day-to-day life.
b) Read short books of the Bible
The 2nd way is to read short books of the Bible. This way, you feel accomplished and motivated to keep going. The goal is to make Bible reading a habit and this helps with that.
Short books of the Bible such as 1 John, 2 John, 3 John, Jude, Titus, James, 1 Peter, and 2 Peter have fewer than 5 chapters. So, you can even read a chapter in a week and finish a book each month. Some even have 1 chapter which you can read in a day.
This makes the Bible less intimidating and something that can be enjoyed as you learn more about God and draw closer to Him.
c) Focus on the Gospels
Then after you have gained some momentum, you can start with the Gospels. These are the first 4 books of the New Testament. They are Matthew, Mark, Luke, and John.
Of these 4, the most recommended is starting with John. It tells you in detail about who Jesus was and what He said more clearly.
5. Attend Bible study at church
As a beginner, you should absolutely spend time alone with God and grow in your faith in Him. But God wants His children to also be in the community. There are benefits in reading and studying the word with others.
"How is it then, brethren? Whenever you come together, each of you has a psalm, has a teaching, has a tongue, has a revelation, has an interpretation. Let all things be done for edification."

1 Corinthians 14:26
"And let us consider one another in order to stir up love and good works, not forsaking the assembling of ourselves together, as is the manner of some, but exhorting one another, and so much the more as you see the Day approaching."

Hebrews 10:24-25
You learn more and gain confidence in Bible reading when you do it with other like-minded people. In a group setting, you can ask questions and even share experiences which helps to grow together in the word.
6. Use a Bible app
The YouVersion Bible app is my absolute favorite for reading the Bible. You can download the version you like, and it even has an online and offline version. You can make notes and highlight Bible passages that you like.
It's a great and easy way to always have the Bible at your fingertip. You can open the Bible and read it anytime whether in a grocery store queue, on the bus, as you wait for your kids to come out from school, or in the morning. Anytime is Bible reading time when you have an app on your phone.
Free Printable Bible Reading Plan
If you're ready to start reading the Bible effectively by topic and be consistent in reading one to four Bible verses a day I have a great resource for you. This FREE Scripture writing plan also works as a Bible reading plan for beginners.
There are 12 Topics and 30 Bible verses per topic. It's a great way to build momentum for Bible reading in a year. You can read the scriptures only or journal and reflect on them. Download yours for FREE today.