One of my favorite quotes by C.S Lewis is 'You are never too old to set another goal or dream a new dream'.
I love it because I don't want to waste my life. I got some pretty big dreams, dreams that sometimes scare me.
But I also have a big God. And I believe and trust that my dreams will come to pass at the right time because God put those dreams in my heart and they are dreams that will impact the world around me and bring glory to His name.
I never want to lose hope. My goals and my dreams matter to me and bring me joy. And if you have goals and dreams they matter to you too.
Other than goals and dreams, other things matter and bring us joy as well:
Quality time with family and friends
Quality time soaking ourselves in God's word
Prayer which brings us closer to God
Time to rest and relax. Even God rested on the 7th day after creating the heavens and earth
But what really stops us from focussing on what matters most in our life is time wasting on things that don't matter much.
Our common time wasters
1. Social media
The number 1 culprit of our generation. With all the great things social media has brought to our lives – connection with loved ones far and wide, knowledge, keeping us up-to-date with news and entertainment- yet social media can also be a complete time waster.
I know times I've slept in the wee hours of the morning scrolling and scrolling and moving from Facebook to Instagram to Twitter.
"One of the great uses of Twitter and Facebook will be to prove at the Last Day that prayerlessness was not from lack of time."

John Piper
Enough said!
2. Comparison Trap
Closely linked to social media. Just when you're struggling in your marriage, you see your best friend's post about her most recent date with her husband and how he spoiled her rotten. Urgh!
I mean you're happy for her but gosh, when will your husband do the same for you, right?
3. Watching TV/Netflix
There are so many good shows, series and movies coming out that can keep us glued for hours.
4. Worrying
Wasting time worrying about what might happen or what has happened strips you of the joy of today. Worrying is like a rocking chair. You seem to be moving but you're really not going anywhere.
5. Procrastination
Our tomorrow is simply not guaranteed and leaving until tomorrow what could be done today wastes time.
'Do not boast about tomorrow, for you do not know what a day may bring forth.'

Proverbs 27: 1
All these time wasters stop us from living a life of meaning and focusing on the things that really matter and bring us joy. What we need to do is live an intentional life. And when we stop wasting time, we can do just that.
How can we stop wasting time and start doing what brings us joy?
1. Think about your legacy
This life is short. One day, you and I will leave it. The fear of death is real but you can overcome that fear.
Thinking about your legacy means you ask yourself how you want to be remembered. Do you want your kids to remember you as the mom who was always on her phone? As the mom who was always watching TV? I don't think so.
Write down how you want to be remembered. If you can do a vision board, that's even better because you can see it daily.
Once you're clear about what you want, it will help you stop procrastinating and comparing yourself with others because what you want in life is different. It will make you intentional about your time.
It will also give you the drive and motivation to do what matters to you and stop worrying about what could have been because you're now focussing on the future and what could be. And that's way more exciting and will surely make you more joyful!
2. Start your day with God
'Seek ye FIRST the kingdom of God and His righteousness, and all these things shall added unto you'

Matthew 6:33
Intentionally start your day with God. Even a short prayer thanking God for waking you up and committing your day will do. And read one Bible verse that you can remember and meditate on all day.
I always read the Youversion app 'Verse of the day'. It's delivered to my inbox daily. Starting my day with God always makes me more joyful
3. Work towards your goals and dreams in the morning
Until I actually had dreams and goals to chase, I was not a morning person at all. I'm still getting used to the whole idea. But the truth is with all the responsibilities I have as a mom, wife and entrepreneur my schedule is always packed.
Waking up early has helped me prioritize and make time for what matters in my life. And it brings me so much joy. Working on your goals and dreams requires you to be very intentional about your time.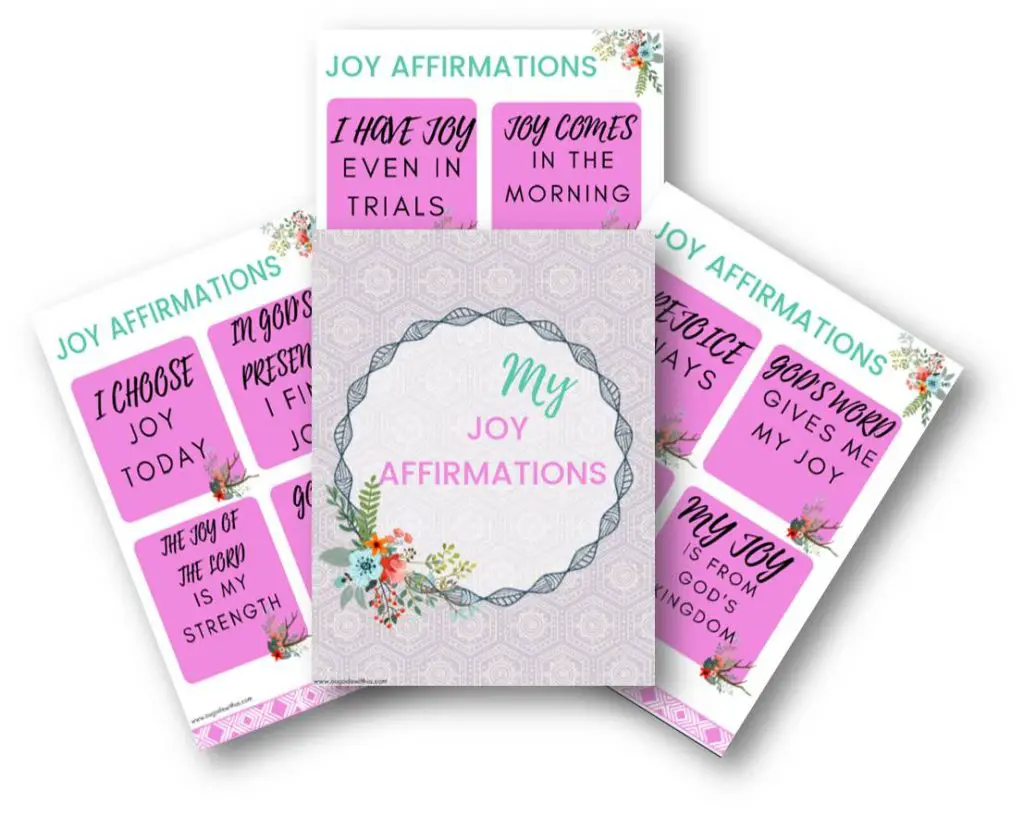 4. Buy a planner
This is a new one for me. I only started using a planner recently. But I needed it. To see how I was spending my time each time. It keeps me accountable for how I spend my time.
I can also see how much time I'm wasting compared to how much time I'm actually spending on what matters most to me. This is an amazing planner specifically designed for a Christian mom like yourself.
Facebook and Instagram both have an option in the settings where you can put in the amount of time you want to use on each app in a day. Mine is set for 1 hour on each app. So I get a message after an hour that my time is up.
You don't get locked out though and can keep using the app. Most times I try to stick to the 1 hour. But even when I don't stick to it, I'm reminded that I'm choosing to waste time and after a few minutes I stop and shut down the app.
It's a work in progress change because we are so used to looking at our phones for hours on end without a time limit!
Watch Netflix/ your favourite TV show as a reward for doing something meaningful in your life and choose which shows you watch. You don't have to watch every new show out there. Be intentional with your time.
6. Choose to be present
When I spend time with my kids, I put my phone in a separate room and focus on my daughters. Because I know I need that quality time with them.
Our families need us to be present, to listen to them and bond with them without the distraction of a phone, TV or computer.
My encouragement to you:
Ephesians 5:15-16 says 'Be very careful, then, how you live—not as unwise but as wise, making the most of every opportunity, because the days are evil.'
In order to stop wasting time and live an intentional life, we need to be very aware of what we are choosing to spend time on.
Let's be wise and remember we have a legacy that we want to leave behind. And in order to leave that legacy we need to focus on what matters to us and what brings us joy.
We need to do the things that are life giving today not the things that leave us feeling discontent, drained and disappointed.
Let's Pray:
Lord I thank you that you've given me this one life to live. It's a gift to be alive today and it's only by your grace. Help me as I decide today to stop wasting time with things that are not important in my life such as ____, ______ and_____. I want to start focusing on my goals of _____and my dream of_____. Remind me daily of what's important in life and what will make a difference and impact to my life and those around me. Holy Spirit help me to take small and necessary steps towards living a full and joyful life in you.
In Jesus' name I pray. Amen