Do you find yourself anxious and worrying constantly about actual or potential problems? Do you worry about the future, your work, money, friends, family, your health, and death? Constant worry can affect us negatively- mentally, physically, and spiritually. That's why it's important to know how to stop worrying about everything as a Christian.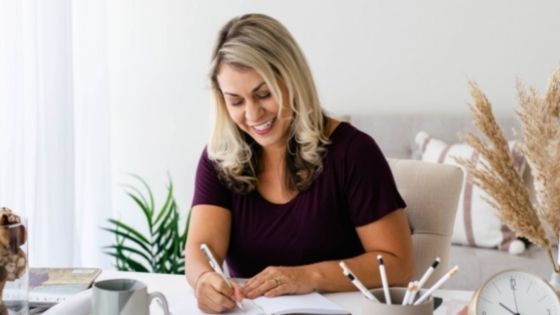 Why we worry
Have you ever wondered why we worry about everything? It's been said that worry is like being in a rocking chair. There's movement but you're not going anywhere. So why do we worry?
1. Worry seems to show that we care
If we tell our children "I'm worried about you", that might seem to show how much we care. But the truth is, this is one of the statements we've become used to saying which is not Biblically true as we will see in the bible verses to stop worrying.
2. Worry seems like a solution
When we feel out of control of a situation such as our health, death, or what will happen tomorrow, we can feel that worrying is helping us stay in control.  Worry can seem like a solution to fear or a problem we don't know how to handle.
But when we think about this deeply, we will realize that worry just isn't a solution.
3. We assume we'll be better prepared for situations
It's normal to think when we worry we'll be more prepared for something bad to happen. If we worry when our parents are sick, we'll be more prepared for the worst.
We think we'll be less disappointed, less heartbroken, and better prepared for the bad event. But the truth is we won't.
4. We struggle to trust God
If we believed God was who He is and He can do the things He can, then we wouldn't worry so much. Jesus didn't worry. Apostle Paul didn't worry. That's because they understood that God is always in control. They knew God wants us to rather learn how to let go and let God handle our challenges.
How does worry affect the body?
The reality is worrying can affect you mentally, spiritually, and physically. It can even affect your relationships negatively as it changes how you talk, your attitude, and how you respond to situations.
Specifically, worry affects your body in a few ways:
Excessive worry can lead to health challenges such as headaches, upset stomach, and breathing problems
You become stressed when you worry constantly
Worry can affect your sleep leading to fatigue which impacts your mood and ability to function during the day
Your appetite can be affected by constant worry
Constant worry and anxiety can affect your mental health as well
While worrying may seem helpful, it actually isn't. We need to know how to overcome worrying and start to live better and healthier lives.
How to stop worrying about everything
Worry seems to come naturally for most women and it causes us stress. It deprives us of the joy we could be experiencing daily. We need to learn how to stop worrying about everything start trusting God who loves us and is for us.
1. Prayer helps you surrender your worries to God
There is nothing wrong with having a genuine concern for your child or husband, or a situation at work. But the key thing is not to let that concern consume your thoughts and affect your mood. Rather pray about it.
Prayer is not passive, it's active. It's one of your greatest weapons to overcome worry biblically because you give the situation to someone who is capable of handling it- and that's God.
Worrying about my kid's safety will not keep them safe but praying to God will. When I worry about my marriage, it will not change anything but praying about it will change my attitude and heart and bring peace and happiness into my marriage.
When we pray, it helps us stop worrying about everything and start trusting in God.
So, prayer changes things, and most importantly prayer gives you peace. Prayer also sets us apart as believers in Jesus Christ-we have a Heavenly Father who is always there for us who listens to and answers our prayers. 
When you surrender your worries to God, you will find the strength you need to overcome the situation.
2. Gratitude helps you to stop worrying
When you start to see all the blessings God gave you, your heart becomes so full, worry doesn't have space. Offering thanksgiving to God helps when worry consumes you.
More often than not when you sit down and think deeply about how God has brought you through some difficult situations, you become amazed at how you made it.
I've been in near-death car accidents, had a life-threatening disease as a child, my family members have been so sick I was concerned for their life… the list goes on and on. But I'm still here, alive and well and it's all because of God's power, grace, and love.
We all have a story. And we all have situations that have happened to us where we can see the hand of God. We might have worried about the situation or challenge then, but God brought us through them all.
God is faithful. He is the same God yesterday, today, and forever. If He could do it then, He can do it today. You can trust that He will bring you through the next challenge that you may be worried about
So, develop an attitude of gratitude. Have a gratitude journal where you can write down your blessings daily and over time you'll see how that helps you to stop worrying about everything. Gratitude changes your focus, your heart, and your attitude.
3. Praise and worship songs help you overcome worry Biblically
Music is powerful. When worry rears its ugly head, turn to praise and worship songs and be reminded of who you are and who God is.
Gospel songs about trusting God
These are songs about God being in control s we can trust Him always. The worship songs about submitting to God will help us surrender all our worries and concerns to Him.
Here are a few of my favorites to get you started with a playlist to help you stop worrying about everything.
What a powerful reminder that no matter what happens, God will work everything out for our good. Be encouraged, be still, and know that God is for you. I love this group and song.
2 . Good, good Father by Chris Tomlin
Knowing that God is a good Father and will take care of you through all of life's ups and downs, helps you overcome worry
3. My Life is in your hands by Kirk Franklin
This is a great worship song about trusting God. Our lives are in the palm of His hands. Worries and troubles will not always last and Jesus is there to help us through it all. God is with us after all.
4. Oceans (where feet may fail) by Hillsong
Let your soul rest in God's embrace. God has never failed us and He won't start now in your situation. Call upon His name, you are His child. Trust Him to help you overcome worry.
Another Maverick City favorite of mine. I've listened to this one a lot! This song about God being in control reminds us that He is the same through different ages and seasons. He is true, faithful, our hope, and an anchor who will never let us down.
4. Memorizing Scripture helps you stop worrying
The word of God is living and active. It's very relevant today for helping us face and deal with life's challenges. God's word helps you stop worrying and becoming stressed about everything. Memorizing at least 1 Bible verse can help a great deal to surrender your worries to god and find strength.
Bible verses about worry and stress
"Be anxious for nothing, but in everything by prayer and supplication, with thanksgiving, let your requests be made known to God; 7 and the peace of God, which surpasses all understanding, will guard your hearts and minds through Christ Jesus."

Philippians 4:6-7
This is one of my go-to verses that I've actually memorized. This verse covers 2 of the things we need to do to overcome worry Biblically- praying and being thankful.
God's promise when we pray and offer thanksgiving is amazing- the supernatural, extra-ordinary peace of God which no human being can ever explain will take care of your heart and mind in Christ Jesus. This is the kind of peace we should all long for.
The peace of God is an internal peace that is not moved or scared easily by events happening around it. A heart that trusts in God, that He knows best.  What an amazing promise of peace!
"Let not your heart be troubled; you believe in God, believe also in Me"

John 14:1
"Come to Me, all you who labor and are heavy laden, and I will give you rest. Take My yoke upon you and learn from Me, for I am gentle and lowly in heart, and you will find rest for your souls. For My yoke is easy and My burden is light."

Matthew 11 vs 28-30
"These things I have spoken to you, that in Me you may have peace. In the world you will have tribulation; but be of good cheer, I have overcome the world."

John 16 vs 33
Jesus said these powerful words to His disciples. The world will bring trials, tribulations, and storms. But we can find rest and peace in Jesus Christ. We need to believe in Him.
Now that we have some great tools to help us stop worrying about everything, we can deal with one of the most common worries- worrying about the future.
How to stop worrying about the future
There are 3 kinds of worries you can find yourself wrestling with:
Past worries- This is linked to regrets from the past such as: did God forgive me, why did I say that/act in what way, did I make the right decision?
Present-day/Day to day worries- is my child safe, is she healthy, am I being a good mom, the state of my marriage, finances, health, unanswered prayers
Future worries- what will happen to my family if I die, finances, will my children turn out ok, natural disasters, will I go to heaven when I die?
Of the 3, worrying about the future is more common because we have no control over it and we don't know what's coming. So, what does God say about worrying about the future?
Bible verses about worrying about tomorrow
We can turn to God's word to help us when we stress about situations we can't control like our future. Keep these scriptures in mind when you find yourself worrying about tomorrow.
31 "Therefore do not worry, saying, 'What shall we eat?' or 'What shall we drink?' or 'What shall we wear?' 32 For after all these things the Gentiles seek. For your heavenly Father knows that you need all these things.

33 But seek first the kingdom of God and His righteousness, and all these things shall be added to you. 34 Therefore do not worry about tomorrow, for tomorrow will worry about its own things. Sufficient for the day is its own trouble."

Matthew 6: 31-34
God tells us that one of the key ways to stop worrying about the future is to live in the present. Focus your attention on today, what you have, how God is working, your blessings and you'll not have time to worry about what you can't control.
"For I know the thoughts that I think toward you, says the Lord, thoughts of peace and not of evil, to give you a future and a hope."

Jeremiah 29: 11
"casting all your care upon Him, for He cares for you."

1 Peter 5:7
"I will lift up my eyes to the hills-From whence comes my help? My help comes from the Lord, Who made heaven and earth."

Psalm 121:1-2
"I will both lie down in peace, and sleep; For You alone, O Lord, make me dwell in safety"

Psalm 4:8
We can have peace and overcome worrying about the future when we remember that God cares for us, He is our helper ,and He has great plans for our future.
It's clear-worrying about the future changes nothing. All it does is make us sad, make us miss the present moments, and make us miss God's presence.
Friend, I know worrying can be easy. But can I just remind you today that if you have time to worry, you have time to pray? You have time to remember your blessings and be grateful to God.
We are so loved by God that He gives us choices. Today, you have the choice of memorizing a verse and playing a song that reminds you of the power of God to help you stop worrying about everything. You can choose peace in a chaotic world by trusting in an all-powerful God who is in control.
God's got our backs. He knows what we need. Trust Him.
Prayer for worry and anxiety
Lord, I thank you that you are my Helper, my Father, my Friend, and my peace. Forgive me Lord for allowing worry to make room in my heart and mind. Today I surrender all my worries to you.
I am worrying about …….,………,……… By worrying I can't change this situation so I ask you to intervene and change it.  Thank you for all the blessings and gifts you've given me such as ……., ……….,……….Thank you that you've answered my prayers before and brought me through a lot of challenges in my life.
Specifically, I'm thankful that you brought me through……., …….., ……..You are a faithful God. Help me to take the steps I need today as l choose not to let worry consume my life. May l experience your supernatural peace from today onwards. I love you, Lord Jesus.
Conquer Worry. Choose Peace 30 Day Bible Study Journal
Are you sick and tired of being overwhelmed and consumed with worry and ready to declare war on worry? Then I've got good news for you. This 30 day Bible study Journal has everything you need to tackle worry and enjoy God's extraordinary peace and the freedom it brings.