God's word is so powerful. The word of God thoroughly equips us for Christian living because the Word of God is Jesus Christ Himself (John 1). It's important that we carve out time and prioritize studying the Bible because it's important and has a lot of benefits to our faith. One of the most effective ways to study the Bible especially is a beginner is to use the S.O.A.P Bible study method.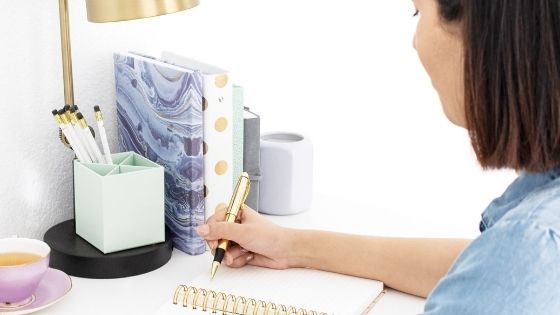 5 Benefits of Bible study
Have you ever wondered why we should study the Bible? What the importance of studying it and not just reading it, is important?
Why we should study the Bible:
Studying the Bible helps us know God better and get closer to Him which helps us know ourselves better. It's a win-win!
Bible study helps us remember the teachings of God's word. Reading it only doesn't usually do that.
We grow spiritually and deepen our faith in God when we study His word
We are equipped to fight our enemy, the devil when we know and study God's word. Knowing the Bible helps us live a victorious Christian life
When study the word of God, it helps to give our life direction. direct our life – Psalm 119:105
"Your word is a lamp to my feet
And a light to my path."

Psalm 119:105
How to study the Bible for beginners
If you're a beginner and have never studies the Bible, it can be intimidating. So what are the best tips to start digging into God's word?
1. Pray for the Holy Spirit to help you study the Bible
This is very important to do because we need to begin with God. Studying the Bible and studying for a College degree are two very different concepts.
We don't only need prefessors, scholars and pastors to help us understand God's word. We need God himself through the Holy Spirit.
The Holy Spirit will reveal to us what to study and how. Even if you pick the best bible study method, if you leave God's Spirit out of the process, God's word will continue to be a mystery. The Spirit will give you the revelation about the hidden and deeper meaning of the Bible.
2. Start small
How do you eat an elephant? One bite at a time. As a beginner the most effective way to study the Bible is by verse. Start small and grow the habit of bible study. You will be more consistent and stick to daily Bible study when you start small.
3. Use a Bible study method
There are various Bible study methods which can give us the techniques to study the Bible and get the background and deeper meaning of what it teaches us. Some of the Bible study methods help you study the Bible by book of the Bible, by character, by topic, by chapter and by verse.
The most effective way to study the Bible for beginners is the S.O.A.P method of Bible study.
What is the SOAP Bible study method
In our daily lives, it's important for us to carve out time and prioritize God's word. One of my favourite Bible study methods that I was introduced to in University is the S.O.A.P Bible study method.
S.O.A.P is an acronym which stands for Scripture, Observation, Application and Prayer. This method is effective especially for beginners because you can use it to study 1 Bible verse at a time or daily to study a few Bible verses around a specific topic. That means you can use it to study the Bible by verse and by topic.
Let's take a deeper look at the SOAP method of Bible study.
Scripture
Using your notebook or journal- write down the Scripture you want to study. Writing down the verse helps to properly analyze it and remember it.
This also helps you focus more on the passage you're studying. Read the scripture, even multiple times. This helps for it to sink into your mind so you can complete the next steps.
Observation
What are the observations you find in this verse? Below are some questions to help you with observations:
What was happening? Understand the context of the particular scripture you're studying
Who wrote the passage and who is the audience is was meant for?
Is there any words or phrases that are repeated for emphasis?
What is God saying? What are the truths and principles in the scripture?
Is there anything interesting in the scripture?
What is the theme of the passage?
You don't need to answer all the questions but a few to help you get the context and understanding of the verse or passage.
If you have extra time I have 2 good tips for you here:
1) Read different versions of the same scripture- I like the Amplified Bible version for further context and meaning of words.
2) Search for a commentary on the Scripture. If you have a commentary Bible, you can read it, otherwise you can just search online. It really helps to understand the full story and context of the Scripture.
Application
"But be doers of the word, and not hearers only, deceiving yourselves. "

James 1:22
What are the practical ways you can apply God's word to your life? This has to be more personal.
What is the action you need to take, the confession you need to make, the habit you need to start or the promise you need to believe?
How will your life change after studying this Scripture?
Prayer
Reading God's word is connecting with Him in one way and prayer is another. It's important to end the study of God's word with Prayer.  
You can write down the prayer, say it out loud or both. The choice is yours. Many times we read and study God's word  in the morning and forget all about it by the end of the day.
So, we need to pray to God:
to help us remember what His word says
to help us apply His word to our daily lives
to give us the wisdom and grace to practice His word
to thank Him for His word which makes us grow spiritually
to confess any sins, doubts or worries we are battling with and thank Him for His forgiveness and peace.
SOAP Bible study method example
Together, we can do an example of the S.O.A.P method of Bible study so we can begin practicing it. We will take a verse from Psalm 23. Ideally read the entire chapter then focus on one bible verse. One crucial thing though- Pray BEFORE you start. Pray for God to reveal His word to you. Pray that your heart would be open to receive what God is telling you about His word.
Scripture
"Yea, though I walk through the valley of the shadow of death,
I will fear no evil;
For You are with me;
Your rod and Your staff, they comfort me."

Psalm 23:4
Observations
This Psalm was written by David, who wrote the majority of the Book of Psalms in the Bible. The theme of the passage is about the Lord being our shepherd. David could relate to God as a Shepherd because he had been one before he became king. The main truth and principles from this verse is God's presence in times of danger.
Application
Like David, God's promise that I need to believe that His presence will be with me no matter what danger will await me. Even in a valley, a season of great difficulty, God is reminding me not to fear but to be bold and confident in Him. He will strengthen, guide and comfort me when times are tough.
Prayer
Lord, thank you for your love and mercy. You are worthy of all the praise and worship. Forgive me for not running to You when I'm afraid and not trusting You. Thank You for Your word today which reminds us of Your everlasting presence.  Your perfect love for us drives out all our fears and gives us strength, confidence and comfort in hard situations. Help me to remember this truth always.
In Jesus' name. Amen
That's it. A great SOAP Bible study example to get you started.
I've found that so many times we can tend to overthink the process of connecting with God through His word and this can stop us from actually doing it.If you can get 10 minutes of silence- before the children wake up, I encourage you to take your Bible, notebook or print the free Bible study Journal that is included in this post and start your Bible study.
When you develop the habit of spending time studying God's word, you start to love His word. The more we abide in God's word, the more He abides in us.
In order to start the journey of using the S.O.A.P Bible study method, grab your free S.O.A.P bible study printable below.