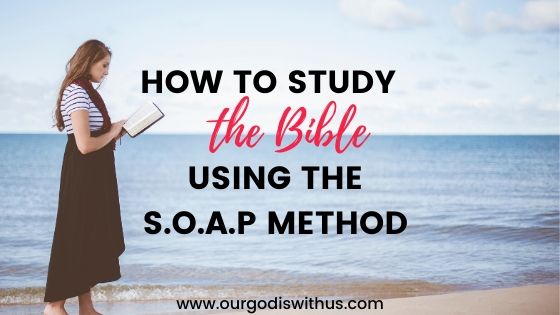 How to study the Bible using the S.O.A.P method
"All Scripture is given by inspiration of God, and is profitable for doctrine, for reproof, for correction, for instruction in righteousness, that the man of God may be complete, thoroughly equipped for every good work."

2 Timothy 3:16-17
God's word is so powerful. The word of God thoroughly equips us for every good work. Why? Because the Word of God is Jesus Christ Himself.
Jesus Christ is the word that became flesh and dwelt amongst us (John 1: 14). His Word builds us up to become more and more like Him. We can only be equipped when we study God's word. It helps us to grow spiritually.
I've found that so many times we can tend to overthink the process of connecting with God through His word and this can stop us from actually doing it.
If you can get 10 minutes of silence- before the children wake up, I encourage you to take your Bible, notebook or print the free Bible study Journal that is included in this post and start your Bible study.
In our daily lives, it's important for us to carve out time and prioritize God's word. One of my favourite Bible study methods that I was introduced to in University is the S.O.A.P Bible study method.
Ideally it's best to focus on one or two verses with this method. This allows you to hone in and concentrate so you can get the most out of what the Lord is teaching you in that scripture.
One crucial thing though- Pray BEFORE you start. Pray for God to reveal His word to you. Pray that your heart would be open to receive what God is telling you about His word.
This is a powerful Bible study method that you can use to dig deep into God's word.
But what does S.O.A.P actually stand for?
Scripture
Using your notebook or journal- write down the Scripture you want to study. Writing down the verse helps to properly analyse it and remember it.
This also helps you focus more on the passage you're studying. Read the scripture, even multiple times. This helps for it to sink in your mind so you can complete the next steps.
Observation.
What are the observations you find in this verse? Below are some questions to help you with observations:
What was happening- understand the context of the particular scripture you're studying
Who wrote the passage and who is the audience is was meant for?
Is there any words or phrases that are repeated for emphasis?
What is God saying? What are the truths and principles in the scripture?
Is there anything interesting in the scripture?
What is the theme of the passage?
If you have extra time I have 2 good tips for you here:
1) Read different versions of the same scripture- I like the Amplified Bible version for further context and meaning of words.
2) Search for a commentary on the Scripture. If you have a commentary Bible, you can read it, otherwise you can just search online. It really helps to understand the full story and context of the Scripture.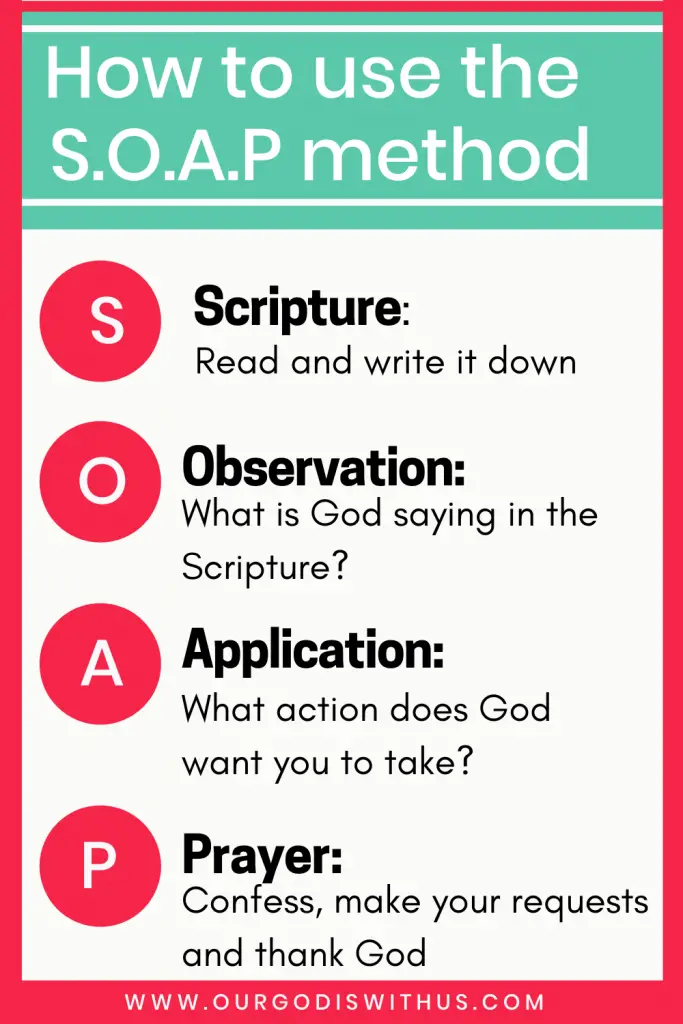 Application
"But be doers of the word, and not hearers only, deceiving yourselves. "

James 1:22
What are the practical ways you can apply God's word to your life? This has to be more personal.
What is the action you need to take, the confession you need to make, the habit you need to start or the promise you need to believe?
How will your life change after studying this Scripture?
Prayer
Reading God's word is connecting with Him in one way and prayer is another. It's important to end the study of God's word with Prayer.
You can write down the prayer, say it out loud or both. The choice is yours. Many times we read and study God's word in the morning and forget all about it by the end of the day.
So, we need to pray to God:
to help us remember what His word says
to help us apply His word to our daily lives
to give us the wisdom and grace to practice His word
to thank Him for His word which makes us grow spiritually
to confess any sins, doubts or worries we are battling with and thank Him for His forgiveness and peace.
When you develop the habit of spending time studying God's word, you start to love it. This post highlights the beautiful benefits of loving God's word. The more we abide in God's word, the more He abides in us.
My Encouragement to you
Studying God's word is so important to nourish us spiritually. It helps strengthen our faith and get closer to God. The same way the physical body needs food is the same way our inner spirit needs spiritual food.
That's it. Don't overthink it. Take it one step at a time.Don't wait for perfect conditions to start your Bible study. Just start.
Let's Pray
Lord, thank you for your Word which is so powerful. Help me to study it daily and connect with you. Reveal yourself to me through your Word. Open my heart and my spiritual eyes so that I may know you more and more everyday.
In Jesus name I pray. Amen.