There's a peculiar story about Jesus and His disciples found in Mark 4:35-41. Jesus and His disciples were in a boat, coming from one of His teachings with the multitudes.
Suddenly there was a great storm and as would be considered 'normal' in this situation, the disciples started to panic. Where was Jesus? Turns out He was……sleeping! What?!
I'm not at all surprised at the disciples reaction to Jesus.
"But He was in the stern, asleep on a pillow. And they awoke Him and said to Him, "Teacher, do You not care that we are perishing?"""

Mark 4:38
Do those words sound familiar? I bet they do!
Lord, don't you care about my finances and the fact that I've been struggling for so long?
Lord, don't you care that this illness has been a burden for years?
Lord, don't you care that my marriage is in shambles and I don't know if I can hold on any longer?
Lord, don't you care that I'm being ill-treated by my boss, in-law, parent?
Turns out Jesus Christ DID care. He cared for the disciples and He also cares for YOU my friend. This was Jesus' response to the situation:
"Then He arose and rebuked the wind, and said to the sea, "Peace, be still!" And the wind ceased and there was a great calm. But He said to them, "Why are you so fearful? How is it that you have no faith?" "

Mark 4:39-40
Jesus could fall asleep in the storm because He has power over the storm! Just like He has power over the storms in your life. He wanted the disciples to have faith. They had to have faith in His power, in Him.
He commands peace in the middle of our storms. He is the Prince of peace. I pray that we would experience the same peace Jesus had.
How to Walk in God's peace
1. Pray
"Be anxious for nothing, but in everything by prayer and supplication, with thanksgiving, let your requests be made known to God; and the peace of God, which surpasses all understanding, will guard your hearts and minds through Christ Jesus."

Philippians 4:6-7
This is by far one of my favorite Bible verses. It's an open invitation to Pray about everything. Whether you think a problem is big or small it doesn't matter. There's no silly prayer to God.
Never let anyone make you feel like any situation is not 'worthy' of prayer. When we pray about everything, we become anxious for nothing. We walk in peace when we pray giving thanks to God for His many benefits and blessings to us as His children.
Sometimes we don't pray when we're anxious, thinking God already knows our situation but this post highlights why we pray even when God already knows everything.
When we do pray about everything, the promise is clear: the peace of God- which passes all understanding will guard our hearts and minds in Christ Jesus. This is supernatural and miraculous peace.
It's inner peace and comfort even in the midst of life's storms and chaos. This is the peace we all long for.
2. Exercise faith and trust in God
"casting all your care upon Him, for He cares for you."

1 Peter 5:7
The Bible advises us not to cast some of our problems, cares, concerns, fears and worries to God. We cast them ALL upon our Lord. You know why? Because He cares. We exercise our faith when we trust God with all our concerns and He helps us to walk in peace.
The mistake that we tend to make as believers is we cast all our cares and burdens on our friends, husbands and families first, instead of going to God first. People can't give us the same peace God will give us.
I've been in a conversation multiple times with a friend and they are distracted on their phone. And I've thought to myself that they don't care in that moment.
Sometimes the person you're trying to tell ALL your problems to is busy worrying about their own problems. But God is always there. Always listening and always there with us. Never distracted. Never too busy for you.
"You will keep him in perfect peace,
Whose mind is stayed on You,
Because he trusts in You. "

Isaiah 26:3
When we trust in God, He keeps us in His perfect peace. This is peace in the middle of life's storms. Trusting God is exercising faith in Him, who He is and what He will do for us. This is what Jesus wanted His disciples to have.
In His Word, God has given us every reason to trust in Him. Every promise He has given to His children, He has fulfilled. We can walk in peace when we trust in God to handle our cares and concerns.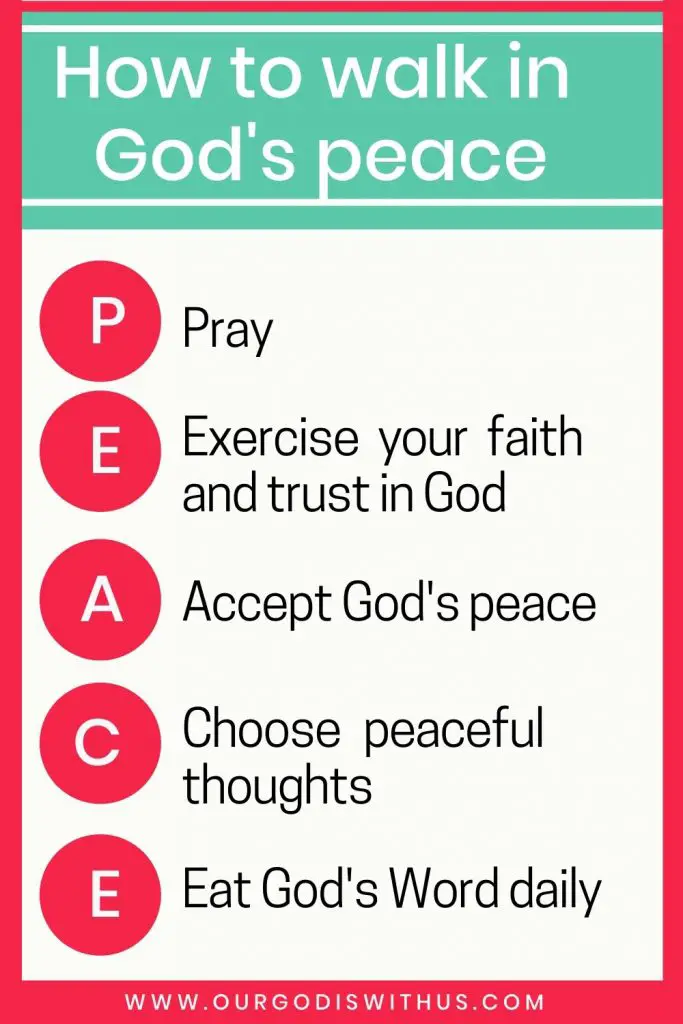 3. Accept God's peace
"Peace I leave with you, My peace I give to you; not as the world gives do I give to you. Let not your heart be troubled, neither let it be afraid. "

John 14:27
Jesus Christ gives us His peace. All we need to do is accept it. His peace is not like the one that's in this world. It's not dependent on physical possessions or circumstances.
The peace Jesus Christ gives is one that's dependant on a position. When we abide in Him, we experience His peace.
Jesus encourages us to not let the problems of this world trouble us or make us afraid. He is with us always. He is the Prince of Peace. We can walk in peace.
4. Choose peaceful thoughts
"Finally, brethren, whatever things are true, whatever things are noble, whatever things are just, whatever things are pure, whatever things are lovely, whatever things are of good report, if there is any virtue and if there is anything praiseworthy—meditate on these things.

The things which you learned and received and heard and saw in me, these do, and the God of peace will be with you."

Philippians 4:8-9
In order to walk in God's peace, we need to choose not to dwell on our worries and anxieties. But choose to focus on:
Truth which is God's word, His promises.
Good, righteous, beautiful, excellent, exemplary, worthy, upright thoughts.
Pure thoughts that are pleasing to God who is Holy
When we act on these thoughts, the peace of God will be with us. We will be able to walk in the peace God promises us.
5. Eat God's word daily
"But He answered and said, "It is written, 'Man shall not live by bread alone, but by every word that proceeds from the mouth of God.' "

Matthew 4:4
When Jesus was being tempted, He said these powerful words to the devil. Worry and meditating on our problems is a temptation to stop trusting in God and His word.
In order to walk in God's peace we need to know that Jesus- who is the Word of God-who is the bread of life can give us this peace. As we study His word daily, He will give us His peace.
There are so many beautiful benefits of studying and loving God's word which you can read in this post.
My Encouragement to You
The same Jesus Christ who calmed the storm when He was with His disciples is the same one who will calm our storms today. He will give us peace and an inner calm through it all. He is the only one who has the power to do just that. We need to trust, believe, have faith and abide in Him.
Let's Pray
Lord, thank you that I can walk in the peace that you give me. The peace that surpasses all understanding. Help me grow in faith and trust in You in every storm I'm facing today.
In Jesus name I pray. Amen