The Best Mom Planner for Christian Moms
Are you a busy Christian mom looking for a simplified planner to help you grow your faith while effectively managing your home? I have good news for you! "But first Jesus Christian Mom Planner and Home Binder" is an undated planner which is perfect because you can start to use it anytime of the year. It's the best mom planner for Christian moms.
It's a printable planner which you can use again and again and print as many pages as you need at a time. It's ideal for busy moms who want to keep Jesus first in their daily lives. This mom planner is ideal whether you're a stay at home or Christian working mom.
Mom Planner sections
The planner has 5 different sections which will help you get more done in an organized manner while keeping Jesus first in your daily routine.
1. Important details section
Have you ever forgotten an appointment or an important contact during an emergency? Does Facebook remind you of a friend's birthday and you start looking for a last minute gift? Do you struggle to keep up with all the passwords you have for your gadgets?
Well, all this will be a thing of the past when you enter all important details such as birthdays, anniversaries, appointments, emergency contacts and even passwords in your busy mom planner.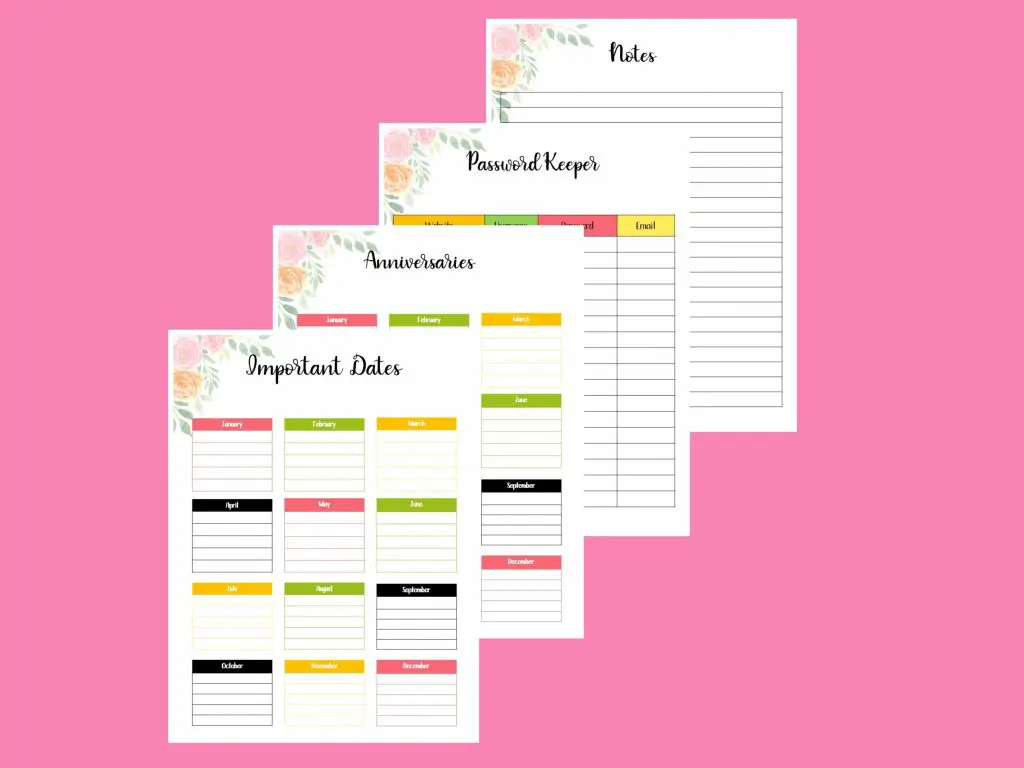 2. Daily and Weekly Schedule Planner
The unique daily schedule planner helps you start your day by prioritizing Jesus first with prayer and gratitude. Just practicing this daily will help you grow your faith and tackle the day much better!
There's two options to plan your day- by hour or by checklist. It's all up to you. I know some days are so hectic and I'm in survival mode so I just need a checklist. On other days, I need to plan my day by hour. The daily schedule planner gives you the choice you prefer to plan your day.
You can add your daily meals to the day's schedule as well. This is the best daily planner for busy Christian moms because it helps you grow spiritually, maintain a healthy lifestyle and stay organized.
The weekly Schedule Planner helps you see your schedule for the week by noting down your to-do list, your plans and tasks for the week so you can see it all in one snapshot.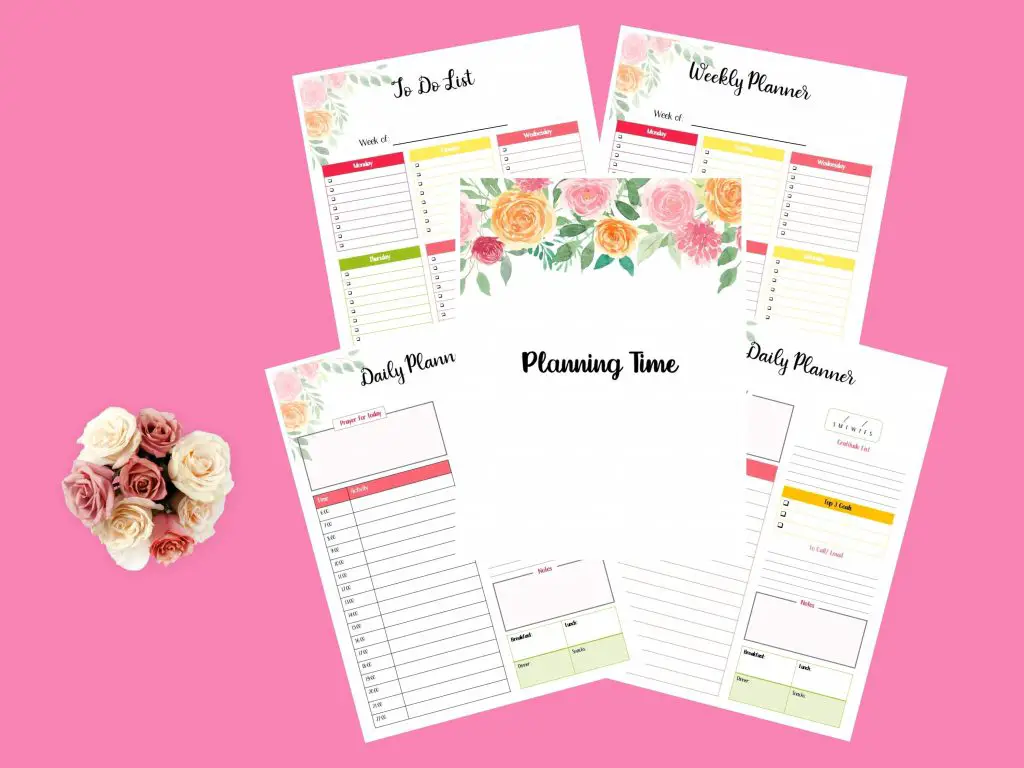 3. Goal Setting Planner
The daily mom planner includes the goal planner. Research shows that writing goals down really helps in achieving them.  This mom planner will help you do just that. There's more than 10 goal planner worksheets included where you can set you goals and the steps and actions you'll take to achieve them.
Use the Goal Planner to set:
Monthly Goals: is there a monthly routine you plan to start? Something that will help you get closer to your yearly goal? Write it down and realize your goals.
Weekly Goals: you can use this to set any weekly goals you'd like to achieve.
Spiritual Goals: if you want to grow in an area of your faith such as prayer, fasting, bible reading, you can write it down. The Time with God section will help you with specific steps to achieve your faith goals.
Financial Goals: manage your money better, save and invest by setting specific financial goals.
Fitness Goals: set your fitness and health goals and all the steps you'll need to take to achieve them. The steps could include meal planning, planning weekly and monthly grocery lists which will be done in the Home binder section of the mom planner.
Self-Care Goals: as a busy mom, you definitely need some time by yourself to take care of your body, mind and spirit. One of them or all 3! Jot down your self-care goals and intentionally take time off to recharge and refresh.
Family Goals-Note down you family goals such as starting Bible study as a family, teaching your kids to memorize scripture, praying together, going for monthly date nights or having dinner with no screens. Writing it down and planning for it will help you achieve your goals.
These are just a few of the topics you can jot down in the goal planner template. You can set goals by time-frames (by week or month). You can set your goals by the specific area or topic such as financial, spiritual and family. The choice is yours.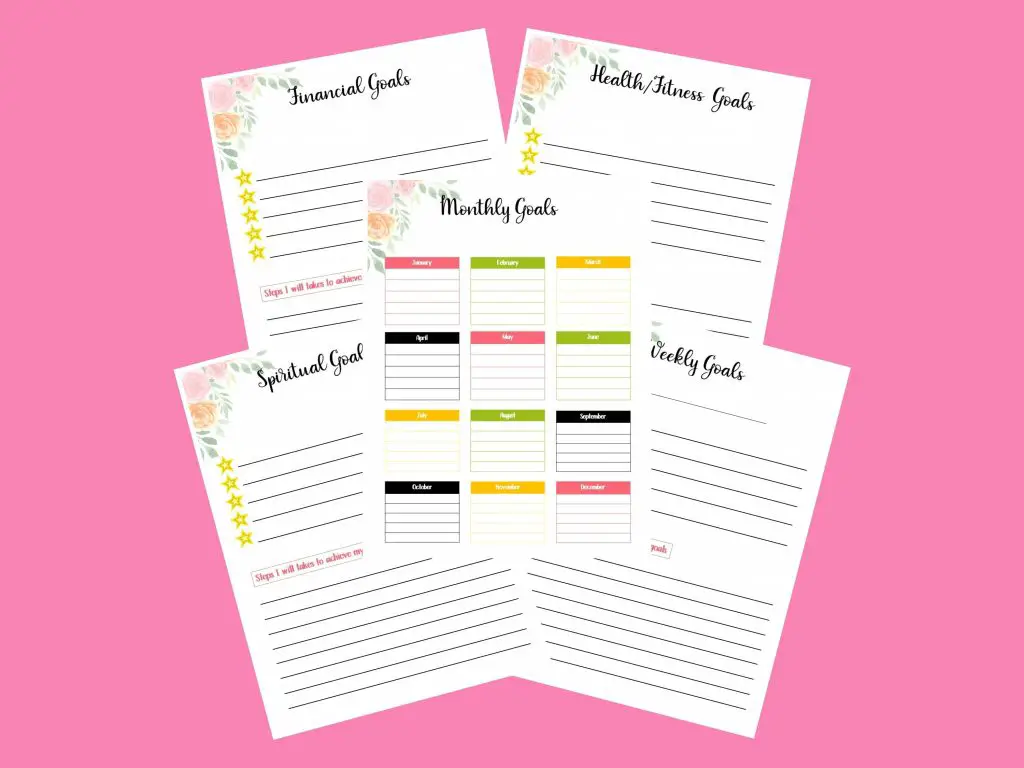 4. Christian Moms' Time with God
This section is perfect for helping you achieve you spiritual goals. As a busy Christian mom, it's important to spend quality time with God so you can know Him better, grow spiritually and be strengthened by God to do all your tasks.
Now quality time with God really depends on the season you're in. As a mom of small kids, I find that the best time to have quiet time with God is early in the morning when the kids are still sleeping. But when my youngest was a small baby, sometimes quality time was during her naptime.
The key is to plan it and make time for it. Don't worry about the length of time because God ultimately looks at the heart. Even if you're in a hectic and busy season and you only have 5 minutes to spare, you can still make that quiet time with God. Remember with God, it's more about quality than quantity.
Time alone with God can be used for prayer, worship or Bible study. "But first Jesus Christian Mom Planner and Home Binder" helps you with daily Bible study using the SOAP Bible study method. You can use the planner to jot down the scriptures you want to memorize, cut these up and put them on your mirror, dashboard or fridge. Scripture memorization helps you get closer to God as you store his word in your heart and mind.
Use the sermon notes template when you attend physical or online church to remember the scriptures and message shared. Write down your prayers for the day, week, month or year and grow in the habit of prayer and talking to God. Pray for others and see God answer you in a big way with the weekly and monthly prayer request templates.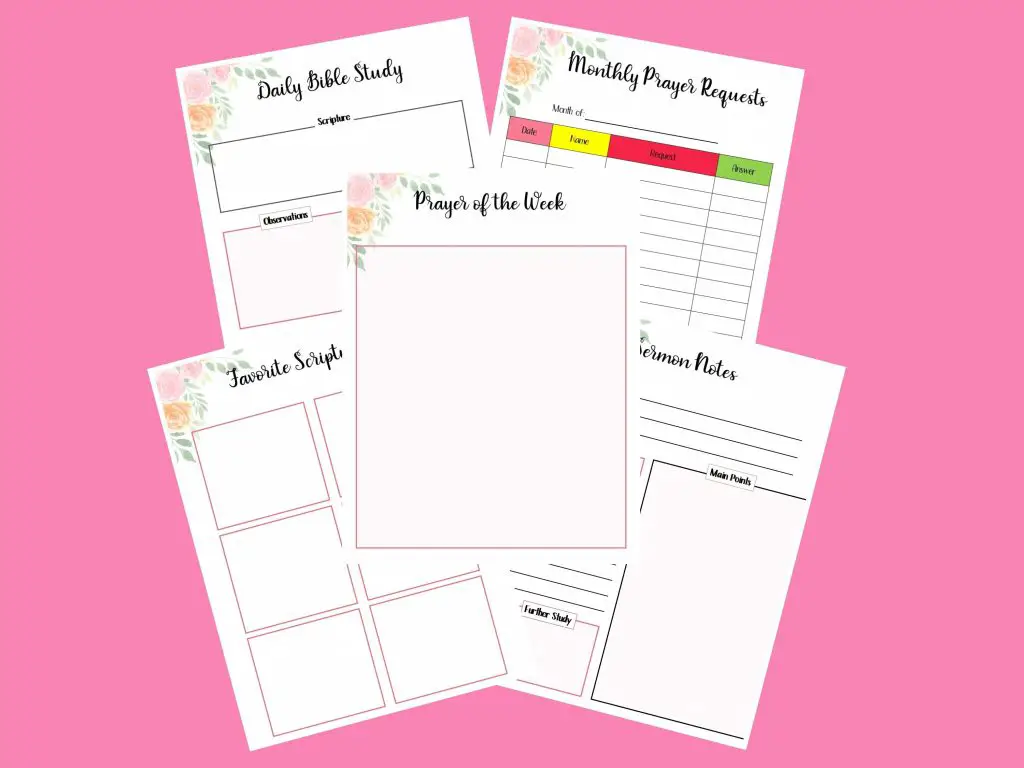 3 Powerful Bible verses about spending time with God
"But seek first the kingdom of God and His righteousness, and all these things shall be added to you."

Matthew 6:33
"I am the vine, you are the branches. He who abides in Me, and I in him, bears much fruit; for without Me you can do nothing."

John 15:5
"I rise before the dawning of the morning,
And cry for help;
I hope in Your word."

Psalm 119:147
5. Mom Planner Home Binder
This is the best mom planner for busy Christian moms as it includes a home management binder to help you organize your home, reduce the overwhelm and keep up with all your tasks.
The Home Binder section includes:
Weekly Cleaning Schedule: busy moms have to plan their cleaning. This simple weekly cleaning schedule will ensure you do just that.
Printable weekly meal planner to help you with meal prep and to eat healthy as a family. You can also shop according to your meal plan of the week. Meal prepping helps you achieve your family and health goals.
Weekly and Monthly Grocery list: this helps you write down all your weekly and monthly shopping list to avoid impulse shopping in the grocery store. When you do this, you save and manage your finances better. Planning your shopping will go a long way in helping you achieve your financial goals.
Kids chore chart: write chores down and remind your kids of their daily and weekly house chores.
Kids school details, calendar and homework schedule: the printable home binder wouldn't be complete without helping you make sure your kids' school life is organized. Use this simplified planner to keep all school emergency details, schedule all important activities and stay on top of homework deadlines.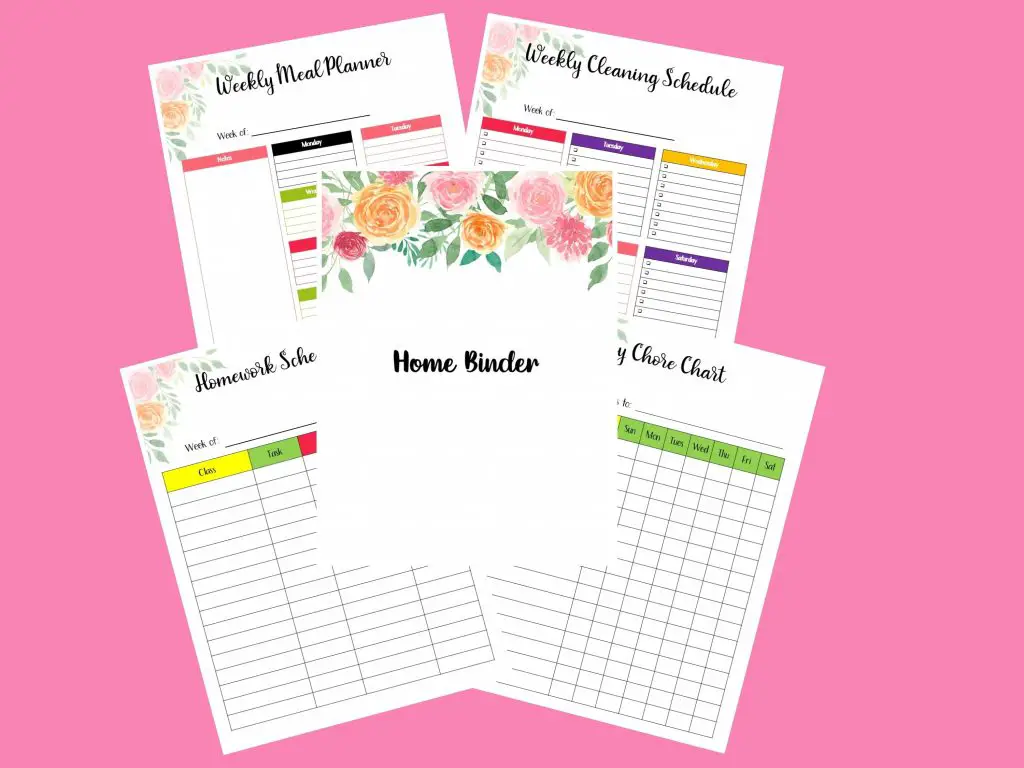 Mom Planner Bonuses
"But first Jesus Christian Mom Planner and Home Binder" comes with additional bonuses:
A Printable 2023 Calendar with Sunday start and relevant Bible verses to inspire you and pray for the new month. Design will coordinate with the planner.
100+ Planner stickers to make planning and goal-setting more creative and fun!
2 beautiful designs to choose from: Rainbow Planner or Floral Planner because us women always need choices.