Developing an attitude of gratitude is important for us as Christians. But starting a new habit is not easy. The 30-Day Gratitude challenge is one of the best ways to start giving thanks to God daily. Starting small with just one month will help you remain consistent and inspire you on the journey.  The printable 30-Day Gratitude Journal is a great way to practice gratitude daily and bring the transformation you need to master gratitude.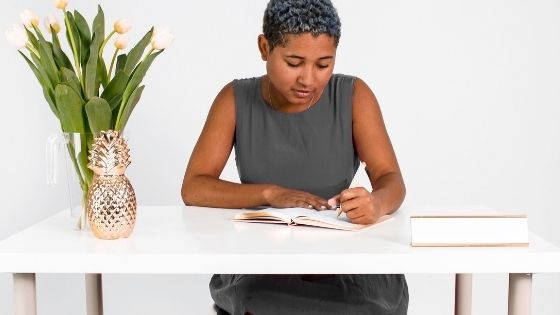 What is Gratitude?
Gratitude is the act of appreciating what you have. It's having a heart of thanksgiving. The 30-Day Gratitude challenge which should be done with a guided Journal is a commitment to recognize and record what you're grateful for daily. It's an invitation to practice daily gratitude and form a new habit.
Why is Gratitude Important?
There are various benefits of gratitude for us as Christians. Since the Holy Bible is the authority in our lives as believers in Jesus Christ we need to look to it for help in understanding why gratitude is so powerful and important.
1. Giving thanks to God is His will for us
"in everything give thanks; for this is the will of God in Christ Jesus for you."

1 Thessalonians 5:18 (NKJV)
This is one of the most powerful reasons why we give thanks. It is God's will for us. End of story. God wants us to give thanks in all circumstances-in the good, the bad, and the ugly times. Do you know why? Because of Romans 8:28.
"And we know that all things work together for good to those who love God, to those who are the called according to His purpose."

Romans 8:28
We give thanks in all circumstances because we know that God is using everything we have, everything we're going through, every gift we have for His purpose. He is working it all for our good.
2. Peace is one of the benefits of gratitude
When we pray to God and give Him all our worries and anxieties and follow that through with a time of thanksgiving, the Bible promises us that we will receive the supernatural peace of God.
The importance of gratitude is it helps us fight against anxiety and worry and experience God's peace which surpasses all understanding.
"Be anxious for nothing, but in everything by prayer and supplication, with thanksgiving, let your requests be made known to God; and the peace of God, which surpasses all understanding, will guard your hearts and minds through Christ Jesus"

Philippians 4:6-7
So if you're worried and anxious about your children, your health, the economy, job security, and all the things that can trouble a mom in the 21st century, remember that gratitude is a powerful weapon to fight worry and anxiety.
3. Renewal of the mind is a benefit of gratitude
The reality is the world we live in is so broken, full of hurt, disasters, violence, and hate. Just watch the news for a few hours and you'll know what I'm talking about.
But as God's children we're called to have our minds renewed and transformed to become more like God and being grateful- focusing on the positives in our lives will help renew our minds.
Renewing our minds is keeping the focus on God and what He's doing. It's living by faith, not by sight. It's not denying what's happening in the world, but it's not dwelling on it. When our minds are renewed, we focus on God's word, His ways, and His work in us, through us, and around us.
"And do not be conformed to this world, but be transformed by the renewing of your mind, that you may prove what is that good and acceptable and perfect will of God."

Romans 12:2
4. Having gratitude in life makes you content and strong
Apostle Paul is one of the people with an attitude of gratitude in the Bible. He learned to live in plenty and with very little but because he understood the importance of giving thanks in all circumstances, he was content through every season.
Through the power of Jesus Christ, Paul learned to be strong and content in life. You can too!
"Not that I speak in regard to need, for I have learned in whatever state I am, to be content: I know how to be abased, and I know how to abound. Everywhere and in all things I have learned both to be full and to be hungry, both to abound and to suffer need. I can do all things through Christ who strengthens me"

Philippians 4:11-13
5. Giving thanks to God helps you appreciate all He's done for you
We give thanks to God because of all the blessings that He has given us.  When we pray and enter God's presence with thanksgiving, we give Him all the glory, honor, and praise. As a loving Father, He has given us all things that we need for this life.
"Bless the Lord, O my soul, And forget not all His benefits"

Psalm 103:2
"as His divine power has given to us all things that pertain to life and godliness, through the knowledge of Him who called us by glory and virtue,"

2 Peter 1:3
The Power of a 30-Day Gratitude Challenge
One of the best ways to start cultivating an attitude of gratitude is through a 30-day gratitude challenge.  Some of the benefits of this challenge are:
It's not overwhelming- because there's a specific start and end date, forming a new habit becomes achievable and not daunting
The challenge is more focused and specific- in this way you get inspired to achieve your goal
30 days is a great way to test a new habit you're interested in forming
A month is enough time to start seeing results and the more you start to see results, the more you want to continue practicing the new habit
30 days is an average full month. It helps your brain to dedicate a full month to practicing a new habit. November is Thanksgiving month and a great time to do the Gratitude challenge but know that you can start any other month of the year as well.
The best way to effectively do a 30-Day Gratitude challenge is to use a 30-Day Guided Gratitude Journal which is what I created just for you!
Writing down a gratitude list in the 30-Day Gratitude Journal daily will help train your brain to reflect and remember all the things you're grateful for. It helps you express your appreciation to God for what He has blessed you with both physically and spiritually.
The Benefits of the 30-Day Gratitude Journal
The beautiful Journal is a must-have for you to start practicing gratitude. Some of the amazing benefits are:
1.  The Gratitude journal helps you form a new habit
Having an attitude of gratitude is not something you just wake up doing. It takes some time, effort, and practice. So, you need to challenge yourself to learn something new!
When you're forming a new habit, 30 days is a great amount of time to dedicate to it. Start with listing 3-5 things you're grateful for each day. And in 30 days of consistency, you'll be amazed at the transformation you'll experience.
2. You get 50 Gratitude Journal prompts
Have you ever sat down to write a gratitude list and your mind goes blank? The 50 gratitude prompts in the 30-Day Gratitude Journal will help you get started in making that daily list.
3. Daily Bible verses to reflect on
A verse a day makes us grow our faith in God. As you read and reflect on a Bible verse a day, you'll be reminded of the importance of giving thanks to God.
4.  The habit tracker will motivate you to be consistent
When you're forming a new habit, a tracker helps to motivate you and the progress you're making every day. As you color in the Gratitude habit tracker, you'll be inspired to continue being consistent and gain momentum as you develop an attitude of gratitude.
5. Daily Gratitude Journal pages
Beyond the 30-day gratitude challenge, you'll find daily gratitude journal pages which you can use to give thanks to God daily. This will help you continue the habit of giving thanks to God everyday.
6. Bonus: Bible verses about gratitude
Downloadable Gratitude scripture cards are a great reminder of why gratitude is important. The key is to put them somewhere where you can regularly see the verse so you can memorize it and remember it when you need it.
You can print and cut the verses and place them on your kitchen sink window, bathroom mirror, dressing table mirror, car dashboard, or anywhere where you constantly look to remember to apply what you're learning.
Because we girls always need choices, you have the benefit of buying the Printable Floral 30-Day Gratitude Journal or the Black and White Minimalist one. They both have the same information, the difference is only the design. Grab your Gratitude Journal today!