As Christians we often read about, hear about and talk about God's grace. But what does God's grace really mean? Because the more we understand His grace, the more we can experience it and live in it.
God's grace is the unmerited, undeserved and unearned favor of God upon us. Despite us having sinned against God, He still loves, accepts, adopts and forgive us as His children. That's His grace. The Bible gives us a deeper look at what grace really means.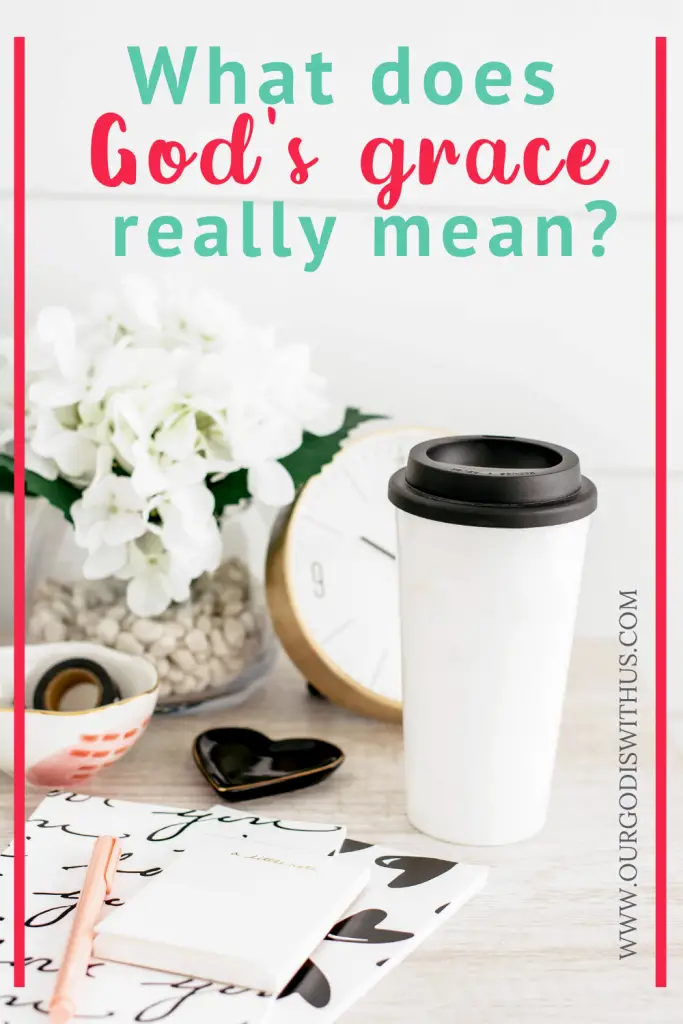 What does God's grace really mean?
1. God's grace was given to us in Christ Jesus
"For the law was given through Moses, but grace and truth came through Jesus Christ. "

John 1:17
Grace was introduced by Jesus Christ in the New Testament. Before that, people had to live according to the 10 commandments and laws given to Moses. These proved that man couldn't obey God.
The law made us conscious of our sin and in need of a Savior who came in the form of the Son of God Jesus Christ who died on the Cross for us. And because Jesus came, God has forgiven us our sins and given us His grace .
2. God's grace is FREE
"for all have sinned and fall short of the glory of God, being justified freely by His grace through the redemption that is in Christ Jesus, "

Romans 3:23-24
We as a people have all sinned before God. No one is an exception. God gave the Israelites laws and they couldn't obey them. And our loving God then gave the Israelites and all of us His grace for free. God loves us so much that He wants us to be set free from sin and to live a righteous life in Him and for Him.
3. God's grace has nothing to do with our works
"who has saved us and called us with a holy calling, not according to our works, but according to His own purpose and grace which was given to us in Christ Jesus before time began,"

2 Timothy 1:9-10
God's grace has nothing to do with our works- whether it be feeding the poor, praying, giving to the church or even participating in church programs. Paul says God's favor is not given because of the works we might do to gain it. That's why grace is unearned and undeserved.
Grace is given through Christ Jesus and it was there from the very beginning. We were chosen right from the beginning of time and given His grace.
4. God's grace saves us from sin and teaches us to live right
"For the grace of God that brings salvation has appeared to all men, teaching us that, denying ungodliness and worldly lusts, we should live soberly, righteously, and godly in the present age"

Titus 2:11-12
God's grace saves us from living a life that doesn't please Him. We know that His favor is on us, His undeserving favor, and that propels us to want to live for our Lord and King, Jesus. We desire to be righteous and holy just as He is. God's grace is full of power to help us live a godly life.
5. God's grace gives us strength
"Let us therefore come boldly to the throne of grace, that we may obtain mercy and find grace to help in time of need."

Hebrews 4:16
"Concerning this thing I pleaded with the Lord three times that it might depart from me. And He said to me, "My grace is sufficient for you, for My strength is made perfect in weakness." Therefore most gladly I will rather boast in my infirmities, that the power of Christ may rest upon me."

2 Corinthians 12:8-9
When we feel tired, frustrated, stressed out, weak and hopeless, it's God's grace that strengthens and carries us through life. Just like Paul, we may have painful situations that we pray to God to change and He doesn't. That's the time we especially need to know that it's His grace that will sustain and strengthen us through those challenging times as we wait for God's timing and accept His will.
My Encouragement to You
God's grace is truly amazing and wonderful. It's something we can be grateful for each day. And the fact that grace is totally free and we don't have to work for it is just so unreal. God loves us so much He wants us to just receive His grace. We only need to accept it, remember it and live in it daily.
Let's Pray
Lord Jesus, thank You for Your amazing grace. I'm so humbled by it. Thank You Jesus Christ for forgiving my sins and loving me just as I am. I appreciate that Your grace carries me through the tough times. Thank You again that I don't have to work for the grace you've given me but all I need to do is accept it. I love You, O Lord.
In Jesus Christ, I pray. Amen