I remember the emotional and physical (from the c-section) pain I felt when I woke up in a hospital with no recollection of what had happened and being told I had lost our first born, a little boy, at 23 weeks pregnant. If someone told me then, that there was a purpose to the pain I would have basically lost it.
When I was told that I had lost the baby, I could not even cry. I was too shocked. That is, until I got home and the breastmilk started coming out and I had no baby to feed. The reality sunk in and I wailed uncontrollably, for days.
Why had these cruel nurses added to my physical and emotional pain by forgetting to give me any medicine to stop the milk from coming?
I have felt pain so many times – from injections, injuries and betrayal but the pain I felt after losing my child was something I had never felt before. I blamed myself, I asked God "why me"? I suffered from pre-eclampsia and it robbed me of my first baby.
It was only years later, after much healing, counselling and prayers, that I understood that God always has a purpose for our pain. I've subsequently been blessed with 2 beautiful girls, praise be to God!
The truth about Pain
There's nothing desirable about pain- whether it's emotional or physical. We do what we can to avoid it. We even do more to prevent our kids from experiencing any pain we can think of.
I will be honest. Any pain especially emotional never feels pleasant in the moment. Even Jesus prayed, just before He was crucified for God not to let Him experience the pain He was about to face. But God's will was more important to Him that doing His will and escaping God's plan.
So I'm not out here claiming I love pain-not my natural inclination. But now I know that over time, we do get to appreciate the lessons pain brings. And the purpose God has for us which can only be found when we experience pain. It's not an easy road but one that is worth taking with God.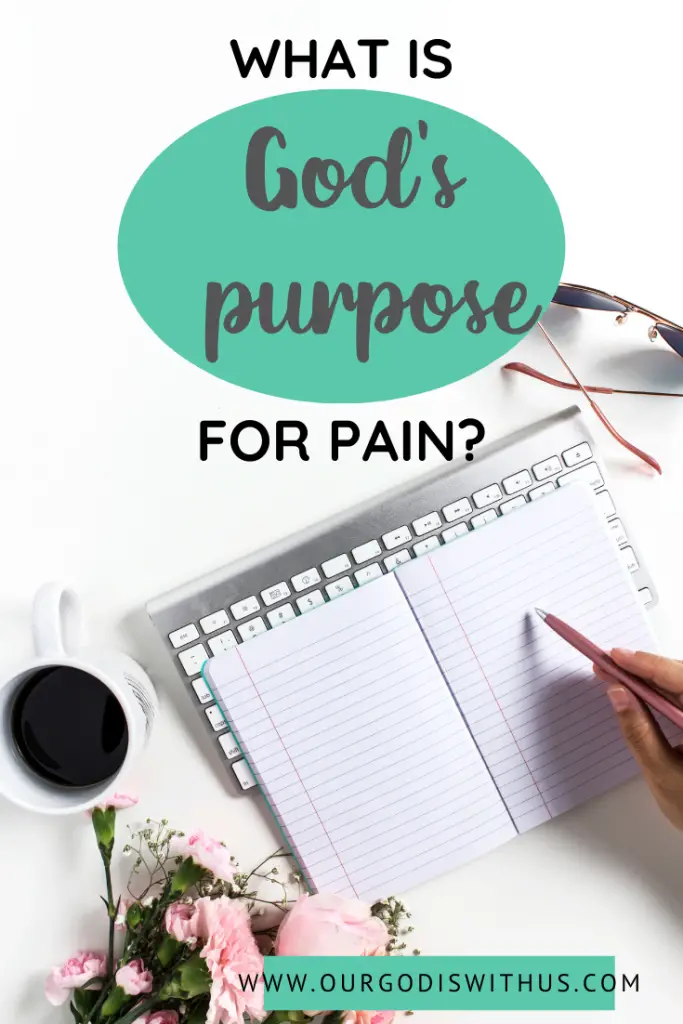 What is God's purpose for pain?
1. God's purpose for pain is to teach us empathy
 "For we do not have a High Priest who cannot sympathize with our weaknesses, but was in all points tempted as we are, yet without sin. Let us therefore come boldly to the throne of grace, that we may obtain mercy and find grace to help in time of need."

Hebrews 4:15-16
The biggest lesson from pain is empathy. Jesus endured pain and is able to identify with ours. When we come to Him, we know He understands. Whatever pain we experience, He has gone through it and can relate.
Be it betrayal, persecution, rejection, physical pain- Jesus experienced it all. Moreover, He has the power to help us get through the pain.
Pain teaches us to have empathy and compassion for those who suffer. I have so much empathy for women with infertility challenges, who've gone through a miscarriage because I went through it. My suffering was for a purpose. I can give hope and words of encouragement to those in pain.
"Blessed be the God and Father of our Lord Jesus Christ, the Father of mercies and God of all comfort, who comforts us in all our tribulation, that we may be able to comfort those who are in any trouble, with the comfort with which we ourselves are comforted by God."

2 Corinthians 1:3-4
2. Pain grows our faith
The pain Joseph went through grew his faith in God and made him a better leader. You have to go through the fire and be refined to become gold. The pain Apostle Paul went through for the Gospel, strengthened his faith and drew him closer to God.
When we don't go through pain, we can tend to think we don't need God. But pain pushes us to go to God so He can heal us, comfort us and strengthen us. We learn to trust God and depend on Him more and that deepens our faith.
"In this you greatly rejoice, though now for a little while, if need be, you have been grieved by various trials, that the genuineness of your faith, being much more precious than gold that perishes, though it is tested by fire, may be found to praise, honor, and glory at the revelation of Jesus Christ"

1 Peter 1:6-7
3. God's purpose for pain is to prepare us for eternal glory
"For our light affliction, which is but for a moment, is working for us a far more exceeding and eternal weight of glory, "

2 Corinthians 4:17
The Bible says pain is temporary. Even if someone has a terminal illness and is sick for years, it's still temporary. Why? Because this life we've living is temporary and short. We're preparing to go to heaven. That's our permanent home.
When I went through the pain of losing our baby, my husband says the doctors prepared him for losing both me and our baby. So when I made it, I realized I had been given a second chance at life. I've learnt that life is very short so we need to be intentional with our time and our lives.
Pain prepares us for heaven. Because when we experience pain, we realize and are reminded that we're made for a better place which is perfect and pain free. So going through pain prepares us for the glory we can look forward to in heaven, the place we will be in for eternity.
4. Pain makes us perfect
"My brethren, count it all joy when you fall into various trials,  knowing that the testing of your faith produces patience. But let patience have its perfect work, that you may be perfect and complete, lacking nothing."

James 1:2-4
All humans experience both pain and joy. For us as Christians especially, we're being molded to become like Christ. So we will experience everything Christ did. That's why James says trials will makes us complete, lacking nothing. For we would have been perfected and sanctified to experience everything Christ did.
5. Pain helps us experience God in a new way
"To console those who mourn in Zion,
To give them beauty for ashes,
The oil of joy for mourning,
The garment of praise for the spirit of heaviness;
That they may be called trees of righteousness,
The planting of the Lord, that He may be glorified."

Isaiah 61:3
When we experience pain, we get to understand that it's God only that can turn our mourning into joy, give beauty for ashes and the garment of praise for the spirit of heaviness. We see God in a new light. We get to know for sure that He is an all-powerful God.
When we are in pain God will comfort us because He is close to the broken hearted. He will help us, strengthen us and give us hope. He will heal us and help us see the purpose of our pain.
My Encouragement to you
While we wouldn't choose painful experiences for ourselves, God knows we need them. He brings us through them and He knows we will come out better, wiser and stronger. So my dear friend, as you read this, if you're going through any pain or heartache or have gone through it in the past, I can assure you that your pain is for a purpose.
Let's Pray
Heavenly Father, thank You for my life and for the gift of salvation. You alone are my God. I honor You and worship you today. Lord, I pray that as I go through pain, Help me to hold on to You. Help to me run to You. Remind me always that there's a purpose to the pain and ultimately it will perfect me to become like Jesus.
In Jesus' name I pray. Amen